Just Before Its 20th Birthday, We Explore McDonald's Long-Time Customers' Favourite Memories
Twenty years ago in October 1996, McDonald's entered India. A revolutionary concept for many Indian consumers, it redefined eating out with concepts like shared booths, self-service and indeed, was the first 'fast food' experience that many customers had had.
Today, Hardcastle Restaurants Pvt Ltd (HRPL), a wholly owned subsidiary of Westlife Development Ltd (WDL) which operates McDonald's in West and South India manages 236 McDonald's restaurants (as of Marc h 31st, 2016) and serves around 185 million customers annually. The 'McDonald's Experience' is still a massive crowd puller, hosting thousands of families, groups of friends, college students and office-goers each day!
The McDonald's Experience
So what is it that makes the McDonald's experience so unique and lovable? A combination of factors. For one, its known worldwide for its quick service – place your order at the counter and you're guaranteed to receive it piping hot.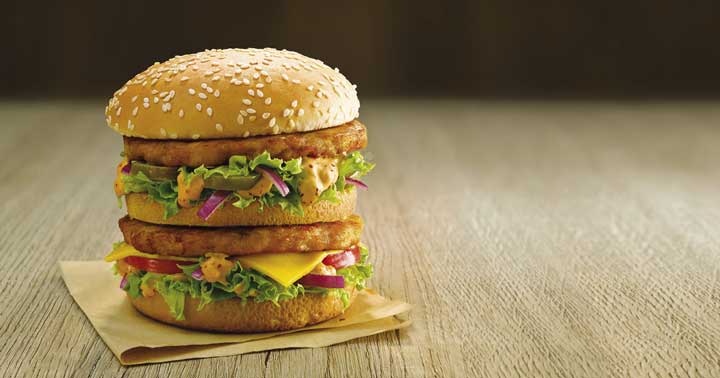 Secondly, it has an extensive menu that caters to a range of tastes while maintaining cultural sensitivity – McDonald's India, for instance does not serve beef or pork unlike its global counterparts. McDonald's has an appeal for a wide, varied range of age groups and customers – travellers, for instance can enjoy its Drive Thru facilities at some outlets, while children go gaga over its Happy Meals or host special birthday parties for family and friends.
Third, the chain places a great emphasis on aspects like food quality, hygiene and safety. Through an extensive, complex supply chain, it sources fresh ingredients from farms and sends them to processing plants using its logistics partner. At these processing plants, the ingredients are processed under extremely hygienic conditions to become the patties, produce, fries and other popular items on McDonald's menus.
We could go on and on about the factors that set the McDonald's Experience apart from any other dining experience, but instead, we caught up with three McDonald's regulars, who have been visiting the chain ever since it entered India and asked them to share their favourite memories. We've delved into the nitty gritties of these memories to give you an insider look at what went into making these memories, and indeed what makes McDonald's so special. Are you ready for some nostalgia?
Burgers and Fries
"When McDonald's first came to India, everyone was super excited to try it out. I think it was the first time a huge international fast food joint was coming to our country. I only got to go after a couple of months though. I had my first humble McVeggie burger and I couldn't have been more smitten. Today, although there are other burger and fast good joints in town, I still crave for the perfect fries from McDonald's. I simply cannot do without my monthly dose of the Maharaja burger and a happy meal toy!"
– Roshni Raghavan
Roshni's love for McDonald's stems from her love for its burgers and fries. Indeed, McDonald's is globally renowned for its burgers – its Big Mac, made using two beef patties, iceberg lettuce, pickles, onions and a special sauce enveloped in a three part sesame bun is one of the chain's bestselling products. In India, displaying cultural sensitivity, McDonald's adapted the Big Mac into a Chicken Maharaja Mac and the Veg Maharaja Mac. The Veg Maharaja Mac is prepared in a rich & crusty cheesy corn patty, served with a vegetable-cocktail sauce and consists of premium ingredients such as jalapeño slices, red onion slices, cheddar cheese slice & fresh crispy iceberg lettuce. The new Chicken Maharaja Mac patty is flame-grilled and consists of whole meat sourced from the chicken. The delicious sandwiches are served in a Big Mac triple layered classic bun, topped with sesame seeds, fresh salad dressed with Habanero sauce. It's distinctive structure, layered texture and signature combination of ingredients creates the perfect harmony of taste. The New Maharaja Mac is one of the tallest burgers innovated by McDonald's® India and addresses the customers need for filling meal options.
Another especially popular burger, which Roshni fondly remembers is the McVeggie burger. In keeping with cultural demands in India, the McVeggie is pure vegetarian, made of a patty that combines ingredients like carrots, potatoes, peas and lentils infused with eggless mayonnaise and lettuce, making the vegetarian burger that Roshni along with half a million Indians love.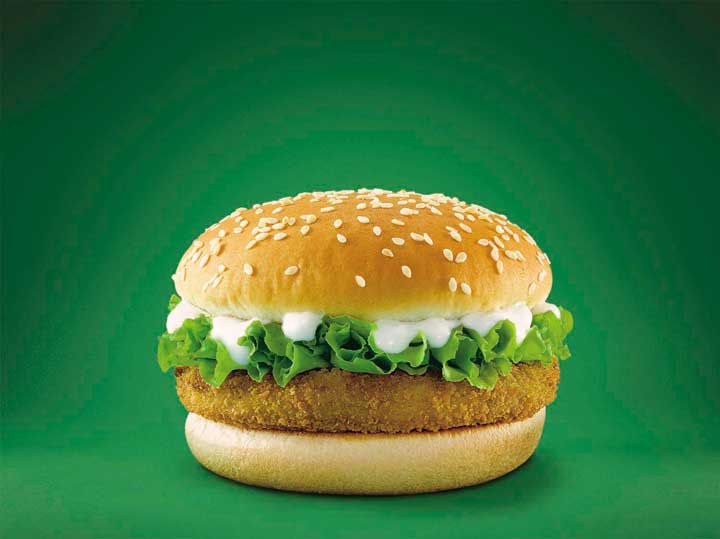 The 'perfect fries' – in her words – go through a similar process to get from the farm to your fork. The French fries served across McDonald's in India are 100% vegetarian, made from Shepody potatoes that are locally grown in Gujarat. Check out the video below to watch the process of making the Mac fries visually unfold:
https://www.youtube.com/watch?v=DKzH3Td4CYM
College Students and Chicken McGrills
Of course, while McDonald's fries and McVeggies are purely vegetarian, there are several non-vegetarian options on the menu as well. Over the years, the Chicken McGrill has proved a favourite among meat lovers in India, as this customer reminisces:
"My first memory of McDonald's goes back to when I was in college; me and my friends used to while away hours sipping on Cokes and enjoying the burgers. I think the first time I tried a burger was at McDonald's. I remember the first bite into a chicken McGrill – the mint sauce had an incredible kick to it, and the sliced tomatoes and lettuce tasted very fresh. Today, a bite of a chicken McGrill still has me sinking into nostalgia for college days."
– Nitish Thomas
Just like it was with Roshni, Nitish's earliest McDonald's memories are filled with his appreciation for their burgers. In this case, the burger was the Chicken McGrill – still available on the McDonald's menu today and immensely popular.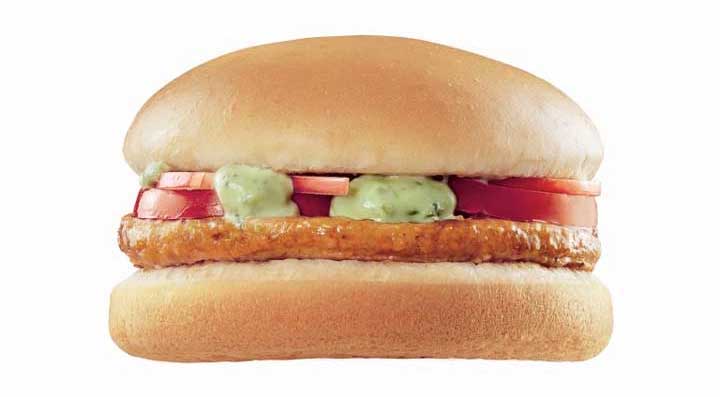 The patty is made in a similar way as the McVeggie and Maharaja Mac patties, albeit in a different section of the processing plant; McDonald's takes the segregation of vegetarian and non-vegetarian fare very seriously. The mint sauce, which Thomas was so taken by is a part of a collection of the approximately ten different types of sauces the chain has for its burgers; while the McGrill has the mint sauce, the Filet-O-Fish has a tartar sauce and the McVeggies, as we earlier mentioned boast an eggless, low fat mayonnaise – indeed, all mayonnaise variants in India (aside from the tartar) are eggless. All the sauces are locally developed.
Nitish's experience with the McGrill seems to be linked to his memories of lazy college days. When it first launched, McDonald's quickly became popular among college students because of its quick service and pocket friendly prices. Today, McDonald's is still popular for the same reasons – broke college students can afford a meal at the chain, with the added advantage that they'll get it fast, leaving them enough time to eat and run back for their lectures. Over the years, McDonald's has evolved to become even more appealing to college students.
For instance, in 2013, it launched the McCafé (available across 75 outlets in West & South India), which provides customers with a cafe like ambience and a selection of gourmet coffees and desserts. The McCafé allows college goers to lounge about and while away time – just like Thomas and his friends used to do. Additionally, the McCafé offers the millennial generation two factors they deem necessary for survival – coffee and Wifi. McCafés have a range of specialty coffees such as lattes, mochas and brewed ice coffee made with 100% Arabica coffee beans, domestically grown in Chikamagalur.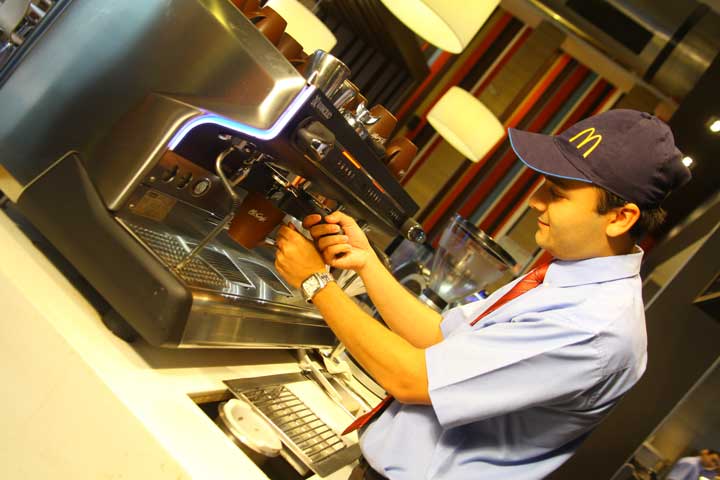 In further evidence that McDonald's still holds appeal for millennials, the McDonald's blog recently released a photograph called 'The Millenial's Menu':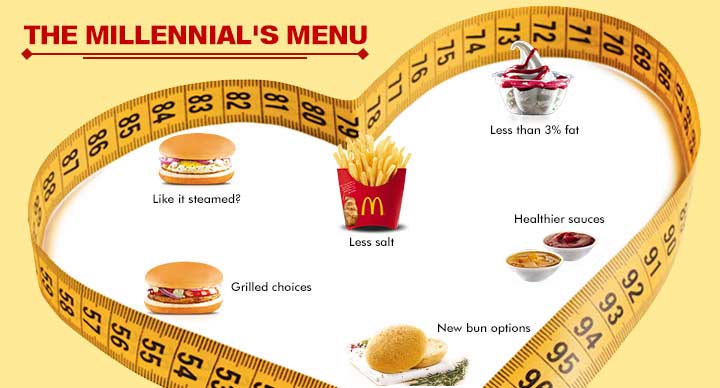 This taps into the idea that millennials are becoming increasingly health and weight conscious; McDonald's is catering to this phenomena through a range of menu options and adaptations – desserts and mayos for instance have a reduced fat (McDonald's recently cut down fat in may0 from 67% to 25%), while fries, buns and nuggets now have a lower sodium content.
Ronald McDonald and An Appeal To Children
Of course, when the millennials were children, they were less concerned about their health and more excited about Ronald McDonald and the idea that you could have a Coke with your meal:
"My first trip to McDonalds was like an exciting visit to an amusement park. The McDonald's man with red hair added to that perception. I was probably about 10-11 years old at the time. The entire concept of ordering burgers and ice cream from a counter, standing in line with so many other people, and eating alongside all of them was a new experience for me and my family. The burgers tasted delicious, and the Chicken McGrill was instantly a favourite of mine. And of course, you could have Coca Cola with your food. Which kid wouldn't love that?"
– Sapna Mathur
Indeed, just like it caters to college students, McDonald's caters to children in a variety of ways. The most obvious example is the McDonald's Happy Meal, which includes a burger, , a drink and an exciting toy. McDonald's continuously updates the toys in the meals in line with pop culture – it recently released a range of Angry Birds Movie toys which were served with the Happy Meal and has previously included Transformers and My Little Pony toys in the meals. It also offers children the chance to celebrate their birthdays at McDonald's with Birthday Packages. The 'Birthday Blast' package, for instance includes Ronald McDonald invitation cards, fun games, Happy Meals, Yo! Slippers and a Special gift from Ronald McDonald.
As Sapna mentioned, Ronald McDonald himself elevated a child's experience of McDonald's. Ronald McDonald was first seen in Washington DC in 1963. In 1967, The McDonald's corporation named him an official spokesperson and ambassador to children. Today Ronald McDonald is McDonald's 'Chief Happiness Officer' and speaks more than 24 languages and dialects including English, German, Japanese, Thai, Arabic and Hindi.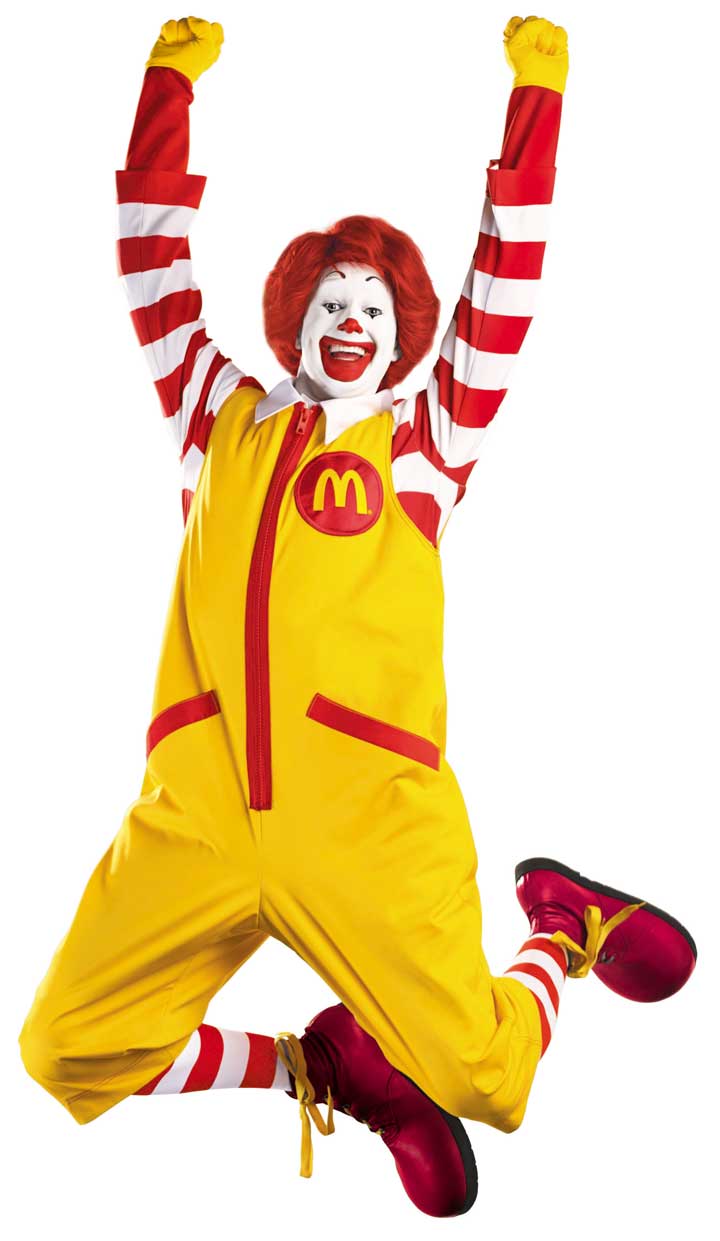 Children love Ronald McDonald for his goofy appearance and approachability; visit any McDonald's outlet and it's not uncommon to find a child curled up next to a McDonald's statue on a bench, asking for his picture to be taken.
However, it doesn't stop at children. It's almost as common to find an adult posing next to McDonald's ambassador for a photo – along with the Golden Arches, Ronald McDonald's is a recognised symbol for McDonald's. Before its entry into India, I remember posing next to a Ronald McDonald in the United States – the photograph would be evidence that we had travelled abroad, just as effective as a photo next to the White House or the Statue of Liberty.
Perhaps, subconsciously then, India considered McDonald's entry into India a sign that India was moving forward with the times, a symbol of globalisation and modernity. Since its entry, McDonald's has upheld the international appeal that the fast food chain holds globally, while at the same time adapting itself to Indian palates and preferences. It's for this reason that McDonald's will be showered with love on its 20th birthday and for many more years to come.