La Cuisine Francoise : Authentic and Delicious French Food at The Promenade, Pondicherry
As you approach the Promenade Hotel at Pondicherry, right on the iconic Rock Beach, you are hit by the charm of the old French riviera.The hotel with its colonial french architecture houses one of  the best 5 star hotels in Pondicherry. Being a Hidesign Hotel you can be assured that the level of high quality associated with the brand can be experienced at this hotel.
Blue Line, the 24 hour restaurant at the Promenade overlooks the Bay of Bengal and serves Indian, Oriental and Continental food as lavish buffets or a la carte.
Finding the need to fill  the gap of not having a place where you can get an authentic French fine dining experience, Mr.Dilip Kapur, Founder and President of the Hidesign group and his team decided to launch a whole new French menu at the restaurant. Combining age old French techniques and the freshest of local ingredients, they have hit upon a winning combination.
We were lucky enough to get an exclusive preview of the fabulous new menu and we are very excited to share the details with you.
The 7 course menu that was designed for the preview had all the elements of a classic French dining experience. We started off with a wonderful array of breads that are made in house, with some olive oil and balsamic vinegar to dip and some infused sea salt (Red Wine, Rosemary and Parsley) to sprinkle over.
Entrée
Double Baked Three Cheese Soufflé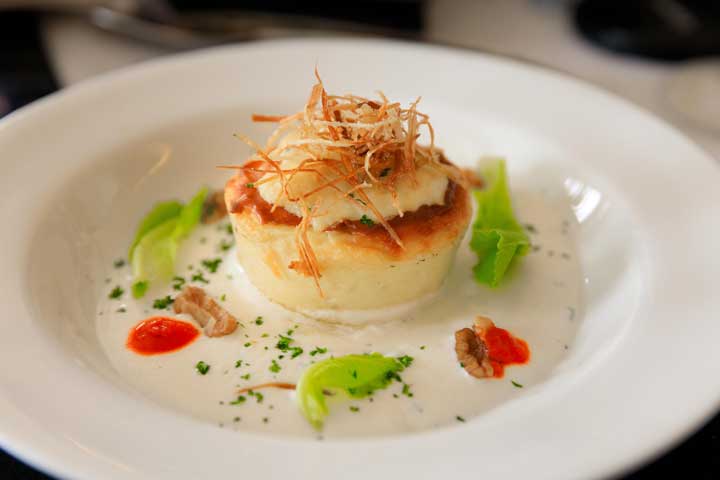 This dish made with a masters touch by Head Chef Satish and his team is a light fluffy savoury soufflé with flavourful yet subtle notes of cheesy goodness.
Bouillabaisse with Rouille Sauce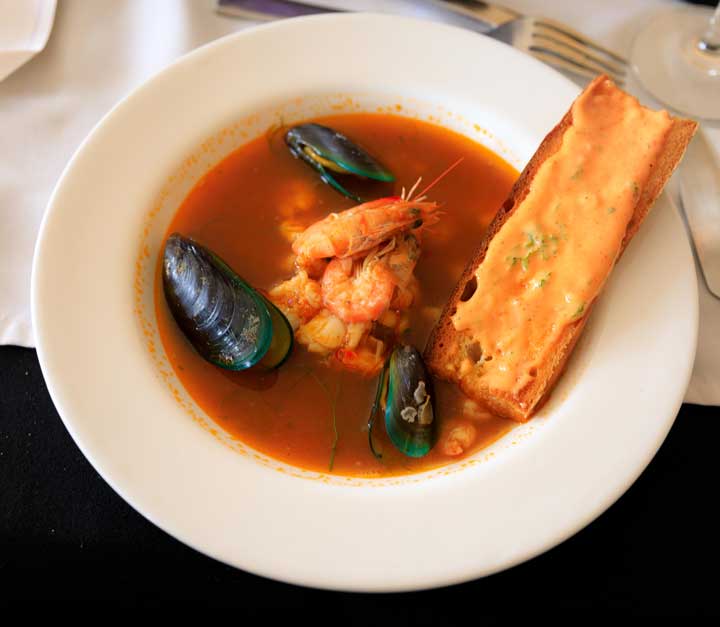 A classic Provençal fish stew/soup packed full of the flavours of the sea in broth of leeks, onions, tomatoes, celery and potatoes. Served with the classic rouille sauce on toast, made with olive oil with breadcrumbs, garlic, saffron and cayenne pepper. This dish provides for a great party in the mouth!
A fresh Lemon Sorbet followed as a palate cleanser.
Mains
Wild Mushroom Vol au Vent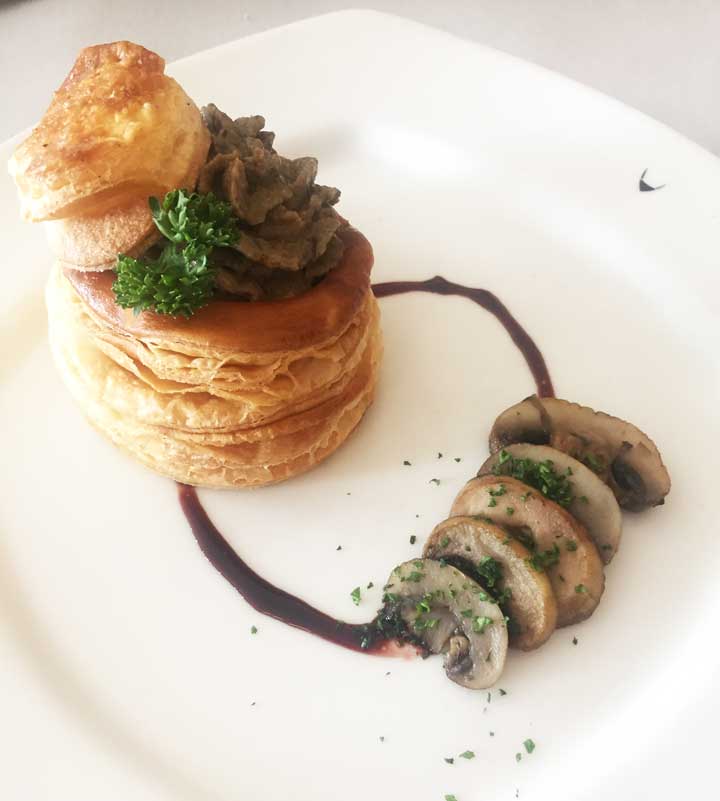 Flaky, crisp puff pastry with a robust porcini mushroom filling. Full of earthy and rich mushroom flavour that is a delight to eat.
Coq au Vin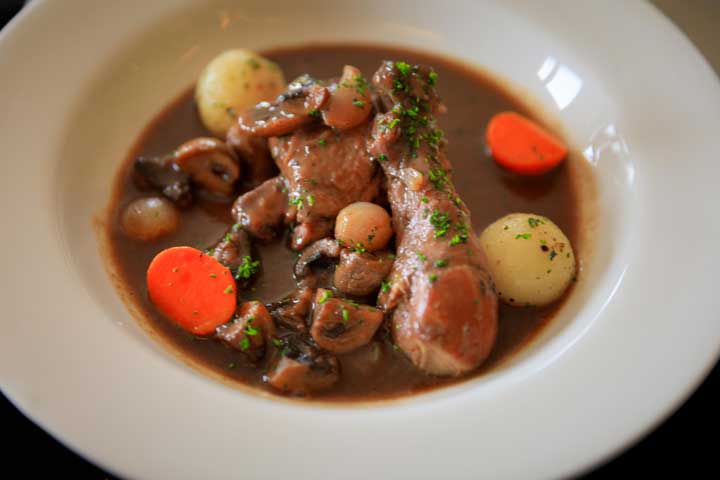 The name of this dish translates to rooster with wine and it is absolutely a must try. It is chicken braised for long hours with wine,onions, mushrooms and optional vegetables. The flavours complement each other extremely well and let us tell you, this hearty stew along with a glass of fine red wine, and you will be completely satiated.
Sole Meuniere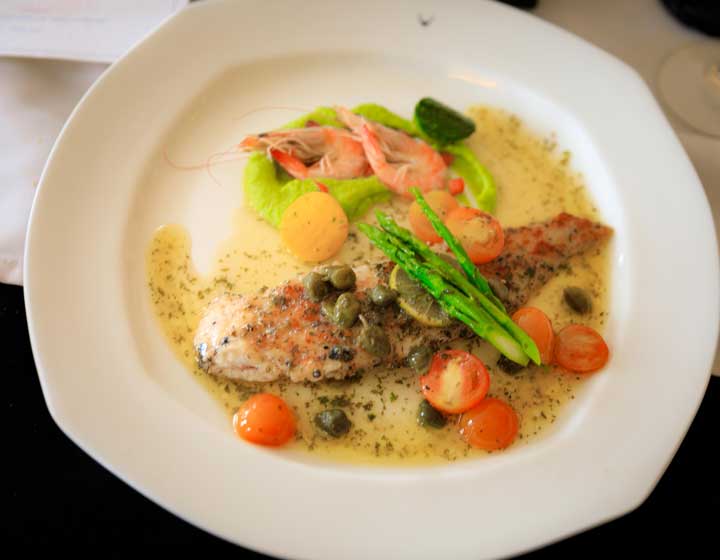 A delicate and fresh dish, this is also a French classic like the others and it is fillet of Sole fish pan fried in butter and served with a brown butter lemon parsley sauce. It is the flavour of pure summer brightness and would delight any seafood lover with its delicate taste.
A Cheese platter is also part of the menu and it features a variety of Cheeses sourced from artisan cheese makers in Auroville. Herbed balls of fresh Goats cheese, Rich blue cheese, and Gruyere sit among fruit, marmalade,  nuts and crackers and it is  delight to pick and choose combinations to pair with the cheese.
Dessert
Home Made Dark Belgian Chocolate Ice cream Profiteroles and Tarte Tatin. A perfect way to end the meal, the dark chocolate ice cream has no competition and the Tarte Tatin, a classic upside down baked pastry with caramelized apples is simply divine.
The new menu also has other great specialties such as the Sea Salt Roasted Vegetable Lasagna, the Parmesan and Herb-Crusted Grilled Snapper, and the Quiche Lorraine.
Make your weekend  to Pondicherry and savour the true taste of France and great hospitality at the Blue Line Restaurant, The Promenade, Goubert Avenue, White Town, Puducherry, Tamil Nadu 605001. Phone: +91 413 222 7750-52
image credit : Nivedith/Macro Traveller