We look very closely at the Twee Mini Frappuccino
[dropcap]S[/dropcap]ometimes, being short has its advantages.
At least, Starbucks thinks so.
I said don't call me "short"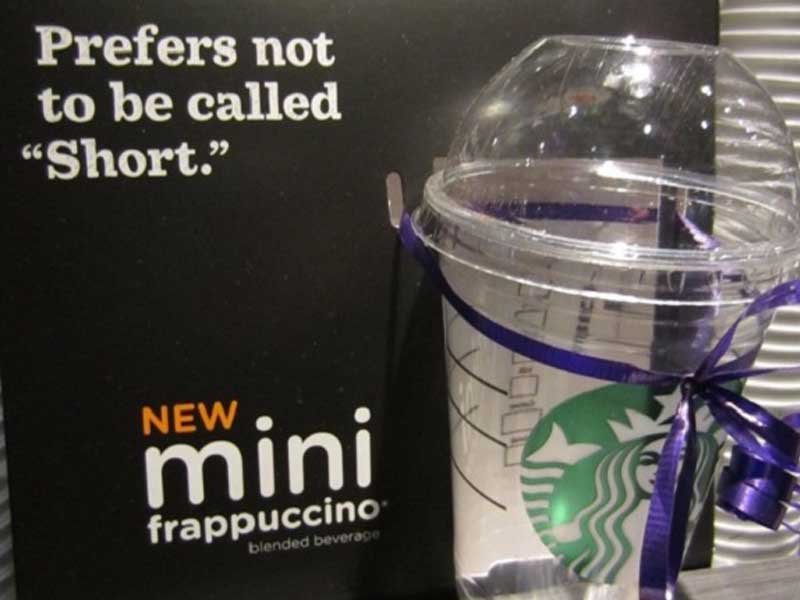 From San Diego to Houston and Denver, Starbucks customers have been exclaiming a lot of 'cute' or 'adorable' recently. The latest addition to their menu is the "Mini Frappuccino', which is 10-ounce short and a good 30¢ cheaper than their usual 12-ounce fraps.
Starbucks is testing its markets to see how well the 'Mini Frappuccino' bodes with the customers. It may only be a 2 oz difference, but the whole perspective of Starbucks's drinks is altered.
Perks of being 10 ounces
Starbucks has seen a lot of comments such as 'Oh, it's so costly' and 'I can't finish this drink, what a waste of money' and they've decided to come half-way to meet the customer's needs.
The 'Mini Frappuccino' is budget friendly and stands a better chance at competing with other reasonably priced coffee shops. The smaller frappuccino's main attribute is to appeal to kids and customers who find the 12-ounce size a lot to handle.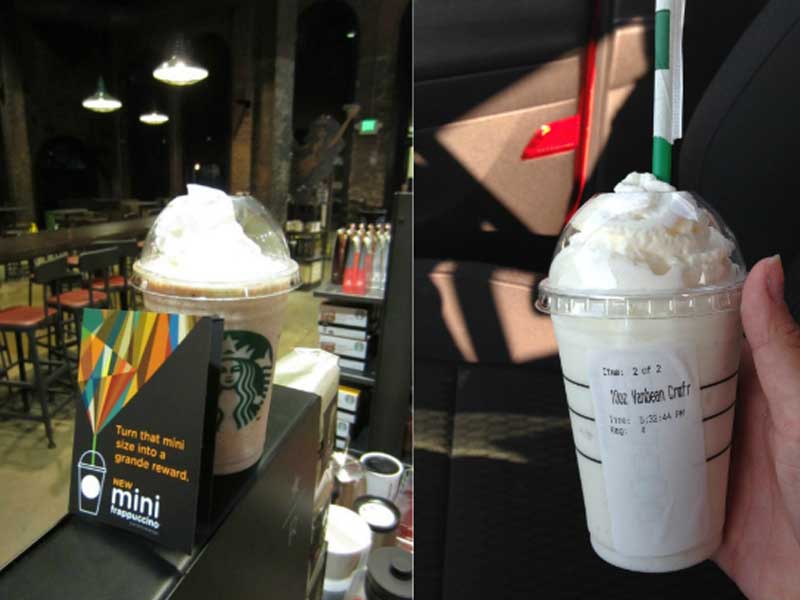 The calorie count for the 'mini' is lesser, so by default it is a more viable for people who are conscious about their calorie intake.
Starbucks tests a kind-of-mini Frappuccino (and thanks #coffeememaybe for the cool GIF!) https://t.co/Eb3o5tciUE @BW https://t.co/PmZUBQwTbL

— Venessa Wong (@venessawwong) September 17, 2014
For a little guy, it feels very grand
This test offers a set number of 10 flavours for the mini frappuccino, so any plans of customizing your drink goes down the drain. But this approach has its own benefits as people will be more attracted to a menu when they're certain of what they can purchase.
Starbucks is charming customers with its generous streak. Their promotion involves handing out a sticker with every 'Mini Frap', and 6 stickers will win you a free 'Grande Frappuccino'. If they find the responses positive, Starbucks Melody hints that the 10-ounce Mini Frappuccino could soon be a permanent option on their menu.
The question remains, how long will it take for Starbucks to introduce the 'Mini Frap' in every outlet? Wait for the results, the test isn't over yet.