brunch
brʌn(t)ʃ
noun; a late morning meal eaten instead of breakfast and lunch.
In 1895, British author Guy Beringer wrote an article in Hunter's Weekly titled "Brunch: A Plea" in which he suggested an alternative to the heavy, post-church Sunday meals in favour of a lighter fare. He even said "Brunch is cheerful, sociable and inciting. It is talk-compelling. It puts you in a good temper, it makes you satisfied with yourself and your fellow beings, it sweeps away the worries and cobwebs of the week."
This might have been the first time that the term brunch was ever used, but it took the world a few 100 years to really put it into action. And now, everyone is brunching, making it an official noun and verb.
Then in 1980, Stanford University professor Carl Degler wrote an article on the rise of America's brunch culture in the Chicago Tribune, stating that "Sunday dinner became important because it was the only time people could eat together as a family unit during the week at the onset of urbanization and industrialization, 150 years ago. After World War II, large numbers of American married women entered the workforce for the first time. Married women needed a relief on Sunday, too, thus the rise in popularity of Sunday brunch eaten out."
Why is it so popular?
Like Carl Degler said in his article, it is a time for everyone in the family to take a break and go out to eat. Letting someone else take care of them for a few hours. Brunches originally were limited to Sundays where families could come and enjoy a delicious feast right after church. Of course, in india, brunch is not just limited to the Christians, but just about anyone who enjoys food and likes the idea of a buffet spread where you can eat to your hearts content.
It is also the one day of the week when everyone is under one roof and while you could make a brunch at home and have everyone get involved, you have a chance to dress up, pick a fancy restaurant and make the most of your Sunday. Of course, after filling up on a delicious Sunday brunch it's almost impossible to eat anything else, but that's what makes it so popular and completely worth it.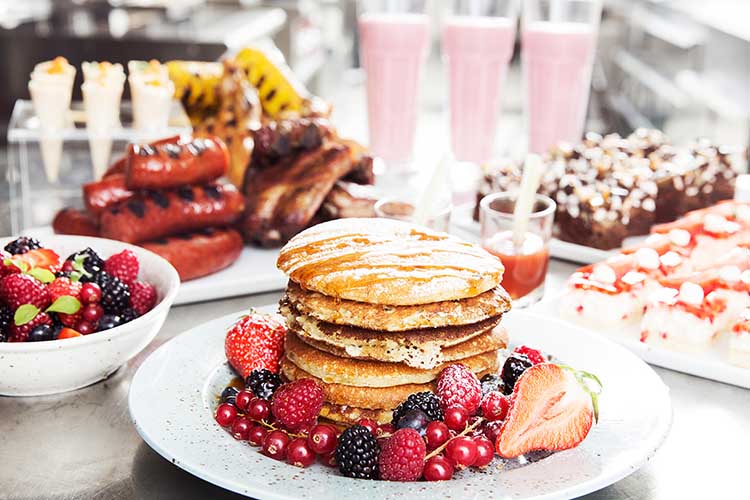 What are the different kinds of brunches?
While the variety may be limited in India, around the world, there are various different kinds of brunches. Ranging from purely dessert oriented to a meat spread. Here are some kinds of brunches you might have encountered or you wish you did.
Regular brunches: Usually filled with lots of breakfast foods from eggs, bacon and toast to pancakes and waffles, coffee, tea and the works. In India, these brunches also include dosas, vadas, idlis and other Indian breakfast favourites.
Boozy brunches: Like the regular brunch, it's got a great spread which will also include a bar menu which cocktails and other drinks to choose from. Most places that offer alcoholic brunches also have the non-alcoholic option, where you can just settle for a delicious mocktail instead.
Dessert brunches: This explains itself, really. A spread of just all the dessert you can eat. The minute someone says 'dessert brunch', the first question on everyone's lips is "Will there be Nutella?" and there almost always is.
Healthy brunches: It's not necessarily diet food, but it's organic and natural ingredients for those that want to enjoy a brunch but at the same time stick to their healthy food options. More often than not, these brunches taste just as good as the regular brunches.
Make at home brunches: More and more people are finding it easier to just make brunch at home instead of waiting in line or making reservations ahead of time to enjoy a brunch spread. Besides, you don't have to change out of your pyjamas to enjoy a brunch this way.
More brunches!
Yes, please! While brunches might have started as a way for families to spend time together out of the house, it's also a way for friends to catch up and hang out together while eating really good food and getting a little tipsy. There's no such thing as 'too many brunches'. Sure, it can get a little monotonous when everyone in the city is hosting a brunch, but all of them are different from the other, giving you something delicious to look forward to every single time.