McDonald's India – North and East introduces Kartik Aaryan's Favourite McDonald's Order – "The Kartik Aaryan Meal"
After Travis Scott and BTS Meals, McDonald's Famous Orders platform makes its way to India with Kartik Aaryan's Signature order
Available as a 4-piece meal, the Kartik Aaryan Meal is available across McDonald's restaurants in North and East India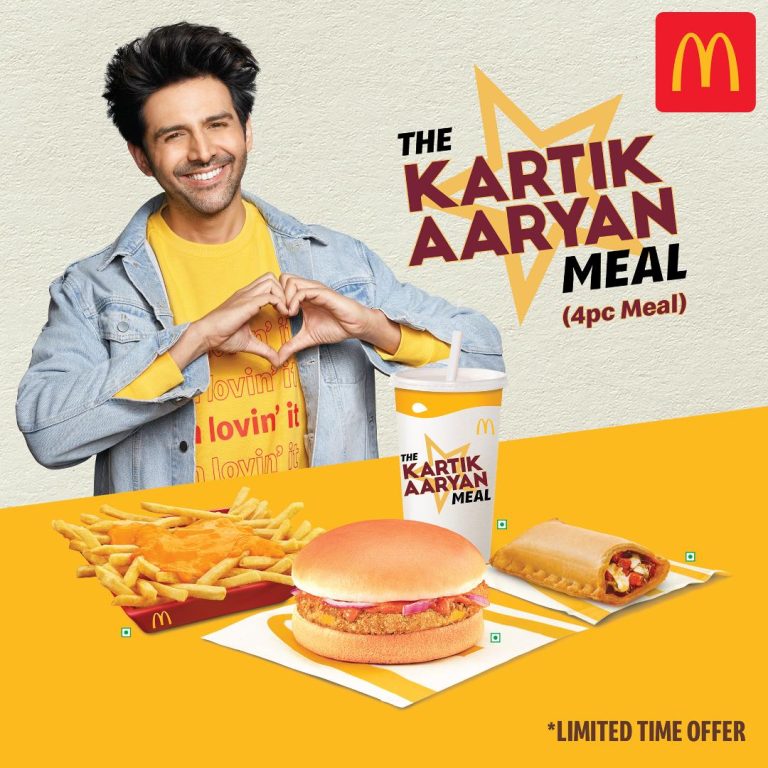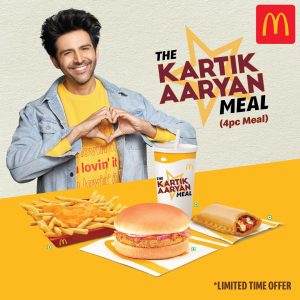 New Delhi, 21 August 2023: The Famous Orders platform has seen global success at McDonald's, from Travis Scott Meal to BTS Meal. Customers in India are in for a delicious treat as McDonald's India – North and East has introduced the Kartik Aaryan Meal, which includes Kartik's favorites from the menu. The Kartik Aaryan Meal includes his favourite, go-to menu items from McDonald's – the classic McAloo Tikki Burger, delicious Cheesy Fries, ever-so favourite Pizza McPuff with a Regular Beverage, served as a 4-piece meal. To the fans' delight, the 4-piece meal will be served in a special Kartik Aaryan-themed, QR-code enabled packaging offering fans an opportunity to take a virtual selfie with their favorite celebrity.
Kartik Aaryan is McDonald's India – North and East brand ambassador, and extremely popular among youth and families. This unique association presents an opportunity for Kartik's fans to experience the Bollywood star's go-to McDonald's order and feel even closer to him.
Talking about the launch, Rajeev Ranjan, Managing Director, McDonald's India – North and East, said, "What unites all our customers, fans and famous celebrities, is that everyone has their go-to McDonald's order! We are super excited about this collaboration with Kartik to bring his favourite go-to McDonald's order for our customers. Our delicious food served in an exclusive packaging inspired by Kartik's own style, with opportunities to engage with him, will help bring our customers closer to their favourite superstar."
"I am thrilled to see my favourite McDonald's go-to order come to life," exclaimed Kartik Aaryan. "I have always been a McDonald's fan and having a meal at McDonald's named after me is truly a big moment! For many years, I have enjoyed the McAloo Tikki burger, beverages and Pizza McPuff. And to add my recent favourite – Cheesy Fries, the combination makes for a delicious, perfect go-to meal. I am very excited to share my McDonald's go-to order with my fans. I truly hope people will enjoy my favourite McDonald's order as much as I do."
The Kartik Aaryan Meal is now available across McDonald's restaurants in North and East India or through Swiggy, Zomato or Magic Pin), as well as via take-away, or drive-thru for a limited time.
**Not available at Delhi Domestic & International terminals, New Track-Tarakote Marg (Katra), Ardhkuwari, Cyber Green (Gurgaon).
About McDonald's India – North and East: McDonald's restaurants in North and East of India are operated by Connaught Plaza Restaurants Pvt. Ltd. McDonald's is committed to delivering the highest quality restaurant experience to its customers in the region and serves a variety of menu options made with quality ingredients sourced locally. McDonald's serves millions of customers annually at its 170 restaurants across North and East of India and provides direct employment to more than 6,000 people. With a customer-centric approach, McDonald's operates through a variety of formats and brand extensions including standalone restaurants, Drive-thru's, 24/7 restaurants, McDelivery for customer convenience and experience.
For more information and updates, please log on to www.mcdindia.com, or follow Facebook, Instagram, LinkedIn, Twitter and YouTube.