The Miner Diner: Food That Will Make You Want to Dig In A Waffle Lot
The newest spot on the block is a themed restaurant tucked away on Anderson Road and serving a whole new kind of menu that you're not going to find anywhere else. Welcome to The Miner Diner, using the mining caves as inspiration for the decor and the style, the restaurant has large windows right up front and looking onto the main road and letting the natural light in. The furniture and decor are all perfectly themed and styled, making this both a great hang-out spot for friends and a nice place to visit with your family.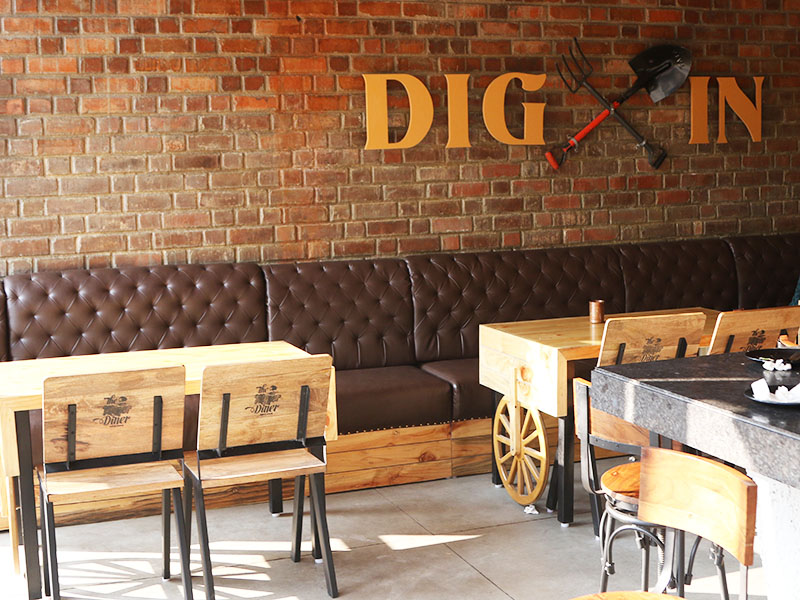 And their menu? Delightfully unique. They've got waffles by the cart-load (see what we did there?) and baguette sandwiches, plus shakes, smoothies and other delicious drinks that you get to choose from. Prior to their opening – which is this weekend! – the restaurant invited food lovers from all over Chennai to enjoy their menu during a week of food trials. Each day they had a different set menu so that customers could try everything that they had to offer and on the day we went, this is all the great stuff we got to eat.
Waffle Pizzas!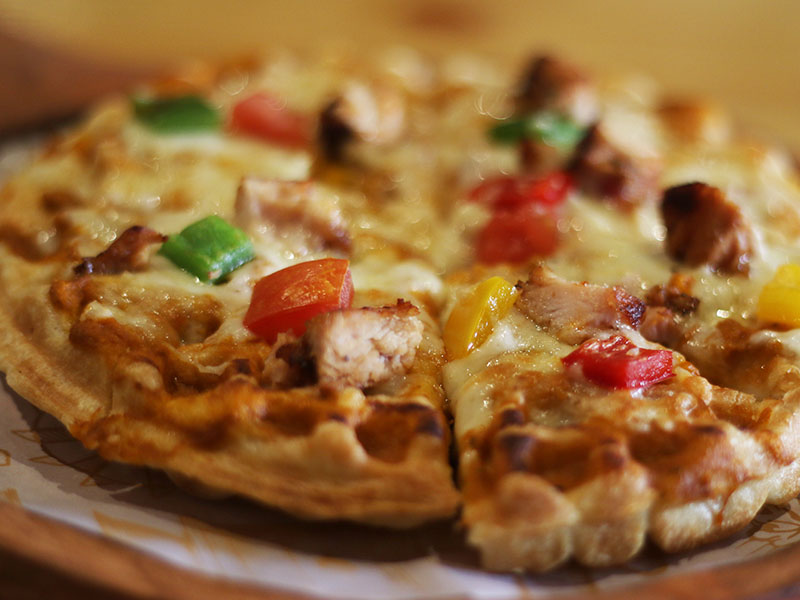 You might not actually expect to find a pizza with a waffle for a base, but come to The Miner Diner and that's exactly what you'll find. Topped with lots of cheese, capsicum and chunks of chicken, the Mexican Delight was just that, delightful.
Smoked Chicken Baguette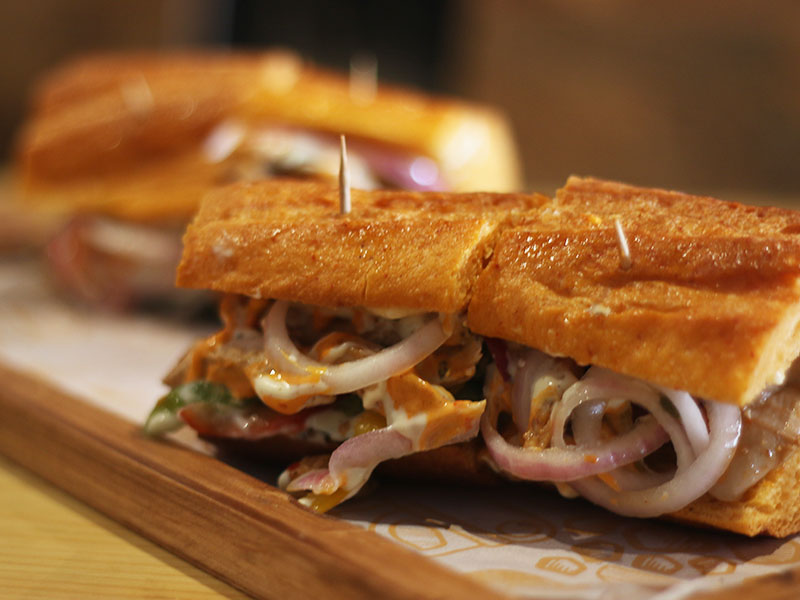 We also got to have the Smoked Chicken Baguette. And before you make a face and shake your head, just know that the baguette isn't going to hurt your mouth and make you wince in pain. The outside is nice and crispy, but the inside is soft, making it easy to eat and perfectly enjoyable. And the baguette for this sandwich was a little spicy, which just made the whole thing that much better!
Hariyali Paneer Baguette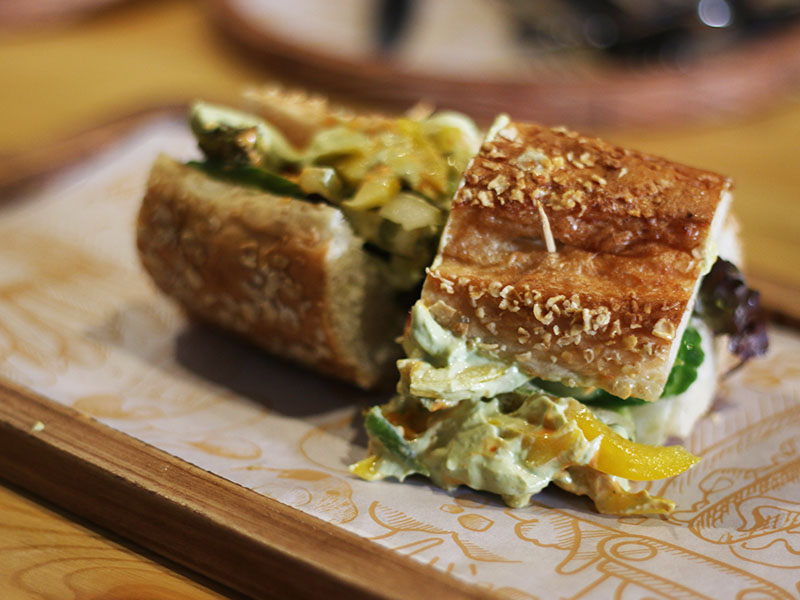 Also on the menu is a Hariyali Paneer Sandwich, again made using a baguette that will not hurt your mouth with each bite you take. Seriously, this sandwich is just going to melt in your mouth and you will not regret it.
Waffle Sandwiches!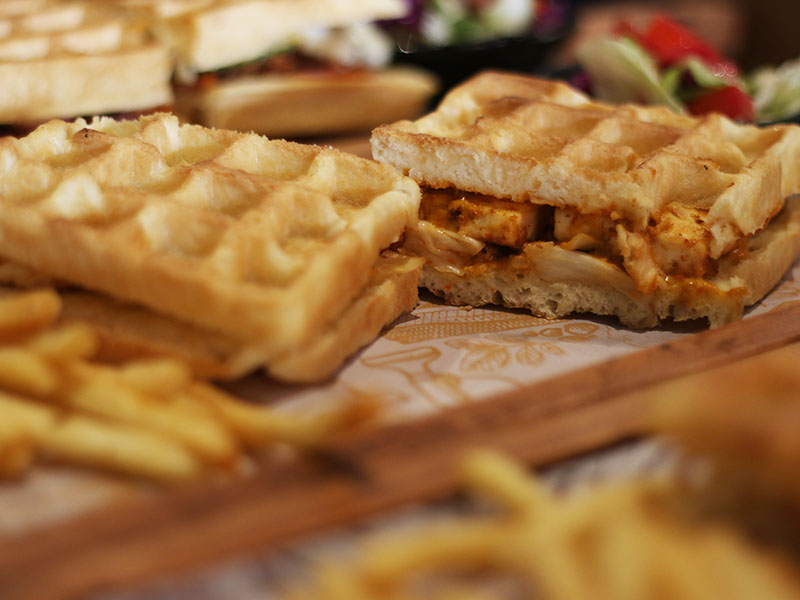 Then we had something else we've never had anywhere – waffle sandwiches. Meat and/or vegetables sandwiches between two waffles and served with a salad and French Fries. We had the Thai Chicken, Schezwan Barbeque Chicken and Barbeque Paneer Sandwiches. Seriously, you will never find a treat like this anywhere in the city.
Smoothies & Shakes!


Of course we had lots to drink and trust me when we say that the shakes and smoothies will complete your life. We had a Red Velvet Smoothie, a Lychee & Peaches Smoothie and a Nutella Shake. But that wasn't all. We even had Hot Chocolates, which came all decorated with their own foam designs!
Dessert Waffles!


And finally, to complete the meal, we had dessert waffles! We had a Double Chocolate which is chocolate chip waffles topped with chocolate sauce and then the Apple Cinnamon, which has apple waffles topped with whipped cream and slices of caramelised apples.
The Miner Diner is located at 31, Anderson Road, Nungambakkam and will be officially open to the public on Saturday, so make this your Christmas hangout spot this weekend!