#OreoCompulsiveDisorder: Your New Obsession
If there is something to get compulsive about, we'd support Oreos being the focus. Started by three friends, #OreoCompulsiveDisorder came online on the 12th of February, this year. In the two months that they've been online, they've made quite the name for themselves.
And we're not surprised. Because when you combine Oreo cookies with chocolate ganache, you have the best treat you could ever imagine. It's more than just dessert, it's a snack and it's worth the money that you're spending. Inceptualised and brought to life by Sakshi Saraogi, Vikas and Vishal Bisani, OCD might just be your new obsession.
We caught up with co-founders, Sakshi and Vikas to talk about the company and understand more about the brand.
What prompted you guys to start this company?
Sakshi: I was actually into the baking scene before, like I used to bake and this was just one of the recipes I had learned and come across. We're family friends, so I used to keep sending across the things I used to make, so he was like, 'listen, we have to do something about it'.
Vikas: This was something new which I had never heard of or tasted. I have two brothers at home and we're all big dessert fans, so when this comes home, we went mad over it. We realized that there isn't something like this out there, so why not make it happen?
Why Oreos, though?
Vikas: it's actually an advantage and a disadvantage. The advantage is that Oreos are worldwide, so everybody knows it, so it helps us to connect with customers easier. Everybody loves Oreos, maybe 2% of the population doesn't like Oreos.
Could this get you into trouble with Oreo?
Sakshi: We've thought about it and I have a few friends who are studying and working in law and they said that it shouldn't be a problem. I consulted them first before we came together and used the name 'Oreo'. The thing is, we have a hashtag and that says #OreoCompulsiveDisorder. They were saying that it's not that big of a deal, if it's not just Oreo, because you have more to it than just 'Oreo'.
How many varieties do you have?
Vikas: We've started with white chocolate, milk chocolate and dark chocolate, with three kinds of Oreos that's the original (vanilla), strawberry and chocolate.
Sakshi: Later we're planning to introduce other flavours like Red Velvet, Peanut Butter and Nutella.
Walk me through the process of making one cookie.
Sakshi: We have chocolate that we temper and make ready, then we dip the Oreos in that and refrigerate it.
How long does it take you to make one box?
Sakshi: To make one box it takes us about 15 minutes.
Vikas: Takes her about 15 minutes, takes me half an hour.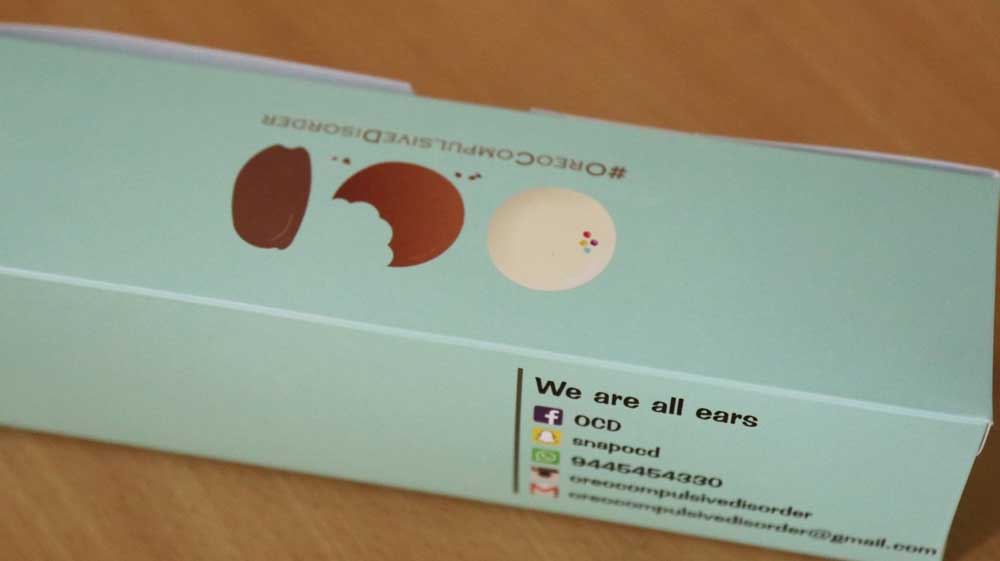 There are three of you, right? And only Sakshi has a baking background.
Vikas: Right. How it came was that she was baking, she had the passion for it and both of us had the passion for marketing.
Sakshi: And being entrepreneurs and that's how they actually came up with an idea, because I was like 'No, I'm scared, I don't wanna do it.' And they were like, 'Listen, no, we'll do it." So his brother is actually the mastermind behind the whole thing.
What's the pricing like?
Sakshi: It's priced at Rs. 150 for a box of nine. And we also offer 12, in the same box, because that's how much will actually fit into one box. And for 12, it's priced at Rs. 180. And delivery charges are additional.
Do you deliver anywhere in Chennai? And have you tied up with someone?
Sakshi: Yes, we do. And they're called EasyBikes.
Vikas: They're also a start-up, it's been six months since they started. So far, they're doing a pretty good job.
And in a box, it's all the same kind of chocolate or…
Sakshi: So you have 3 strawberry Oreos with one of milk, dark and white chocolate coating. And that's how we have with the other two as well. But people generally prefer what they want and what they know. Some people are really curious.
Vikas: So you'll get our assorted box which has everything or make your own box.
What is it about baking that you prompted you to start doing this?
Sakshi: I don't like cooking, but I used to make a lot of cupcakes and cakes and I used to go to learn more new things and that's how I got here.
And you didn't want to do cupcakes and cakes?
Sakshi: No, because everybody is doing it. It's really difficult to make a market of your own, especially cakes and cupcakes, because if I have a market of 100 people, in that there'd probably be like 50 people who are into cupcakes and cakes and for them, they have their own loyal customers and to break through that is really difficult. And in cupcakes it's usually the same, you have the same chocolate, vanilla flavor, and the way you customize it depends from person to person.
Do you plan on adding more to what you already have?
Vikas: A lot more is coming. We want to be a brand that is with the younger crowd, like people our age. And with the upcoming release of "Captain America: Civil War", we're looking to create a box that is focused on that.
Sakshi: So it'll be just the designs that will change. So we're going to do like the Captain America's shield and Iron Man's mask. It's really hard because I'll have to draw it, so that'll be a lot of work. But we'll see.
Keep an eye on OCD, because they're going places. With a promise of something more than what everyone is used to, you can be sure that it'll all be really interesting and different. Plus, it's all 100% vegetarian.
To place your orders, call them on 9445454330 a day prior.