Padma Lakshmi Finds Solace In Piping Hot Khichdi
Popular TV host and culinary expert, Padma Lakshmi can eat anything she wants. And not because she can buy them but because she knows how to make them. However, when it comes to her "go-to dish", the Top Chef host picks out the most simple and humble Indian dishes of all time – khichdi. In a recent interview for Hindustan Times, the cookbook author revealed that one of the foods that her daughter and her love is "khichri laden with a lot of vegetables".
This isn't the first time a celebrity has confessed their love for the rice and lentil mélange. Last year, The Big Bang Theory actress took to social media to confess her love for a khichdi and wine meal. And let us not forget just how big a role (912 kilograms to be exact) the preparation played at the recent World Food India 2017 conference!
An NRI by address but an Indian at heart and palate, Padma Lakshmi stays true to her Indian roots when it comes to food. The former model swears by the authentic "tiffin rooms in South India" for their dosas. "I don't like going to fancy places. I think the most interesting dishes are sold on Indian streets. I can't live without pani puris. I love bhelpuri, papri chaat and any kind of chaat for that matter! If I am in Delhi, I make it a point to go to Chandni Chowk to sample chaats", she revealed.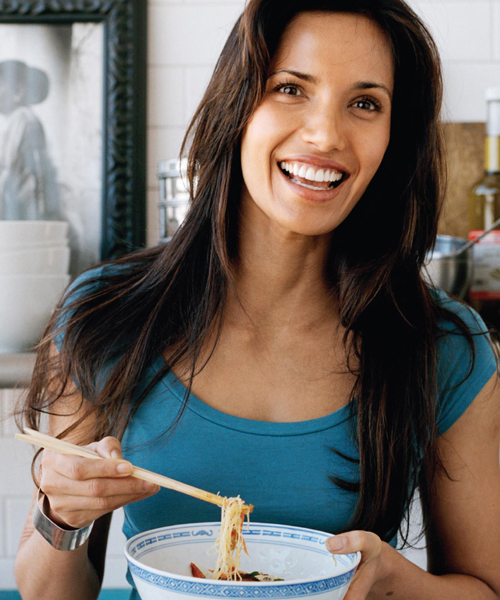 Image Source
Speaking of chaats, the American foodie disregards the train of thought that propagates using lots of spices while cooking Indian food. "People think Indian food must have a lot of masala or just some non-distinctive curry powder that is so muddled you can't taste the subtlety of the spices. I try to tell them we don't use the whole spice box in every dish. We just use mustard seeds and cumin and maybe turmeric", she said.
Take notes, people!