Pot-Luck at the Dipping Pot, Chennai
We're really digging this Pot.
I've always loved purple. The colour has a charm to it that I can't quite put into words. So imagine my delight when I was driving past TTK road when I saw this place brightly decorated with purple balloons and called "Dipping Pot."
We wasted no time in finding out when the place was open and decided to go there a week after it was. We were seated comfortably by courteous staff. After quite a wait, we were introduced to Mr. Yousuff who owns the place. He ran us through his inspiration for starting a place that focused on fondue. He also spoke about his personal love for fondue and how he was extremely thrilled to bring a brand new experience to the people of Chennai.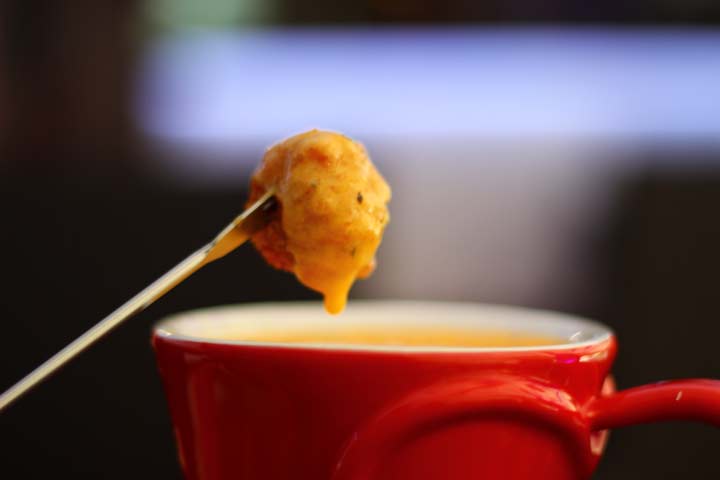 We all love chocolate. How much more would you love a chocolate fountain?
What's more, it's not one of those common fountains that you see at malls, but a fully functioning mini fountain on each table. No more hesitating about double dip!
The long due fondue.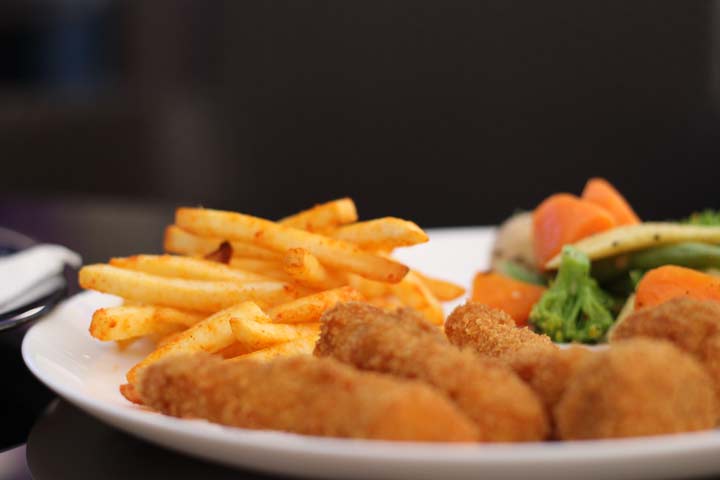 The kind of variety that they offer is unheard of, here. They have chocolate fondue and cheese fondue. They've added a dash of spice to it, in order to please the Indian palate and boy, where we pleased or what?!
Non-Veg Cheese Fondue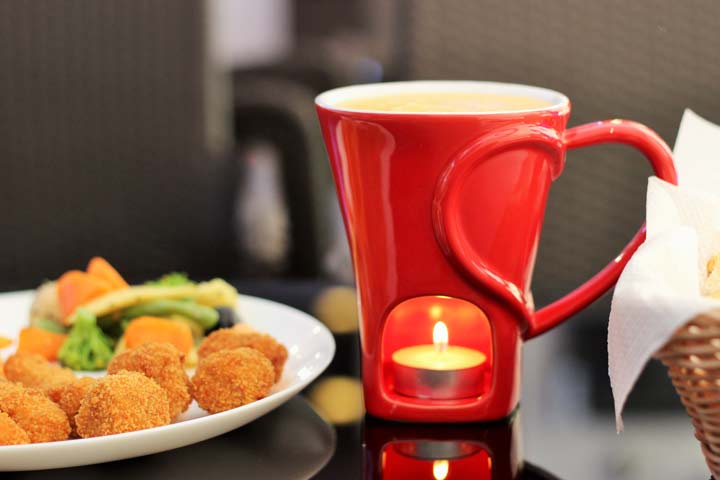 What's better than crispy fried chicken nuggets, served super fresh on your table? Crispy fried chicken nuggets dunked in delectable melted cheese. Fish sticks were cooked to perfection. The dash of peri peri on the French fries was a lovely surprise. Spiced, stir fried veggies sat on the plate too. Dunk all this in your very own fondue mug of spiced cheese, with a tiny candle below it and Oh, My. Fresh bread sticks and cubes joined our fondue party. But beware, the staff comes around to check if you've lost your bread in the fondue and if you, clumsy pants, end up doing so– We'll let you find out what's in store for you.
Barbecue Sausages with Peri-Peri fries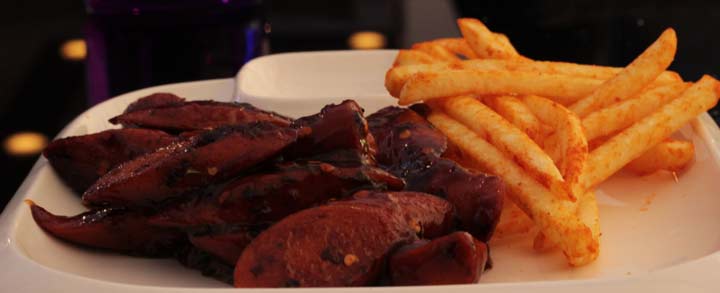 Yes, barbeque sauce is becoming one of those been-there-done-that thing these days, but Dipping Pot has set the standard super high. The sausages were absolutely divine and the sauce, even more so. We meet again, Peri-Peri fries, mmm.. Hmm..
We are officially very fond of fondues and most likely to set up camp here, pretty soon.
What we had:
Non- Veg Cheese fondue
Barbecue Sausage