Premium Delicatessen Brand Prasuma Launches Ready to Eat Momos
Age-old authentic family recipe inspired by Original Himalayan Momos
Finest quality ingredients to ensure perfect flavours
Fully automated Japanese technology to craft the momos
World class packaging technology for absolutely fresh momos
Using a timeless century old recipe closely guarded by the Prasuma family for generations, delicatessen brand- Prasuma has now launched ready-to-eat fresh and frozen momos that are an improved modern reinterpretation of the Original Himalayan Momos made with the finest ingredients using a fully automated Japanese Technology and world class packaging technology.
The brand introduced its line of fully cooked steamed momos in four luscious flavours i.e. Original Chicken, Spicy Chicken, Pork and Vegetable Momos. Prasuma Momos can be microwaved, pan-fried, steamed, deep fried or boiled and ready to eat in as little as 2 minutes.
For the Prasuma family, momos have been more than just a snack. Feasting on momos made with love and emotion has been a deep-seated tradition in the family making it not just a hearty meal but also a meal close to the heart. And true to all momo lovers, momos are comfort food for the soul. However, over time, the much-loved nosh earned a lot of flak because of poor hygiene and low quality ingredients used by street vendors. Moreover, most joints serve momos that have a disproportionately thick outer layer with a filling that is devoid of the classic, traditional momo flavors people seek.
Speaking about the launch, Lisa Suwal, CEO, Prasuma said, "We are very excited about the launch of the new Prasuma Momos. This was a dish my Grandmother prepared for us and having it each time brings back fond memories from my childhood. As a family of epicures, we bonded over food and Momos were absolutely indispensable. When people started complaining about momos being unhealthy, and of poor quality, we knew they were not having the authentic momos. We also knew then, that it was time to put our age-old family recipe of momos to use, for everyone else who loves to have what we grew up relishing. This is why we decided to launch Prasuma Momos – made with top quality ingredients, top notch technology and the perfect recipe."
Prasuma ready-to-eat fresh Momos are unlike any other momos because they are crafted with the original flavors of Momos and have a thin oyter wrapper. Additonally, making of Prasuma momos involves a 100% automated process with a latest Japanese Technology to ensure consistent quality and hygiene. It also boasts of the best packaging technology in the world that locks in the freshness, nutrients and preserves the taste and texture of the product.
Prasuma was incepted with a vision to offer people supreme quality Deli Meats by using only premium ingredients. Over the years, it kept its promise of crafting and delivering exceptional quality food products. So, true to the brand's testimony, Prasuma Momos are preservative-free, have an original soulful taste with a succulent filling, and can be prepared with great ease rendering it a perfect meal option for every age group.Enwrapped with warmth and commitment to excellence, Prasuma Momos offer complete value for money with the best in class ingredients, taste and overall quality. The price ranges from Rs. 150 to Rs.225 for 10 Pieces and 250 to 325 for 24 Pieces.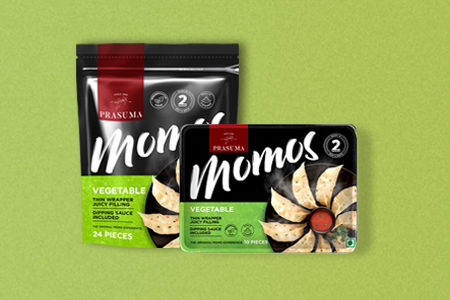 Speaking about the response from consumers, Lisa Suwal, CEO, Prasuma said, "Today, ready-to-eat dumplings are the fastest growing item in the frozen retail segment because they are a healthier alternative to other oily and fried foods. Momos have also earned the title of being the No. 1 street food in India. This result and feedback from customers following our first retail launch which was overwhelming. Our live store sampling has also proven to be crucial in creating awareness and increasing sales. We are targeting a sale of 2.5mn units by the end of the first year of launch and a 100 crore sales revenue by 2021."
"We strongly believe the new Prasuma Momos will become popular with customers as not only are they convenient and healthy but they are easy to store, easy to cook and taste delightful. Our fully cooked Momos revolutionize heat & eat meals in one major way; they're completely fresh and premium-quality." she added.
Prasuma Momos are available in retail and online stores nationwide including Natures Basket, Foodhall, Spencers, Big Bazaar, Walmart, Star Bazaar, Big Basket, Amazon and more. For more product information and availability, visit www.prasuma.com/momos