Saluting great food this Independence day.
'I want to eat something…different.'
Chef Mahesh knows perfectly well what that means. 'Innovation in food' is what we got a bite of this Independence Day.
The main sentiment behind The Indian and British food festival in VGP Golden Chakra Restaurant was to celebrate our freedom of expression through food. Hence, as evident by the name, this food festival cherished the flavours of both Indian and British dishes.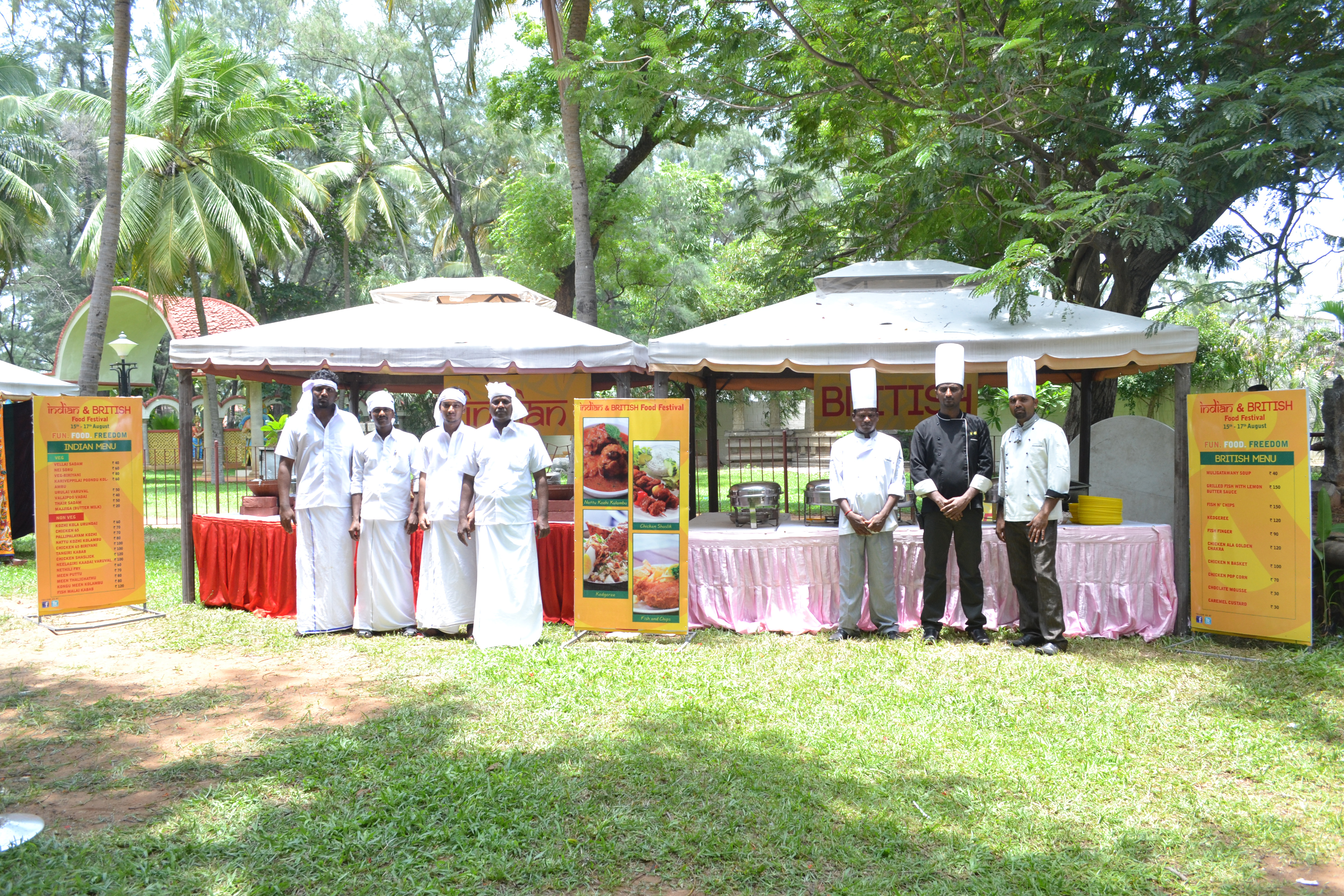 https://www.facebook.com/vgpuniversalkingdom/photos/gm.532632446838488/10152603081183788/?type=1&theater
The British dishes were simply perfect. The 'chicken ala golden chakra'  and the 'Kedegree' were like bombs of flavours in the mouth. And, of course, the street food king, 'fish n chips', made for a wonderful appetizer.
The 'Grilled fish with lemon butter sauce' was a league of its own. It was, without a doubt, the most popular with the customers. The food festival had only 2 items for desserts, mousse and custard, both of which were sold out very fast. The only hitch to this menu was the fact that it was centered only for the non-vegetarians.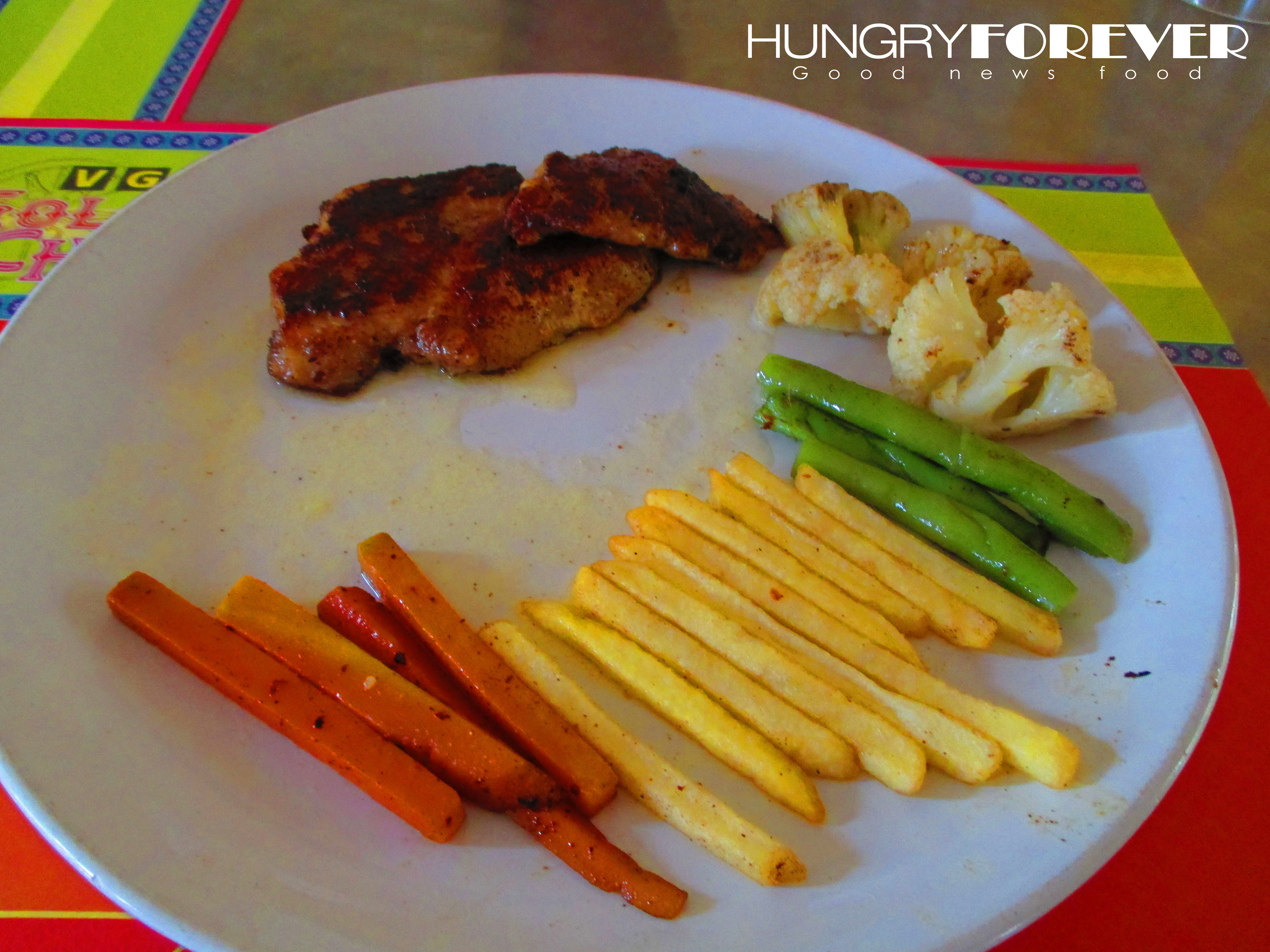 The Indian dishes were far from our usual take on food. The aim was to represent simple homemade food. The impeccable blends of spices gave us a good insight into each authentic regional dish in South India. For instance, the 'Kozhi kola urundai' and the 'kongu meen kolambu' are signature dishes from Coimbatore. The 'nei soru' is more known in Kerala. The 'majjiga', is a spiced buttermilk that is native to Andhra Pradesh. Despite having such a heavy menu, the texture and the flavours of all the dishes remained true to their origins.
'Customers ordered from both the Indian and British menu. However, the items on the Indian menu were more popular.' – Chef Mahesh
Vegetarians hogged the crunchy 'Valaipoo vadai' and were estatic with the 'urulai varuval'. The 'varuval' was a clever mixture of the 'vellai sadam' and the 'Kariveppilai poondu kolambu', and thus, added more value to the meal. The chicken and fish were cooked to the book. The Arabian-inspired grilled 'chicken shahlick'  was finger-licking good. Fish was boiled and crunched to get the spicy 'Meen puttu', and it was a  definite delight to the palette.
The champion of the day though, was the Biriyani. The gravy and rice were initially layered and then mixed. Tossed with chunks of chicken and served with chilled raita, this 'Chicken 65 Biriyani' raised the bar to the next level.
'The Chicken 65 Biriyani is very nice. Everyone in my family wanted it.' – Cynthia, a mom visiting VGP Universal Kingdom with her family.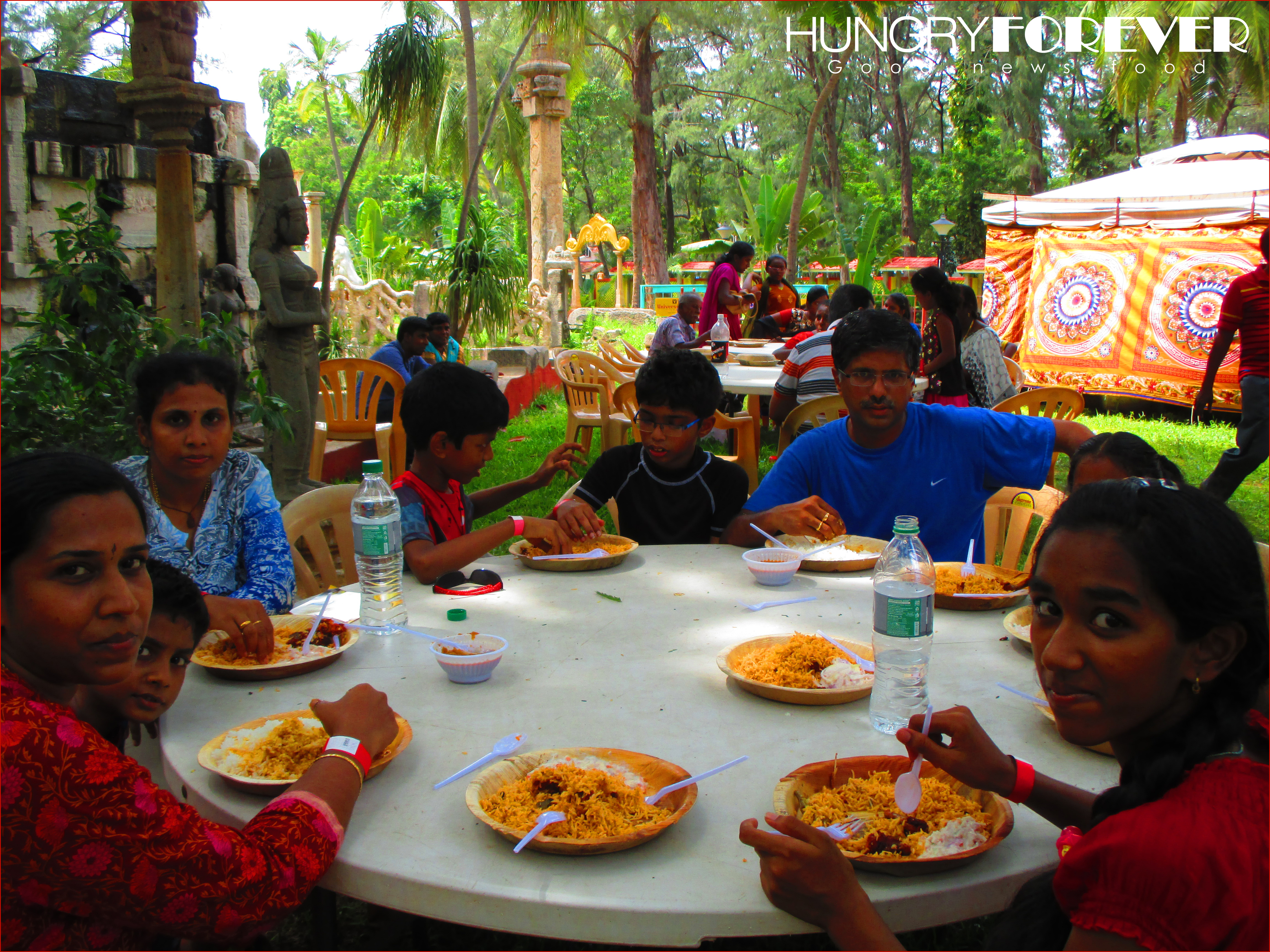 The crowd from VGP Universal Kingdom had a good break from the standard canteen menu. From fun and food it became fun with food.
The three-day festival ended gracefully, with smiling customers and exhausted chefs.