Savour A Global Cuisine At Trend Bar & Kitchen, New Delhi
The Capital's very first "mall", Ansal Plaza was a dream come true for kids and adults alike. Whether it was the towering Funkie Orbits structure, a multi-level Shopper's Stop, or the intriguing two-part structure of the mall, everything about HUDCO's revolutionary shopping complex wow-ed the crowd in the early to mid 2000s.
However, with an influx of many more malls and multiplexes, the Capital bide adieu to the mall a few years back only to open its arms to an even fancier Ansal Plaza in 2017. The mall is up and running again – not with half as many shops it had earlier but it's getting there – and we could not be happier! One of the new additions to this recreational hub is Trend Bar & Kitchen.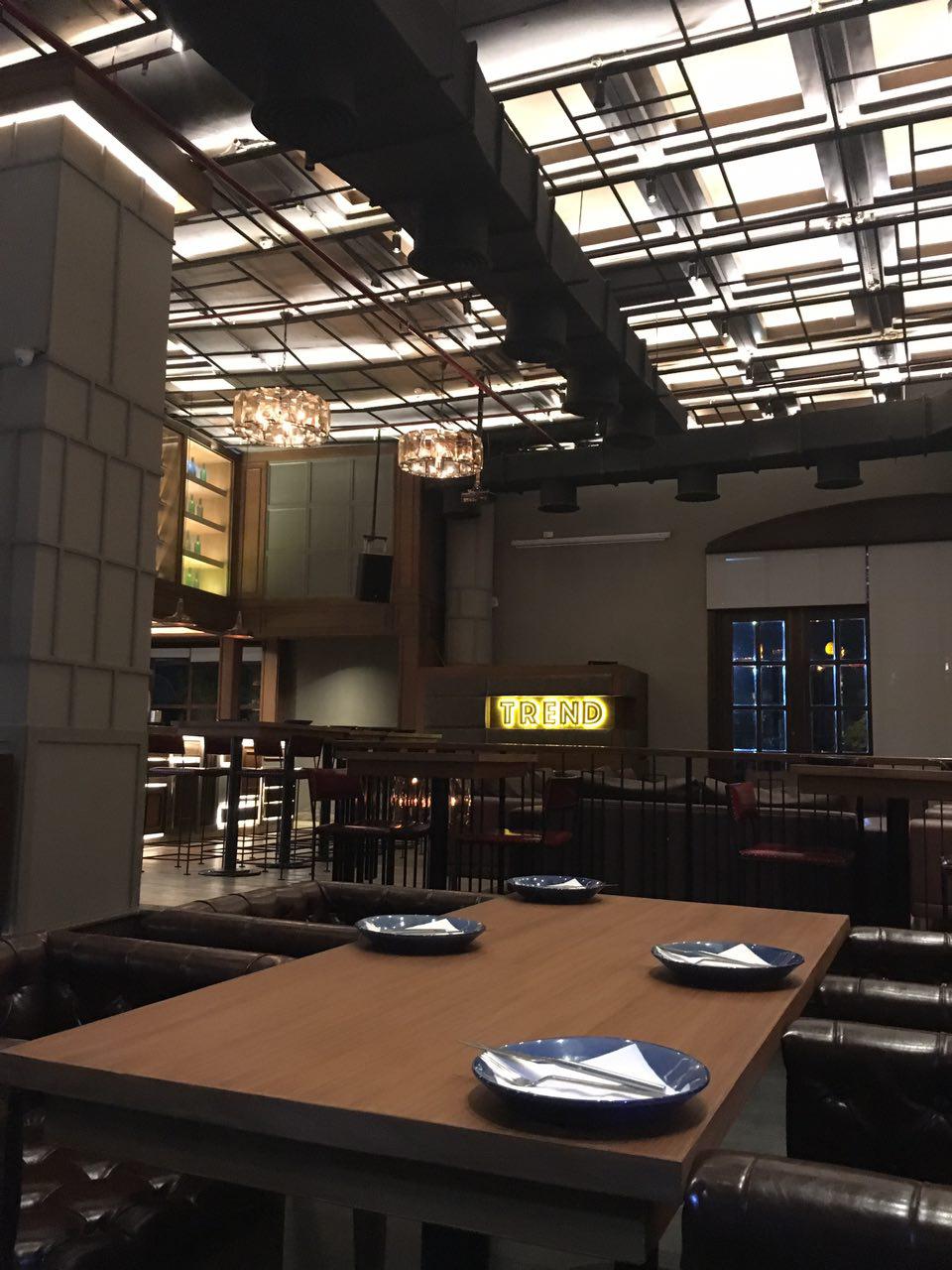 True to its name, Trend is a culinary statement in itself. The restaurant focuses on chic dining and a modernist appeal in cooking and presenting food to indulge the diners' palate and visual senses. Along with vividly modern techniques like plated cocktails, Trend makes you experience things ranging from Food finishing right at your table to unique servings in the form of Espuma, Smoke, and Cyro techniques to name a few.
Trend prides itself in a multi-cuisine menu blended with the aforementioned tweaks that make for a delightful gastronomical experience. So, if you're looking for traditional cooking with a contemporary edge, this is the place to be. Apart from an impeccable selection on the menu, the restaurant must be lauded for its immaculate plating techniques, which is something you must see to believe.
We had a chance to drop by this exquisite new dining space in Ansal Plaza, and let's just say Trend was not one to disappoint. In fact, we came back home supremely overwhelmed, satiated, and with a grin slapped across our face. Take a look at the reason behind our culinary glee.
What We Had:
Before ordering, we were served a petit appetizer, the goat cheese tart. This welcome bite was a refreshing blend of sharp cheese, pureed mango, watermelon caviar, and dry fruits placed beautifully atop a crunchy cracker.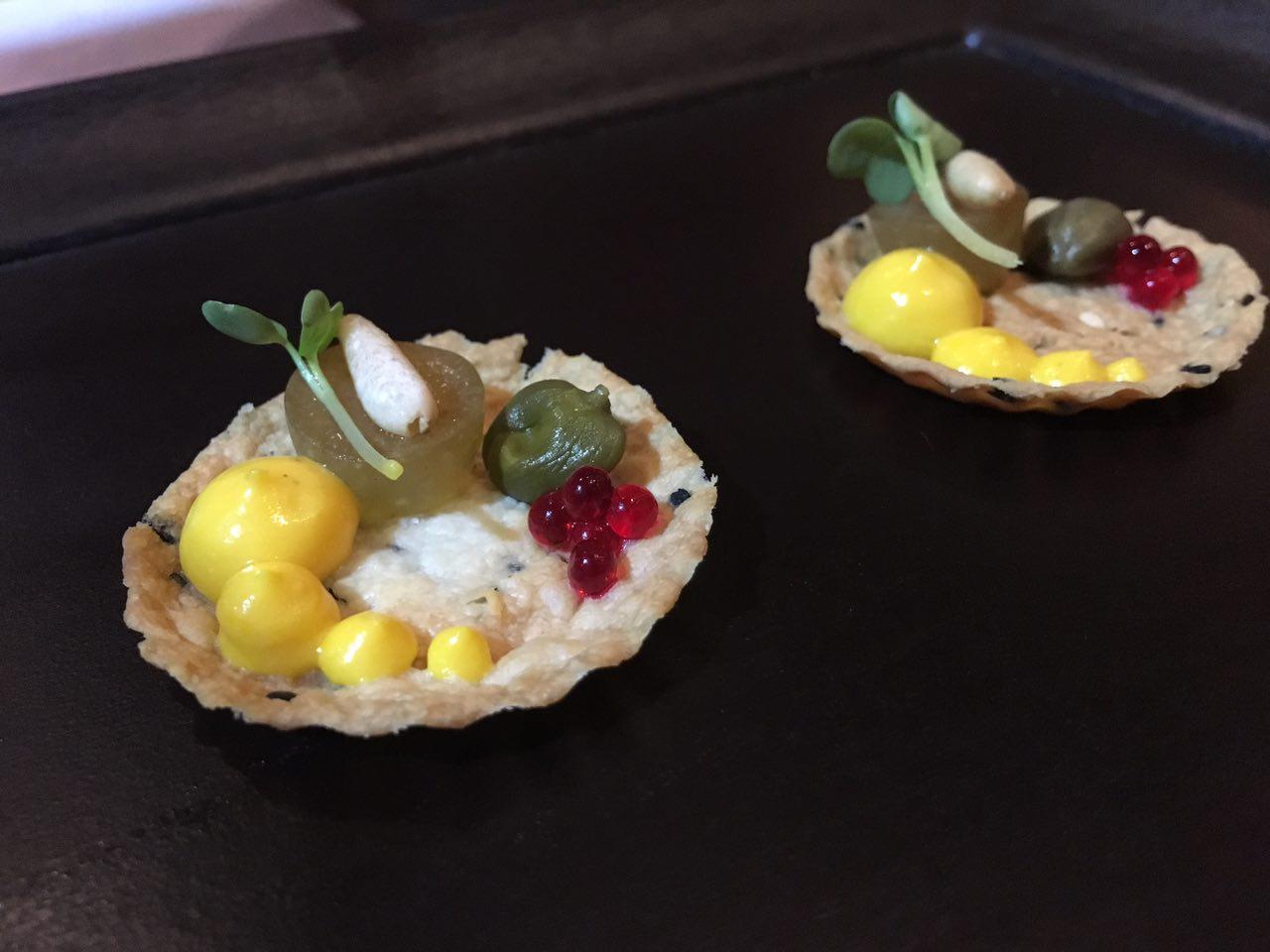 Tiramisu
We were sold simply at the idea of sipping – not eating – a tiramisu. The drink was, as promised, a drinkable version of the popular Italian dessert complete with the signature velvety texture and a house made rum syrup.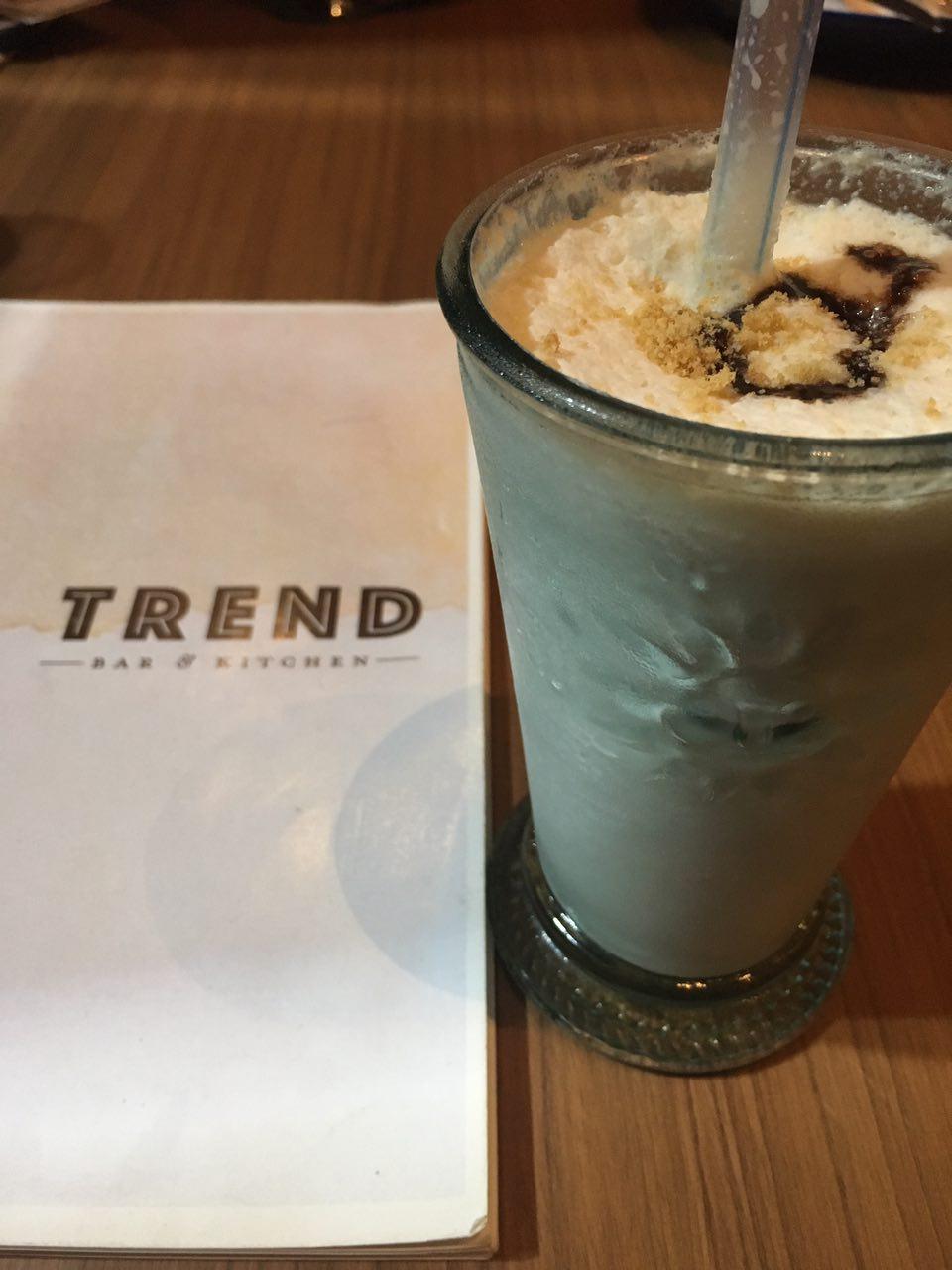 Eden Iced Tea
Unlike most iced teas we've tasted, Trend's version was a seeter and fruitier one, and we are not complaining. This beverage brought together hints of strawberry and hibiscus stirred in with Himalayan tea. If you have a taste for iced brews, we highly recommend the Eden Iced Tea.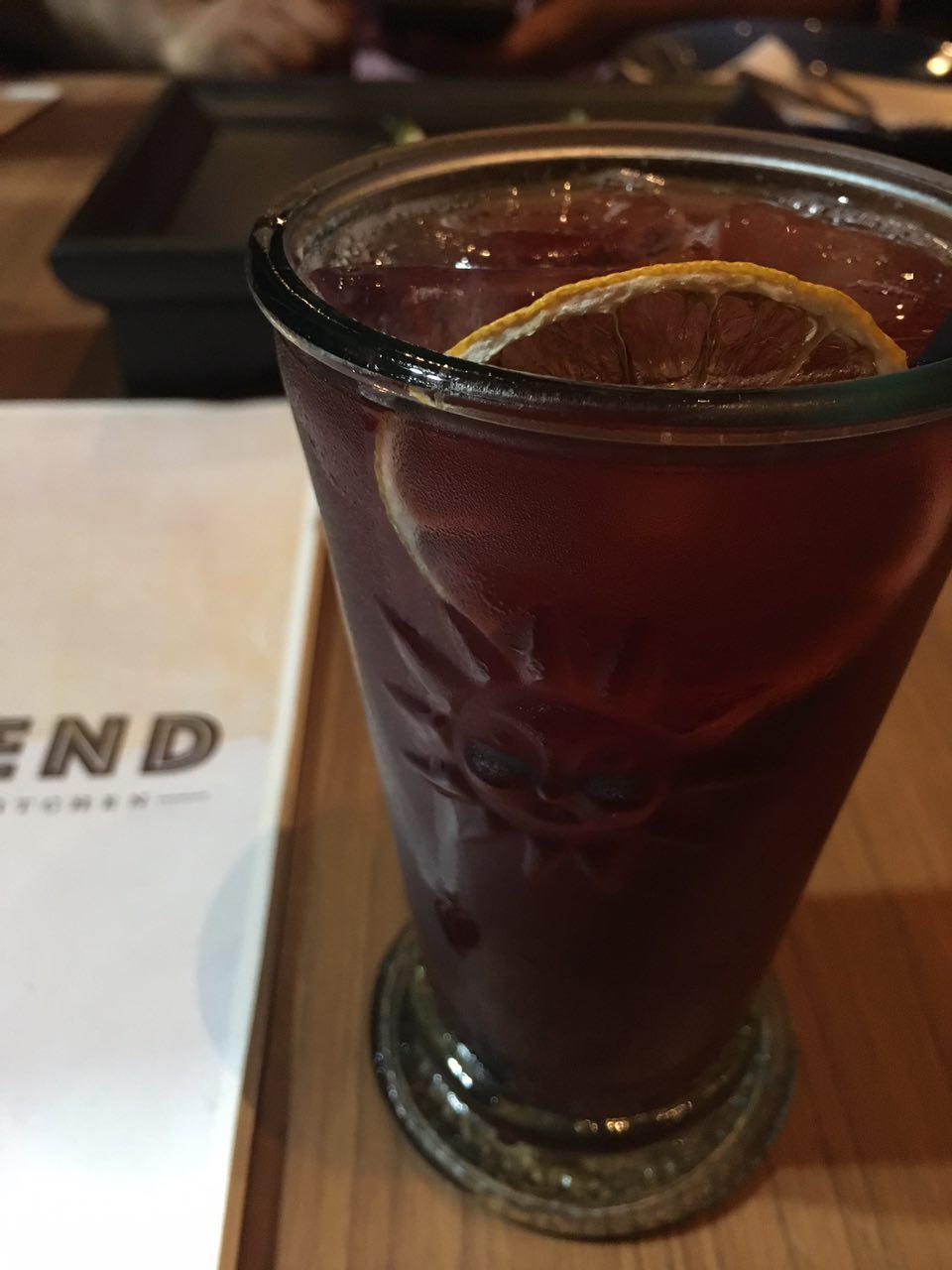 Mozzarella Bread Pakora
Having stayed in Delhi all our life, how could we resist bread pakora, and that too with mozzarella, no less! The preparation remained true to its street-side origin with a delicious potato masala lining the inside of the fritters. That paired with melted mozzarella made for a unique yet excellent combination to snack on!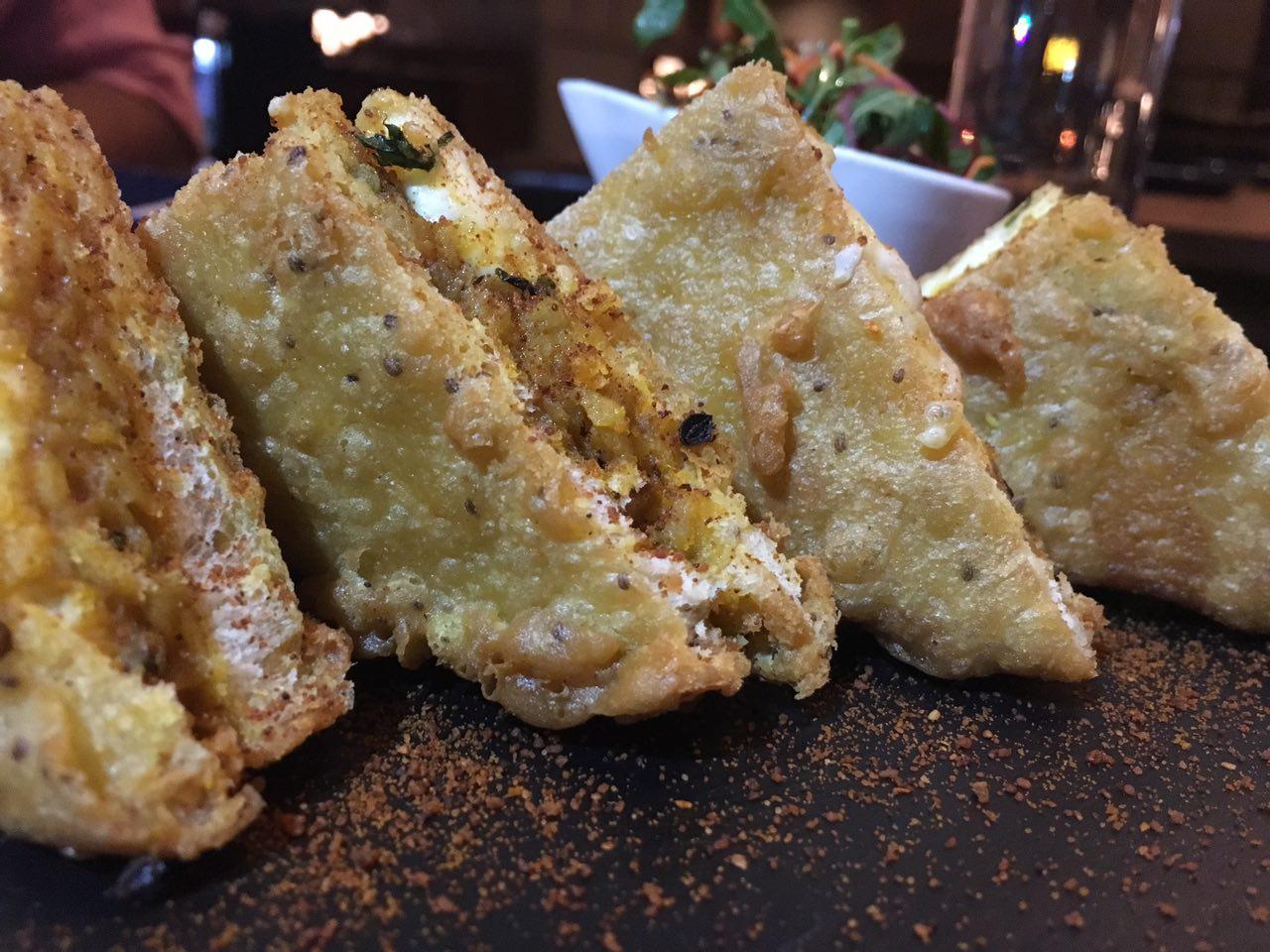 Glazed Tofu & Glass Noodle Salad
The glazed tofu was a perfect sampler of what we were in for. The dish came beautifully plated with just the right amount of seasoned glass noodles to balance the melt-in-mouth brûléed tofu. Visually, the salad was a pleaser with tempura caviar (for that perfect crunch), thin sliced greens, and hints of yellow and raw mango dotting the plate.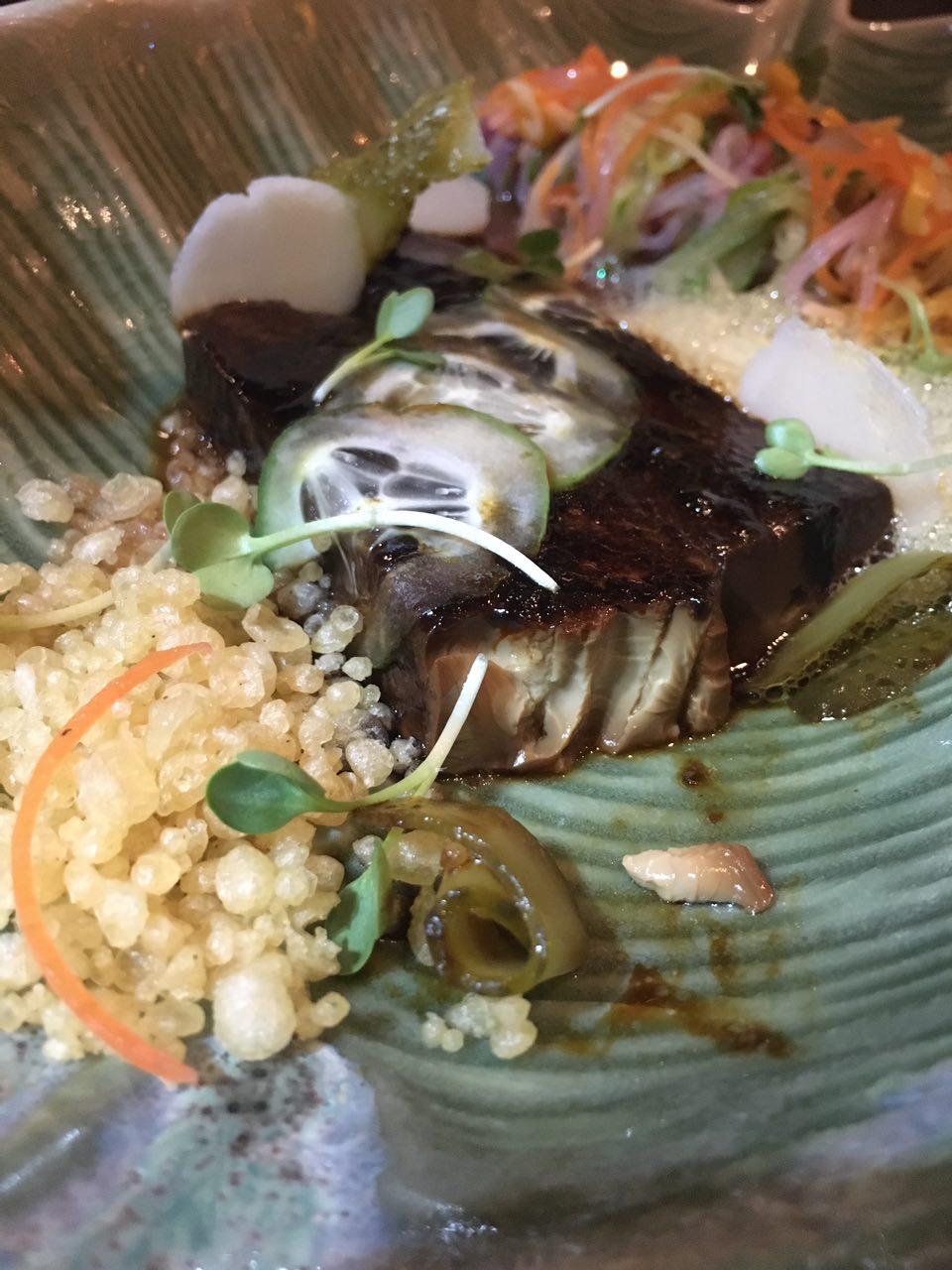 Mutton Gilawat Croquette
Despite the signature panko-crumbed croquette crunch on the outside, the smoothness of the typical Awadhi mutton was intact on the inside. Served with an appetizing fig chutney and house salad, this appetizer totally got the party started!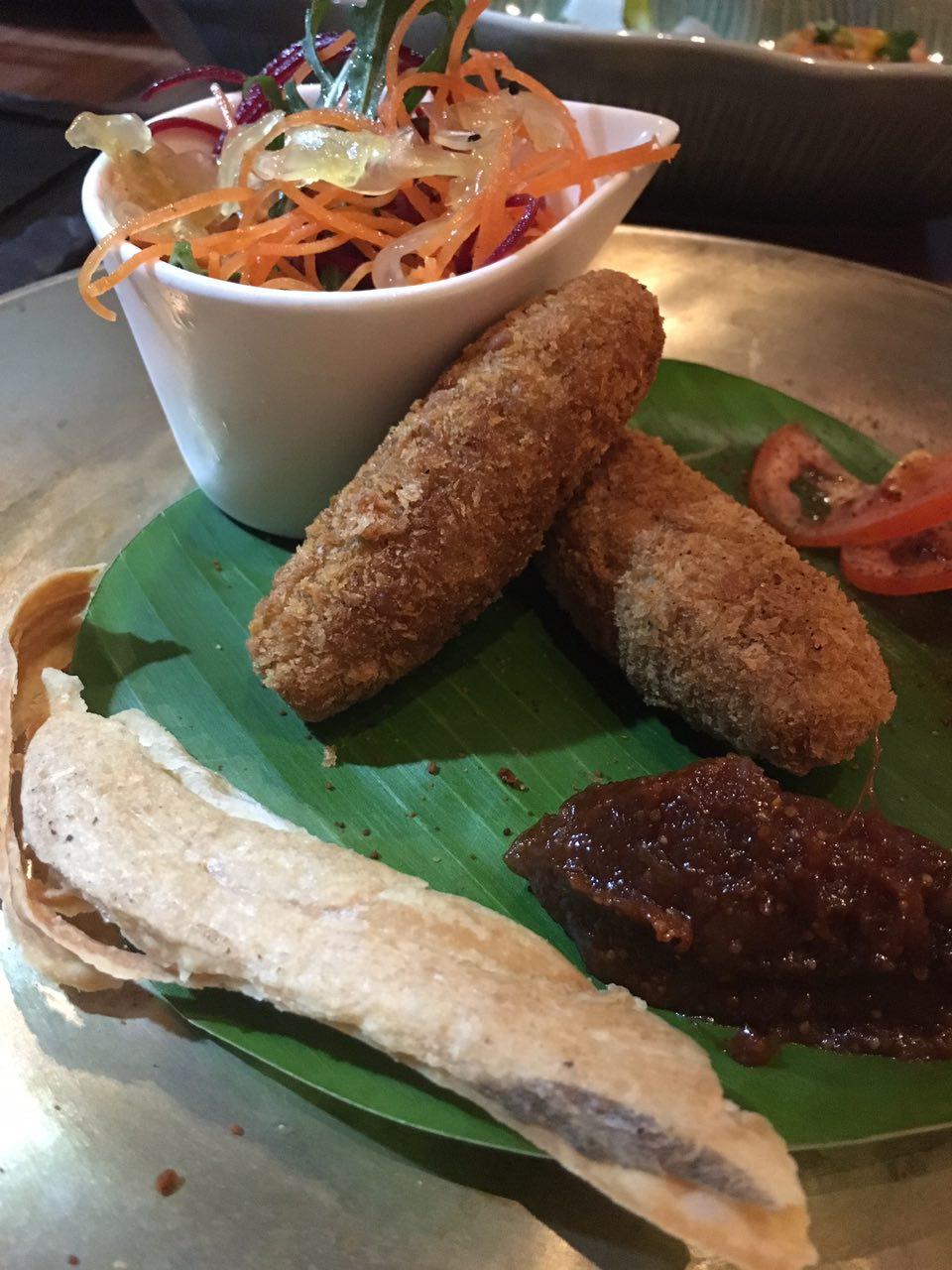 Sri Lankan Pork Curry
Moving on to the main course, we made more global choices starting with this tangy Sri Lankan Pork Curry. The dish packed a storm of flavours with chunks of marinated pork served with a thick mango curry that went amazingly well with the Goan chouriço pulao that was served alongside.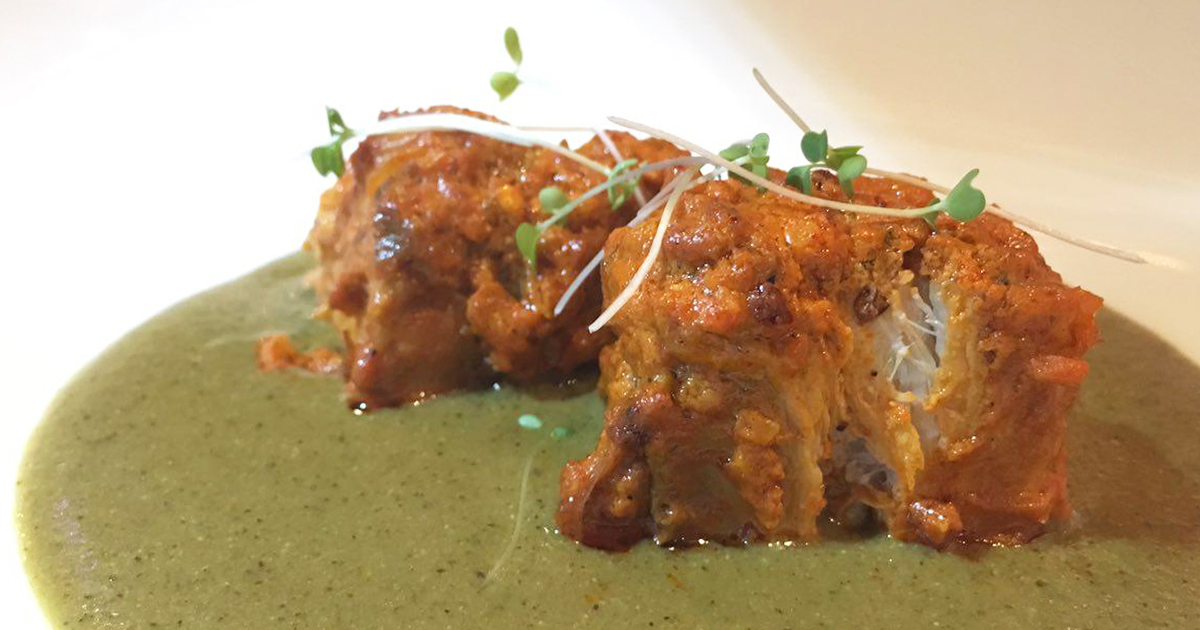 Australian Lamb Chop
We made a jump further down under for our second entrée and went for a classic Australian lamb chop, because how can you not? The preparation was a wholesome combination on lamb shanks cooked to perfection, served on a bed of glazed carrots, asparagus, and pine nuts. On the side was a ridiculously smooth potato confit to drive our palate crazy.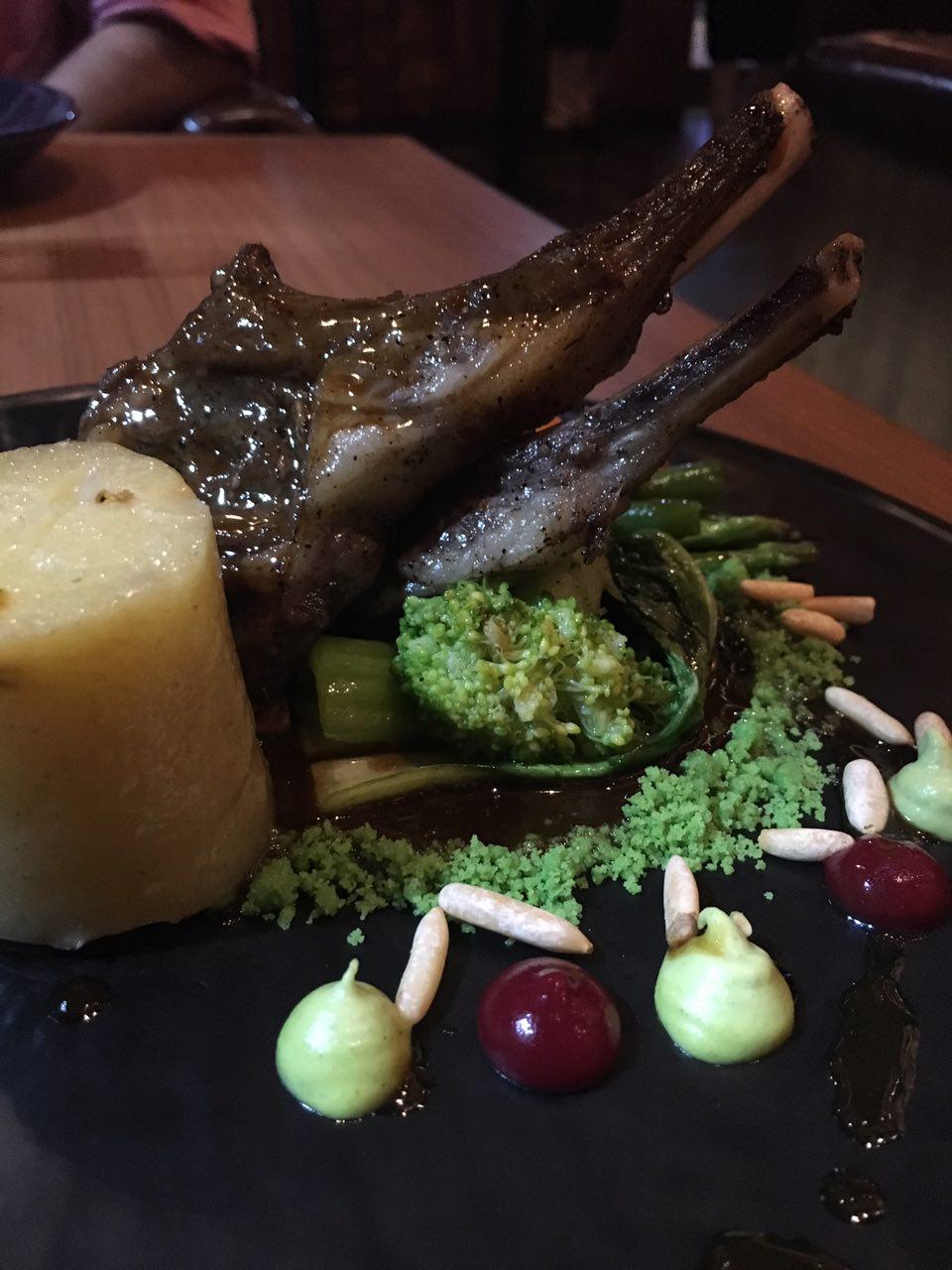 Shahi Tukda Mille Feuille
Again, we were taken aback with a picturesque and borderline overwhelming plating technique. The Shahi Tukda Mille Feuille featured crunchy layers of thin puff pastry with dollops of sweet kesar-hinted cream sandwiched in between. Taking our blood sugar another hundred points was a smooth thandai Chantilly cream, a sweet-tangy apricot puree, and watermelon caviar. The dessert was topped of with dried rose petals, grated pistachio, and a spoonful of delish! This was easily the showstopper.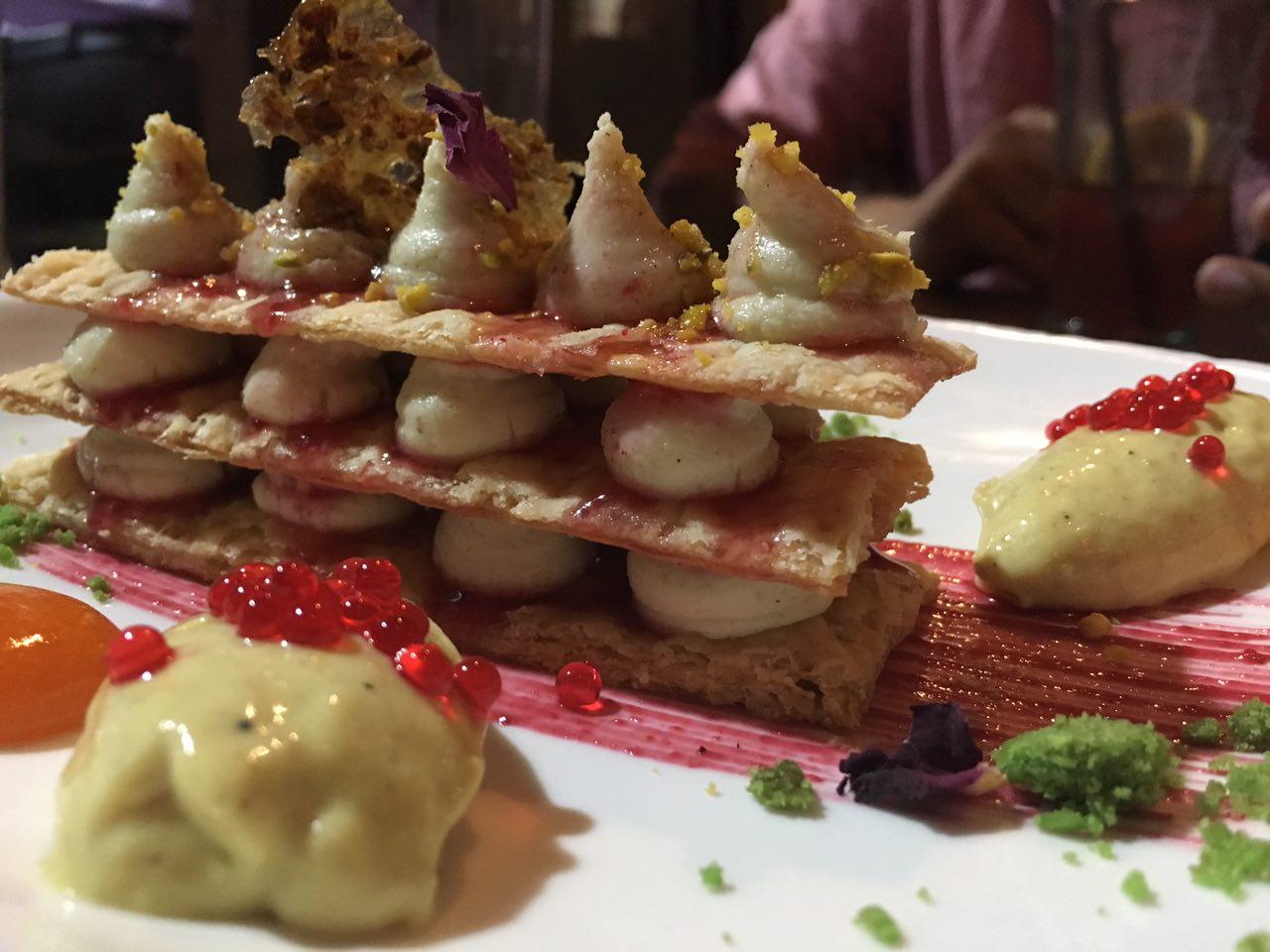 In conclusion, may we just add that Trend proved to be a promising nook in the up and coming Ansal Plaza (version 2). And if an Instagram-friendly meal is what your social media feed desires, then Trend is the place to be. Moreover, combined with a lively ambience, crisp service, and flawless décor, we don't see why your next dinner gathering shouldn't be at this restaurant!
Trend Bar & Kitchen
CG 2-3, Ground Floor, Ansal Plaza, Khel Gaon Marg
New Delhi-59
011 30806523