Scrumptious Saigon: Benjarong's Annual Vietnamese Food Fest Is Back
Benjarong, Chennai's go to spot to get some delicious Thai food is currently hosting its annual Saigon Food Festival and it's something you don't want to miss. Benjarong, located on T.T.K Road has taken their festival to a whole new level this year. We got a chance to speak to Chef Ramkumar V who told us that this year, instead of focusing on Vietnamese food in general, Chef Nguyen Thi Nho and Chef Ly Kim Ngan and him, decided to choose a specific place in Vietnam and focus on that regions cuisine. Chef Ramkumar was inspired by the street food he tasted on a trip to Ho Chi Min City- formerly known as Saigon before Vietnam was unified. Drawing on what he learnt from his trip and familiarizing himself on Vietnamese history, regarding food and otherwise is his secret to creating dishes that are truly authentic and pay homage to their homeland. And if that wasn't enough, he also brought back all the ingredients he needed to make the 42 dishes on the Saigon menu from Vietnam, excluding local vegetables and meat.
Drinks
Our taste buds were warmed up with a cool passion fruit mocktail (Nuoc Ep Chanh Day). This thirst quencher was fresh and topped with basil, basil seeds and passion fruit seeds.
Soup and Salad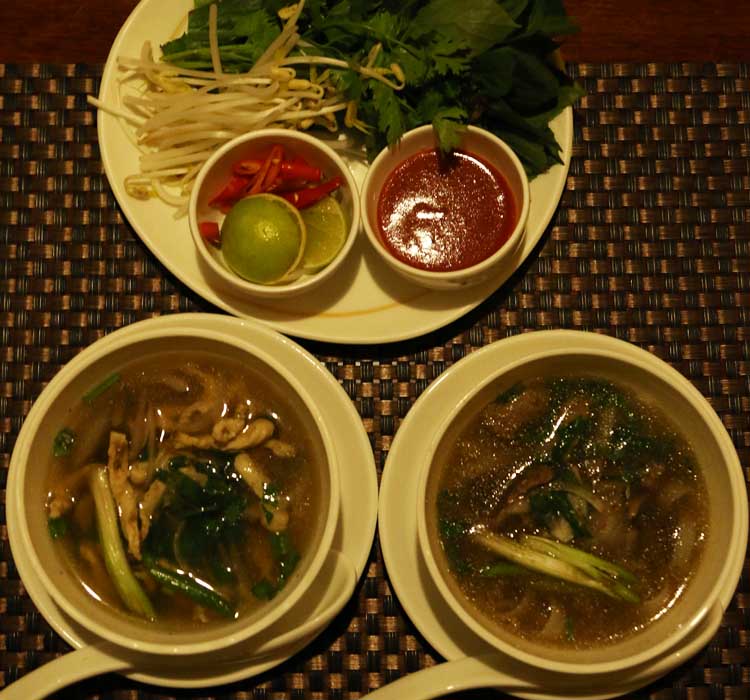 We started off with a delicious, traditional Vietnamese soup called Pho. In a clear broth swam noodles, meat and greens like basil and coriander as well as some sprouts. Pho is the National dish of Vietnam and is usually served in a big bowl as a meal on its own.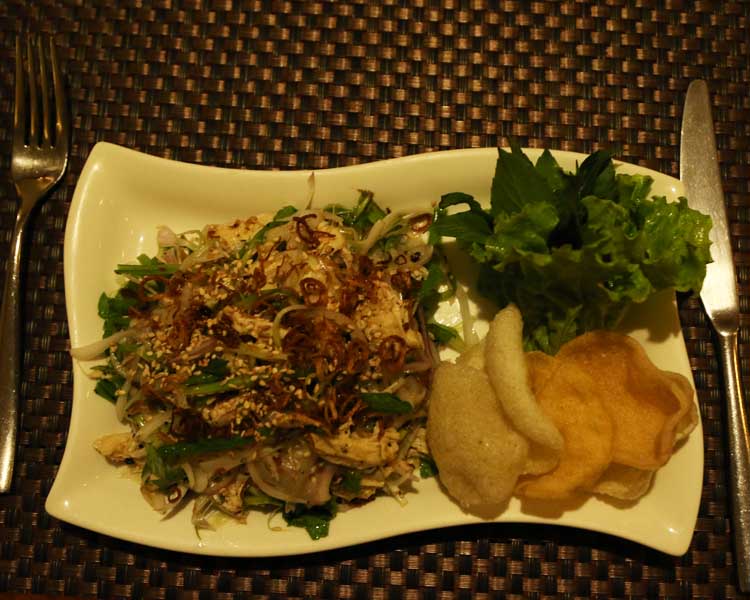 Then we had a fresh salad made with steamed and shredded chicken and scallions (Goi Ga Hanh Hoa), and drizzled with a spring onion oil. The salad is eaten with lettuce or crackers, so we loaded the greens and poultry onto the cracker and lettuce leaves and ate it in big mouthfuls. Both the soup and the starter were deceiving simple but jam packed with flavor.
Starters
We were then served an array of starters. Vietnamese cuisine has a lot of seafood in it, so consequently four of the five appetizers were fresh from the ocean. If you're looking to really indulge and give yourself a cheat day, you've got to try the crispy prawns, deep friend in a coating of sweet potato (Banh Tom Ho Tay). The outside layer was crunchy and crisp and the prawn on the inside was cooked to perfection.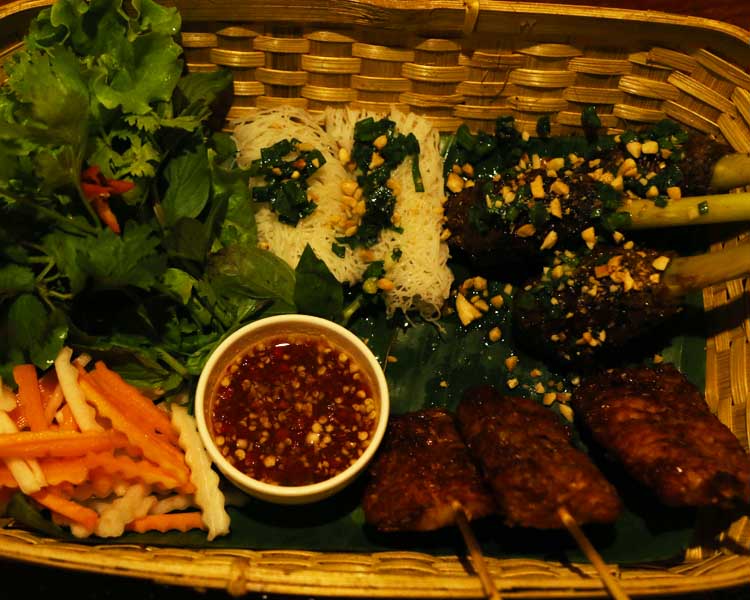 Next was the grilled beef, served on lemongrass (Bo Cuon Sa Nuong voi Bun Tuoi va Nuoc Mam Toi Ot) that was so delicious, we were tempted to stuff the whole thing in our mouths like a cakepop! It was served with rice vermicelli, a staple food in Vietnam, and a chili-garlic fish sauce.
Along with the beef were skewers of five spiced grilled fish (Ca Nuong Ngu Vi). This was some of the best fish I've ever had—it literally melted in my mouth! This is a must try for any fish lover.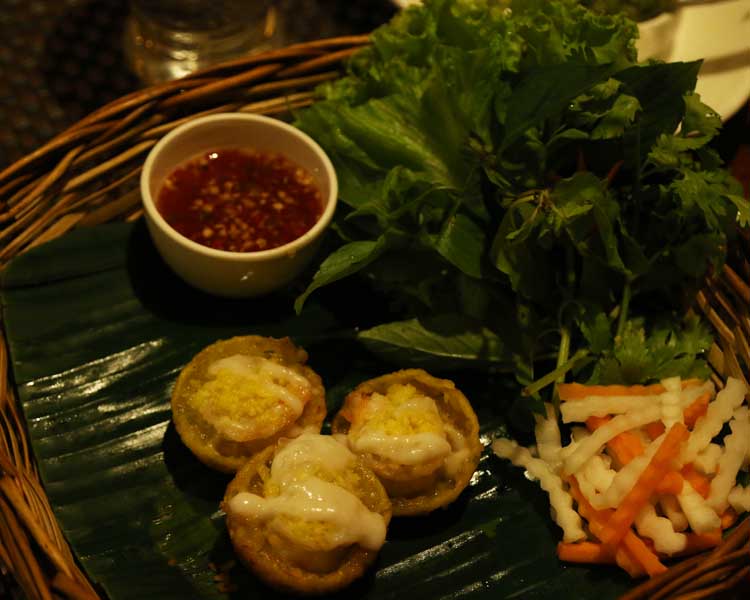 After this, we tried the chef's favorite, Banh Khot. There bite sized pancakes were topped with shrimp and coconut and had a delicate flavor that lingered on your tongue.
Main Course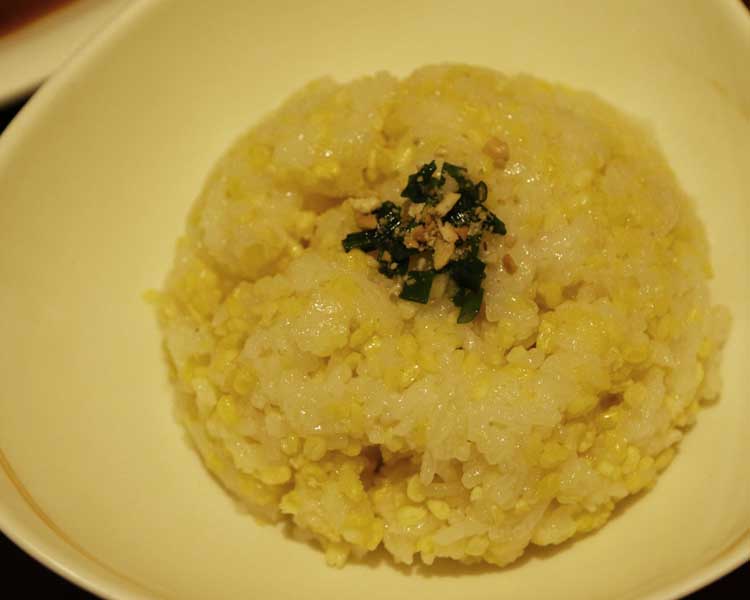 Moving on to the main course, we were served three dishes along with Vietnamese rice and noodles. The mung bean sticky rice (Xoi Dau Xahn) had an exotic taste, and acted as the perfect palate cleanser that would be needed as we ate the other dishes.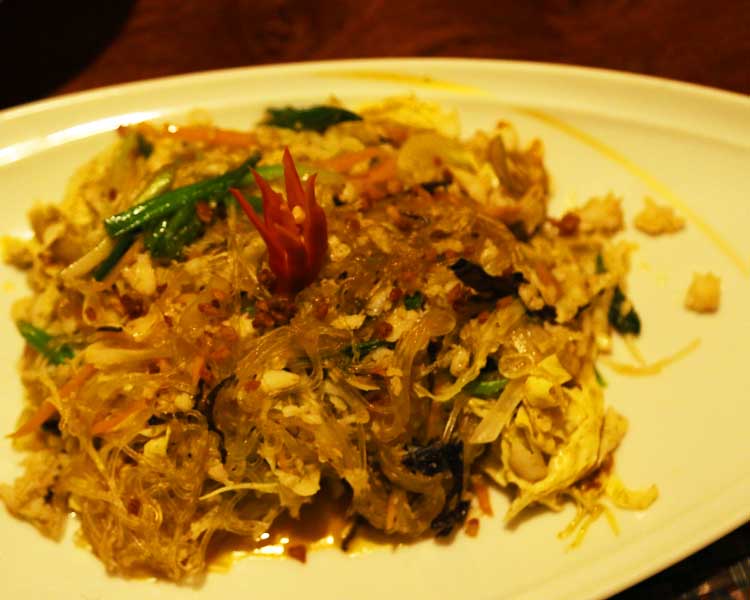 The glass noodles (Mien Xao Cua) were tossed with sinfully scrumptious crab meat, cooked and seasoned to perfection.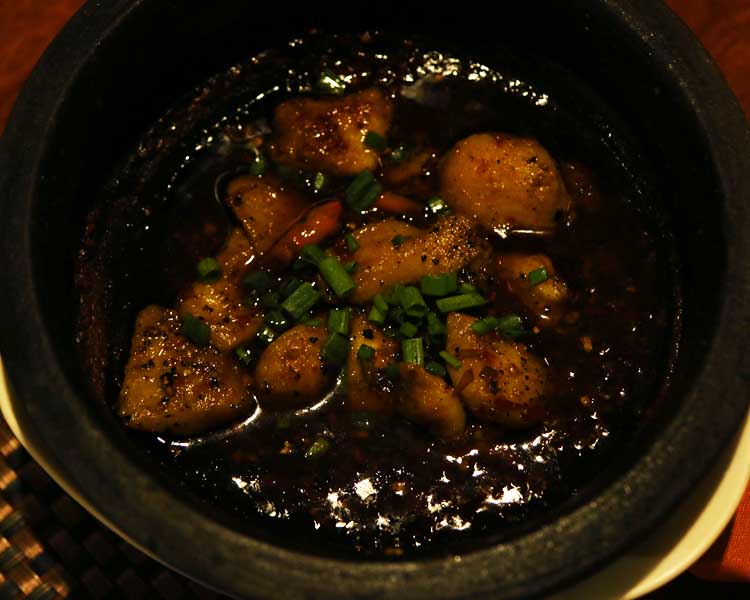 Along with this, we tasted the firecracker Ca Kho To, fish that was cooked in a clay pot and bathed in spiced oils with subtle, sweet undertones.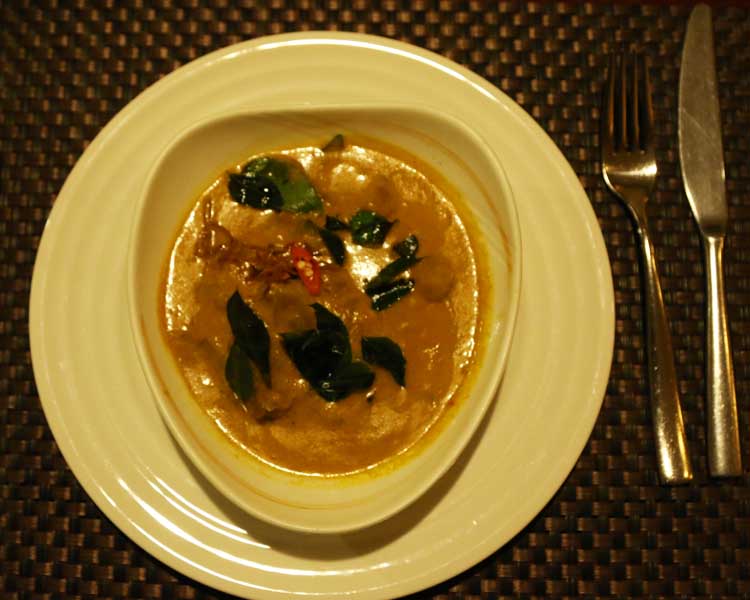 The Ninh Binh lamb curry (Ca ry Cu'u) was also a flavor packed and went harmoniously together with the rice.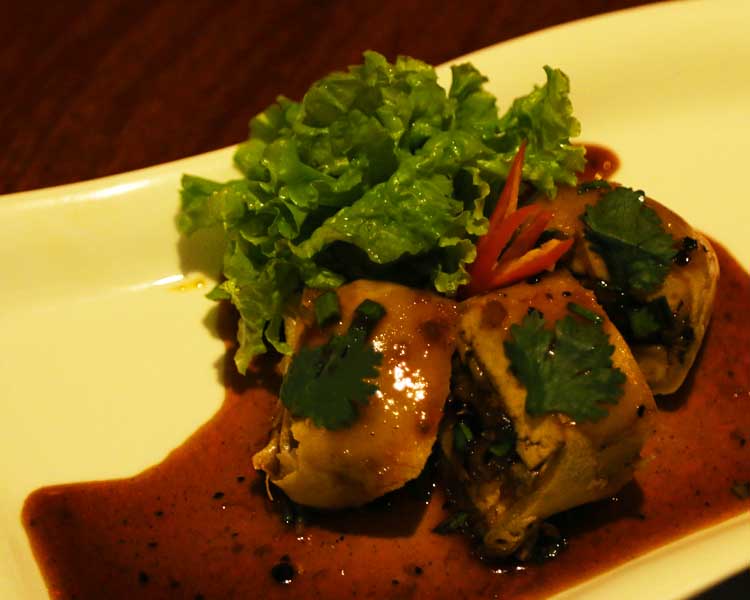 For a vegetarian treat, we also tried tofu stuffed with assorted mushrooms and wrapped in a crispy, wanton skin (Vit Quay Chay Da Gion). Don't let the lack of meat fool you—this was one of my personal favorites out of everything we tasted. Crisp, juicy, soft and chewy this dish guaranteed a delightful explosion of flavors and textures in your mouth. In Vietnam, this dish is often called the "vegetarian duck."
Sweet Treats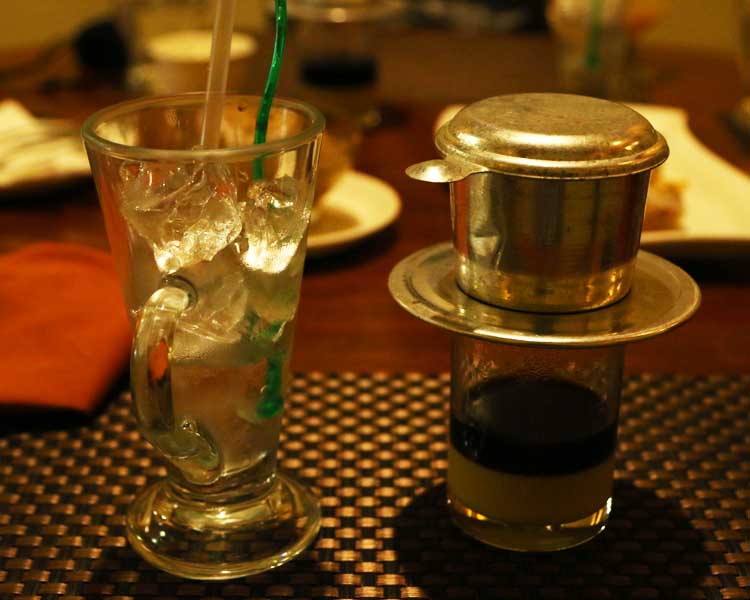 To sweeten our taste buds, we were then presented with a traditional Vietnamese Iced coffee (Ca Phe Sua Da), that can be found under the mock-tails section of the Saigon menu. The combination of condensed milk and filter coffee that was poured over ice offered a theater element as well as a new take on traditional coffee.
We also devoured the mung bean cake (Bahn Dau Xanh) which we all agreed was our favorite dessert. The crumbly but smooth texture, dense cake combined with just the perfect amount of sugar for it to not be too sweet was mouthwatering. We recommend trying it without the scoop of ice cream that its served with, because that's how its eaten in Vietnam. Along with this was a steamed banana cake topped with coconut cream (Banh Chuoi Hap Nuoc Cot Dua). It was gooey and thick with a subtle and elegance flavor.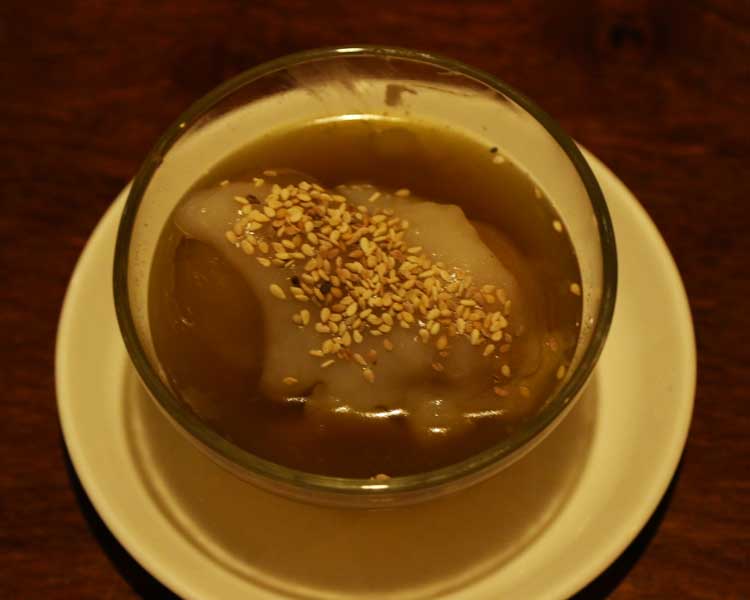 And if that wasn't enough, we were treated to Vietnamese mung bean dumplings (Che Banh Troi), soaked in a ginger syrup and topped with coconut cream. This is the dessert for any ginger lover.
Make sure you check out the Saigon Festival at Benjarong soon! It will be going on until August 4th. The restaurant will also be offering gourmet lessons by Chefs Nguyen Thi Nho and Ly Kim Ngan from Ho Chi Min City, who created the Saigon menu. To find out more, contact the manager at 044 24322640.
Benjarong is located on 146, T.T.K. Road in Alwarpet. For more information or to make a reservation, contact 044 24322640.