Start A Green Life With Plant-Based Meats At GREENR Café, Delhi
A short walk down the designer lanes of Shahpur Jat, and a little further up Dada Jungi House was a solitary chalkboard gleefully boasting of what lay ahead of me – GREENR Café. A quick fleet of stairs later I stood in front of a green door that had an aura that took me back to C.S. Lewis' famous wardrobe. And the café was in fact nothing short of magical.
Behind that juxtaposed lime green door was a whole other realm – a refreshing, calm, and relaxed one within the thriving madness of Shahpur Jat. The place sits on top of popular jewelry hub NIMAI, but that's only an iota of what make the establishment super special. Here's why GREENR was in ways better than Lewis' fantasy world.
GREENR Café
The place is not just about the food, the jewelry boutique downstairs, the gorgeous lifestyle items sprawled across the space, or even a calm place to let your clockworks churn. There is more to the establishment than what meets the eye. Founders Mohit Yadav and Nitin Dixit have centered the core of GREENR on the ideals of sustainability and a community.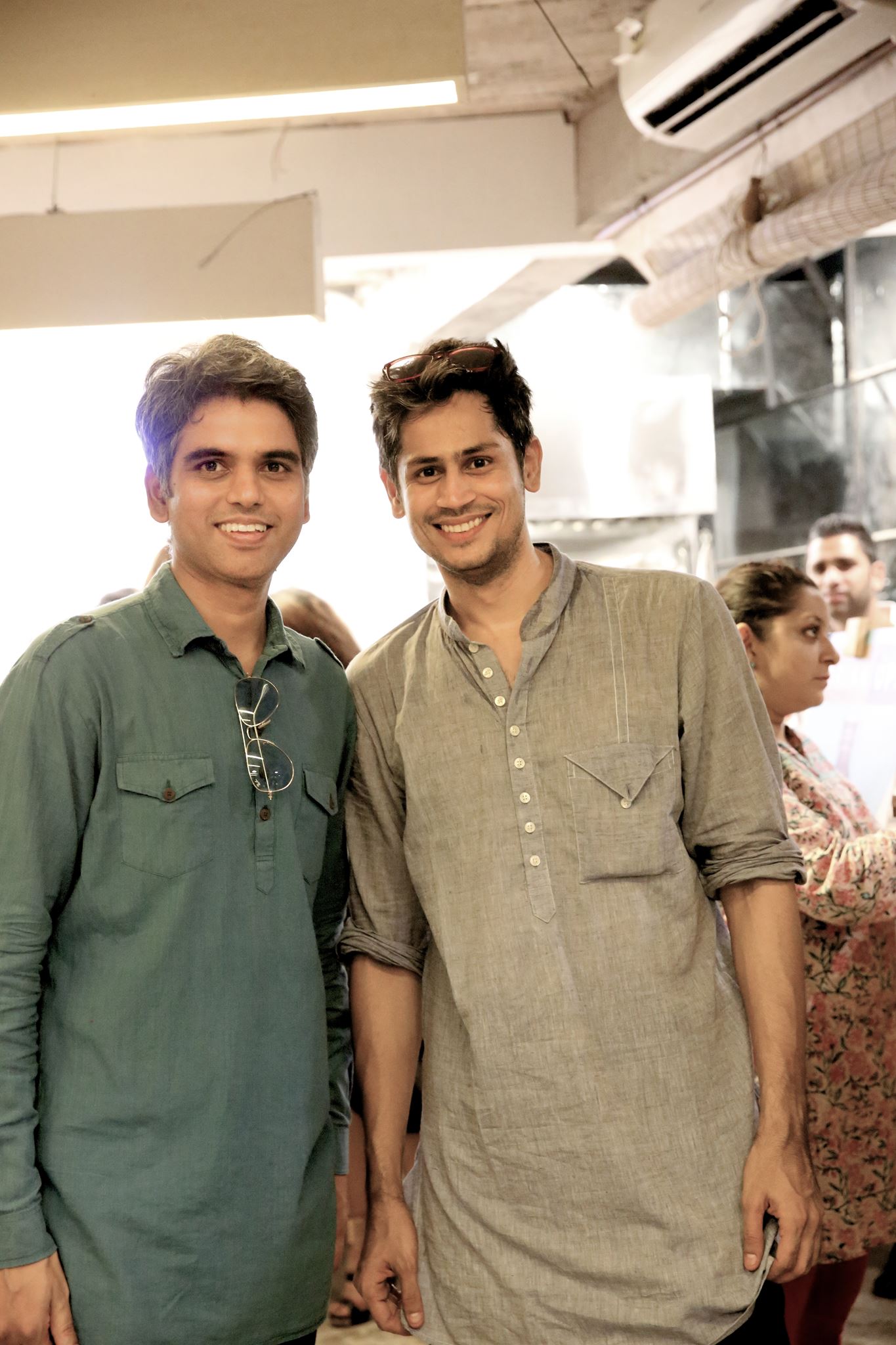 We stole a few minutes from Co-founder Nitin Dixit's day to get to know GREENR better, and here's what he had to say: "The original inspiration for GREENR started in California – the place tends to pilot all major lifestyle trends. Being vegetarians we noticed that there is so much variety in California! And for a country that has so many vegetable varieties and options within each cuisine, India still synonymizes vegetarian food with paneer and aloo!"
With over 20 years of experience combined, Yadav and Dixit – both vegetarian, by the way – have always shared similar "GREEN" sensibilities and were eager to design an interactive 360 degree platform that enables the consumption of conscious, purposeful, designer/artisanal, quality and value-oriented products.
"We wanted to do two things – first, push the idea of 'vegetarian' in India as well as give vegetarians and non-vegetarians more protein-rich foods to pick from; and secondly, do our bit in cutting down emissions that are harming the environment. People don't realize this but meat production is actually the foremost contributor towards climate change. So, the establishment was one solution to multiple issues", Dixit added.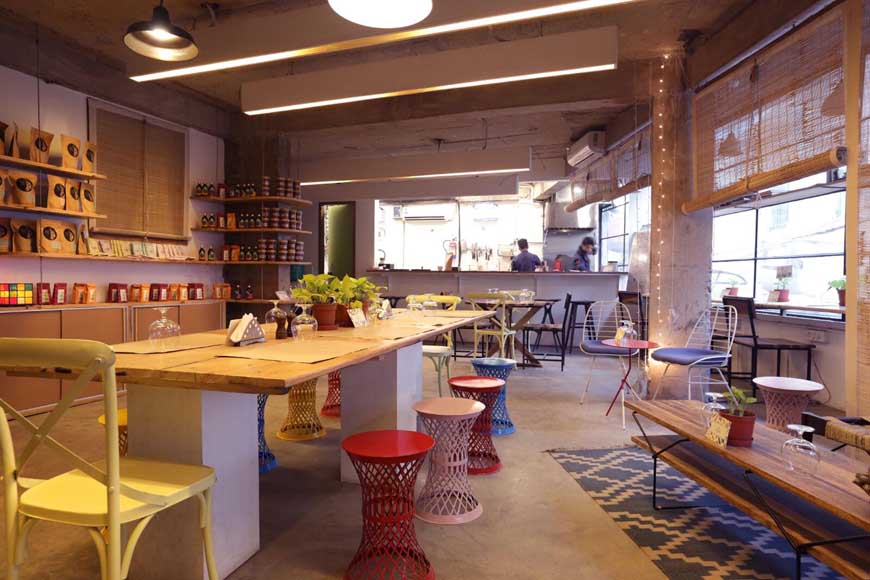 And true to their word in every sense, the founders have not only managed to bring their ideals to life, but have also done it in a way that is benefitting other people. "We were crazy enough to actually go after our idea." And we are so grateful about the fact that the founders of GREENR are a bunch of crazies!
The Vibe
As we have harped before, the GREENR vibe is as calm as a bubble gets in Shahpur Jat. Basically, very relaxing and uber refreshing. Add to that a neo minimal décor that packs a number of high-low, simple-plush seating options and an excellent playlist, and you've got yourself the perfect crib to hangout at, work, think, brainstorm, and just sit back and relax. The café, with its window-facing high chair setting is a boon for the solitude loving person who just wants to kickback with a book and some coffee!
"This place is very symbolic", explains Nitin, talking a little about the ambience of the café, "it is not our place; it's made for the community, which is a big value for us. We just want people to come here, own the place and feel like it's their own. We want them o relax, have a good meal, create, inspire, do something. That's what the whole GREENR platform is."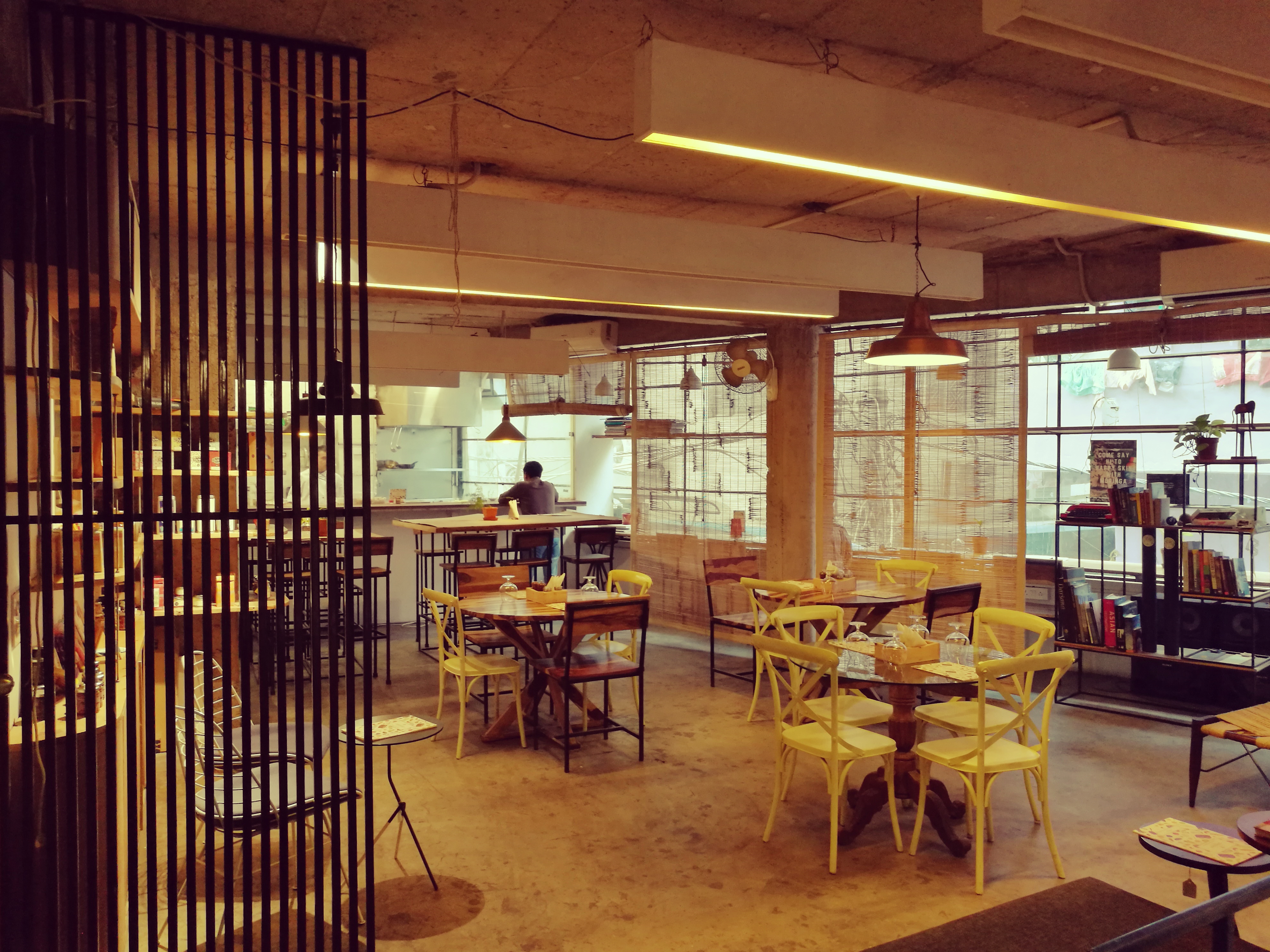 The Food
Health conscious, not health freaks, is what the founders like to go by. The two strongly believe in maintaining a healthy lifestyle albeit without giving up on good food or flavours. "We are into health and fitness, but we don't believe in being extremists because no one can live like that. We're trying to target a much broader audience. According to us, to be healthy or to eat healthy food, you don't need to give up on taste." And that is why we place our trust in GREENR.
Curated by the folks over at Holy Belly Food Boutique, the food is an exciting amalgam of vegetarian (read – vegan, organic, gluten free, dairy free, high protein) foods brought to the table in forms of amazing café dishes like fries, burgers, pizza, sandwiches, wraps, rolls, and the likes. Loaded with plant meat that does not harm the soul of a single animal, the dishes are 100% environment-friendly.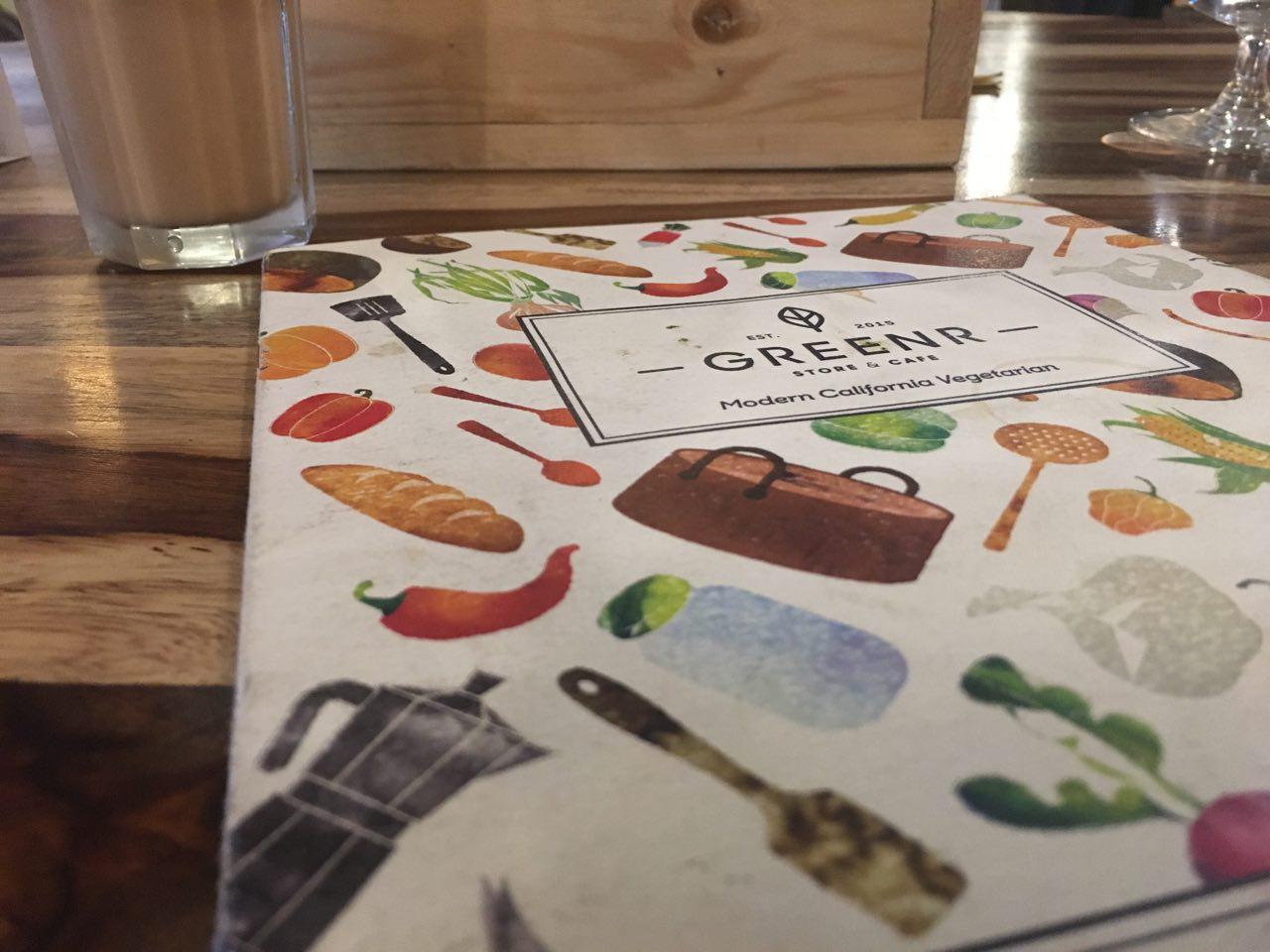 In a drive to uphold and push forward homegrown artisanal brands like All Things, The Gourmet Jar, The Green Snack, No. 3 Clive Road, and more GREENR has on display a variety of products that you can take home. These products range from delicious chocolate bars and fruit preserves to tealeaves and healthy munchies. And while all the gorgeously laid out display had my full attention, I turned to the menu instead and here's what I ordered! "We've put up a lot of food, personal care, lifestyle, and home products that push the artisanal value and sustainability."
What We Had:
Cassava Root Fries with Mango Habanero Sauce
Deliciously seasoned cassava root strips fried to crispy perfection and served with an enticing mango dip. The former was a very mildly sweet potato-like vegetable that created waves through my palate when teamed with the mango habanero sauce. The sauce was a winner with its unmistakable sweet alphonso hints and a blazing trail of habanero!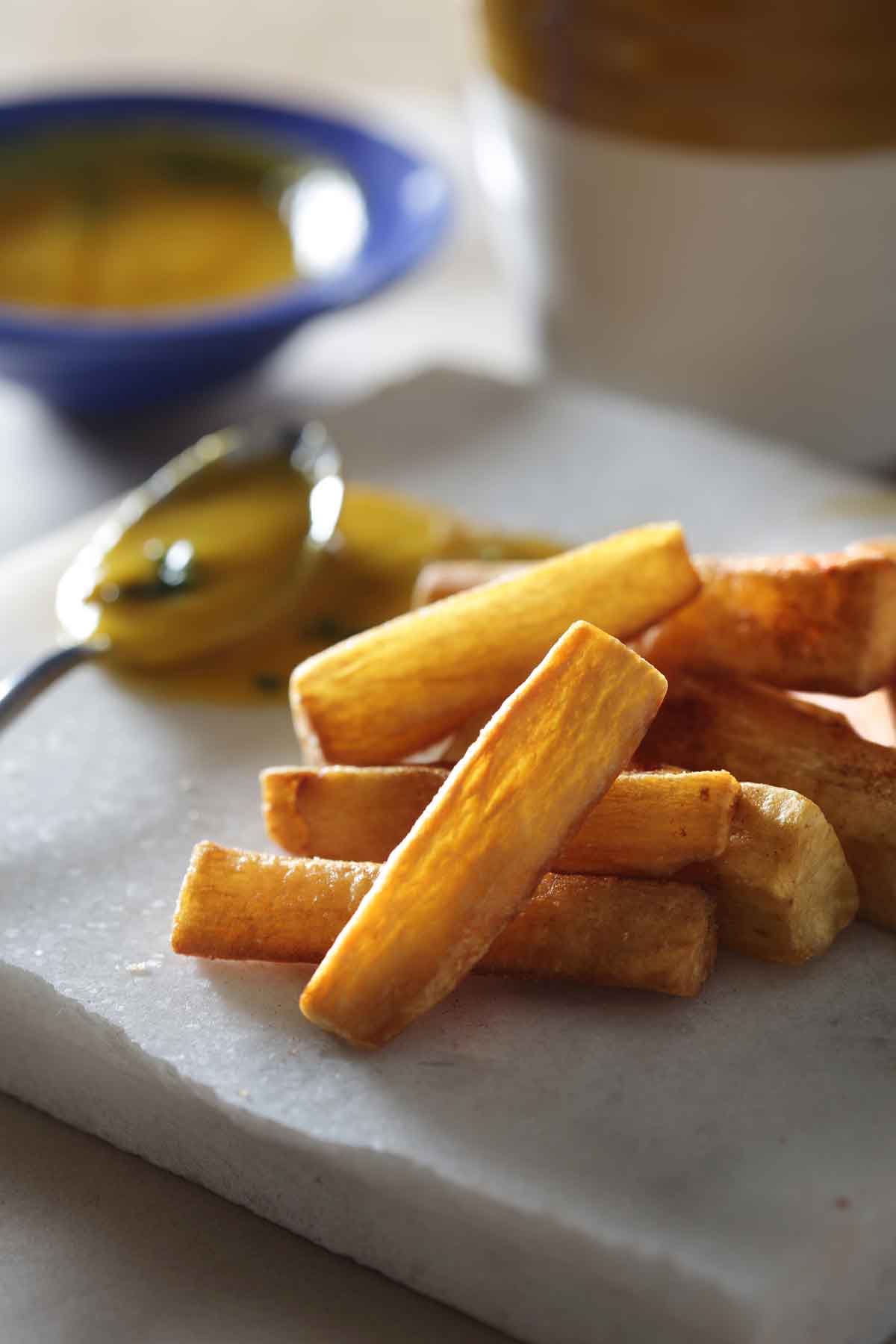 Baked Sweet Potato Wedges with Chipotle Aioli
Sweet potato may not be everyone's choice for potato wedges, but this dish changes all prejudices. The sweet potato wedges were sheer brilliance and served with that zesty chipotle dip, it tasted like a gazillion bucks! Also, we could eat that chipotle dip with anything (and nothing) for the rest of our lives.
Plant V-Meatballs Bolognese with Buffalo Mozzarella & Basil
Delish. Perfectly saucy, the pizza packed a flavoursome punch with an on-point mozzarella, just the right amount of crunch in the base, and the star of the show, the vegan meatballs. It'd be unfair to pit it against regular meatballs, because this one was so different. And we mean that in the best way possible! The plant meatballs had a distinct character despite drawing majorly from its non-vegetarian counterpart. It was chunkier than an actual meatball and one could tell that a lot of work went into creating that delicious lump of plant meat, which was made using brown rice, kidney beans, mushrooms, and onions.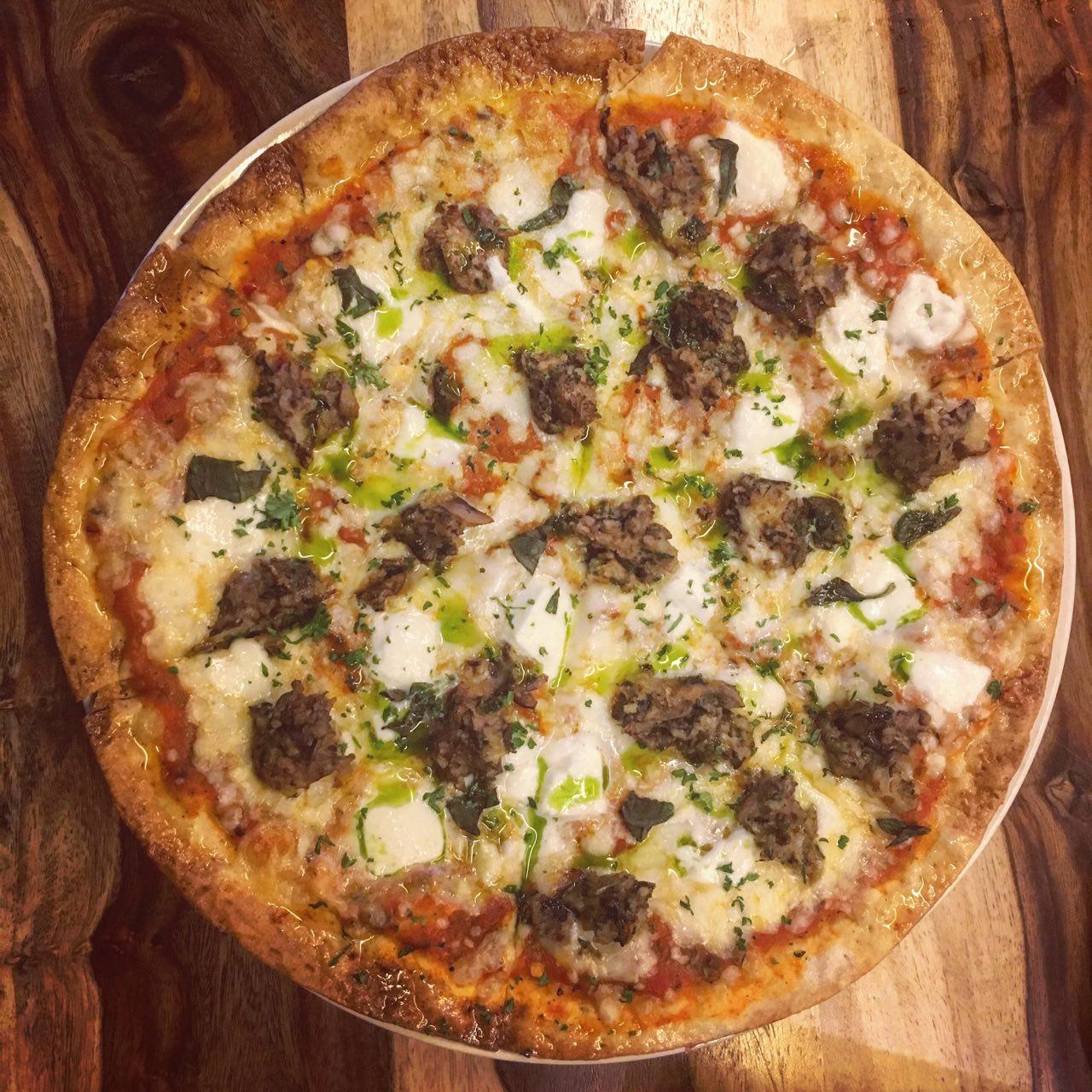 V-Sausage, Kale, Hummus, Red Pepper & Orange Tahini Pita Pockets
The pita pockets too were a pleasant surprise with a leafy, filling, and delicious stuffing that featured a homemade vegan sausage, and an unusual – but absolutely yum – sweet tahini. Much like the meatballs, the sausage too was a blend of kidney beans, onions, and mushrooms but with added paprika, black pepper, cinnamon, cayenne, and Worcestershire sauce.
Chocolate Ganache with Wildberry Coulis
There has to be dessert! And so there was. Keeping up with the high game of the previous dishes, the chocolate ganache didn't disappoint. Packed with the awesomeness of Valrhona chocolate and French cream, the dessert was creamy and rich, a must-have for bitter and dark chocolate enthusiasts, topped with a crunchy nut caramel crumble. The wildberry coulis gave the chocolaty bitterness a sharp and sweet compliment. Call it a cliché, but it was love at first bite!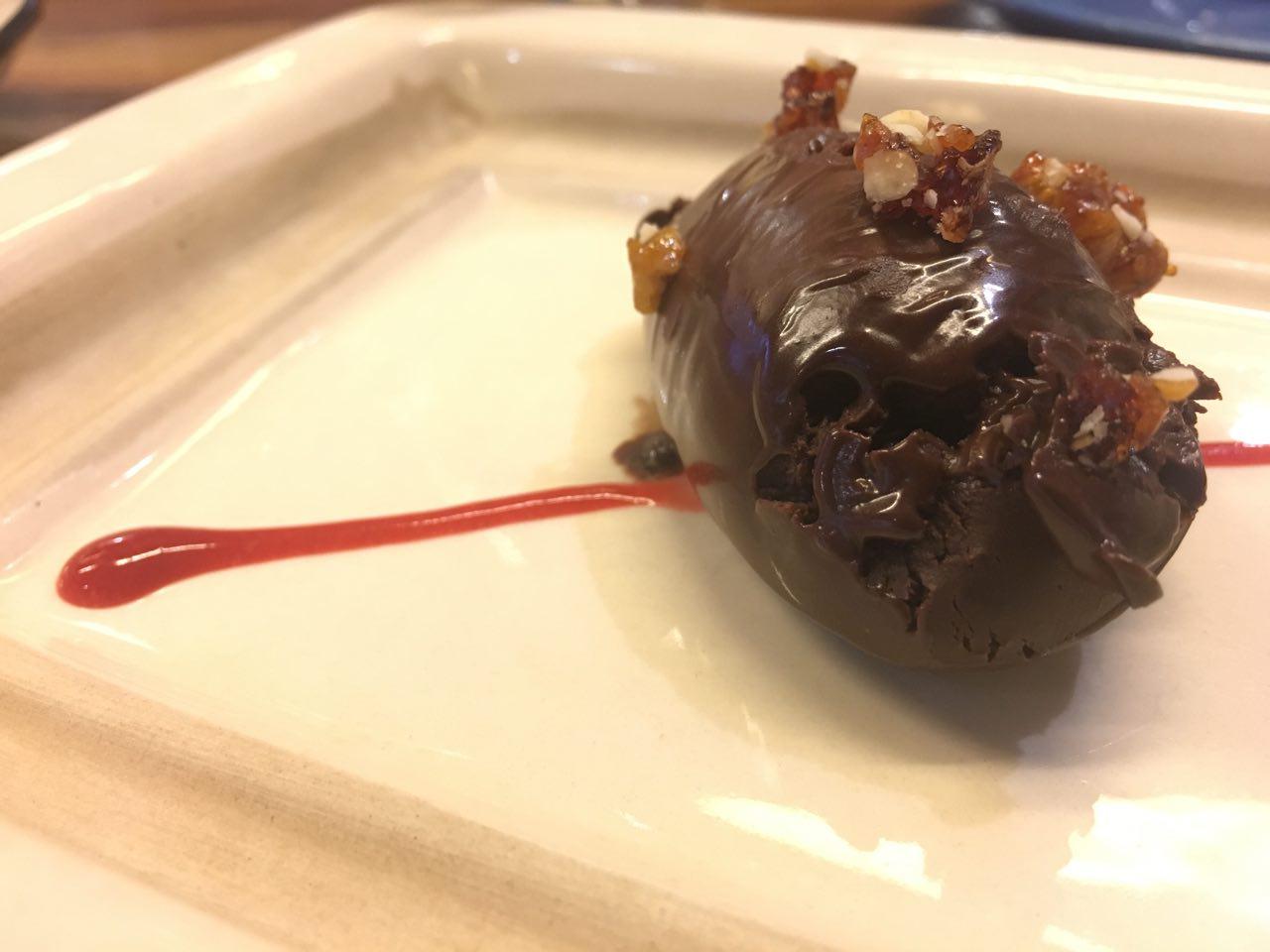 Being a hardcore meat eater who has never before encountered soy meat, let alone vegan, organic or gluten free food, the GREENR experience was truly life altering. And the best part? You really don't have to give up on taste to eat healthy OR sustainable!
In closing we'd like to – and we must – say that put all your inhibitions about vegan/vegetarian/organic food behind and get yourself to dig into some truly brilliant food at GREENR Café! Also, listen up Chennai folk; GREENR will soon set foot in your city! Rejoice!
GREENR Store & Cafe
416, Behind Dada Jungi House
Shahpur Jat
New Delhi-49
+91 7042575339; +91 9818996764