Subway India Launches Two Limited Edition Peri Peri Subs
We all have our regular Subway orders; the tried and tested combinations of Subs, sauces and vegetables that work together to make a delicious, healthy meal. But, just like you like to mix up your haircut and the color of your room once in a while, sometimes your taste buds crave a change. To help you dive into untasted waters, Subway India has released two limited edition Subs, just in time for the monsoons.
New Subs Ahead!
The popular chain has introduced the low fat Chicken Peri Peri sub and the low fat Spicy Mixed Beans sub to its menu at all Subway outlets in India.
While the Spicy Mixed Beans sub combines three types of beans, fresh veggies and Peri Peri, the Chicken Peri Peri sub combines chicken meat, Peri Peri and fresh veggies, enfolded in warm loaves of in-house bread.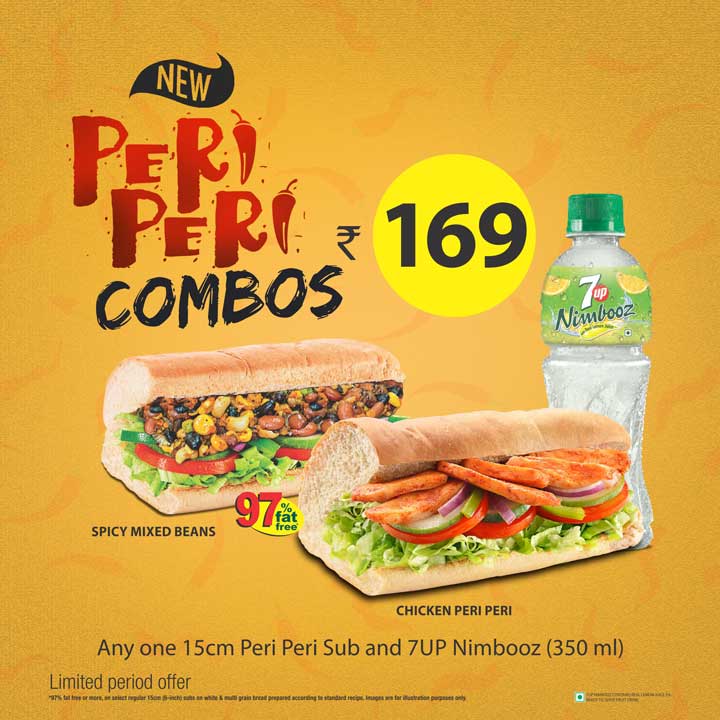 The subs will be available for Rs.139 or, when had in a combo with 7UP Nibooz, for Rs.169.
Commenting on the new subs, Sanjiv Pandey, the marketing manager of Subway Systems India said "The Peri Peri subs would add a zing to SUBWAY's existing range of delicious low-fat subs. SUBWAY customers can further enhance the spicy goodness of these 97 per cent fat free subs by pairing them with 7UP Nimbooz."
"Through these exotically flavoured subs we want to underscore our promise of indulging our customers with interesting innovations to SUBWAY's established food format. The positive customer feedback that we have received to such additions in the past also encourages us to keep exploring and introducing international flavours that pair well with the Indian palate," added Mr Pandey.
The Campaign
To make more customers aware of the limited edition subs, Subway India has rolled out a 360 degree marketing campaign promoting them. This includes in store collaterals, print advertisements, radio spots, social mediums and a TVC:
Look delicious, don't they? What say, are you ready to step out of your Subway comfort zone and try these?