Surprise Your Palate At AnnCensored In Mumbai
The MasterChef series has grabbed hearts all over the world; in India, MasterChef Australia is especially popular – we all have a soft spot for Matt, George and Gary. One favourite challenge on the show is the Mystery Box; contestants are given the same bunch of ingredients which they have to use to create a delicious dish; the variety of dishes that the contestants come up with are exciting and very often astounding.
We had a reason for that brief background into the ways of MasterChef. If you're anything like us (hey; all foodies unite!), we're sure you've wanted to taste the ways the same ingredients work together to create vastly different yet delicious dishes. A new restaurant in Mumbai's Kamala Mills allows you to do just that; say hello to AnnCensored.
The Quirk Factor
The 'Ann' in AnnCensored is from the Hindi word 'Ann', which translates to 'food'. AnnCensored, therefore, has two sides to their menu; the 'Censored' version, which has a collection of elegant, Western dishes and the 'AnnCensored' menu which has a collection of dishes which are made with the same ingredients, but are done in a more traditional, Indian style. Do you get the MasterChef comparison now?
As well as catering to different tastes, AnnCensored ensures that it will appeal to a range of customers through its seating arrangements and decor. Spread over two floors, AnnCensored has a community table for when it's all about the drinks and appetisers, a swing for couples and small groups to enjoy, seating inside massive barrels, for larger groups to enjoy revelry in privacy and a downstairs bar and dance floor for customers to head to when they feel the need to dance the night away.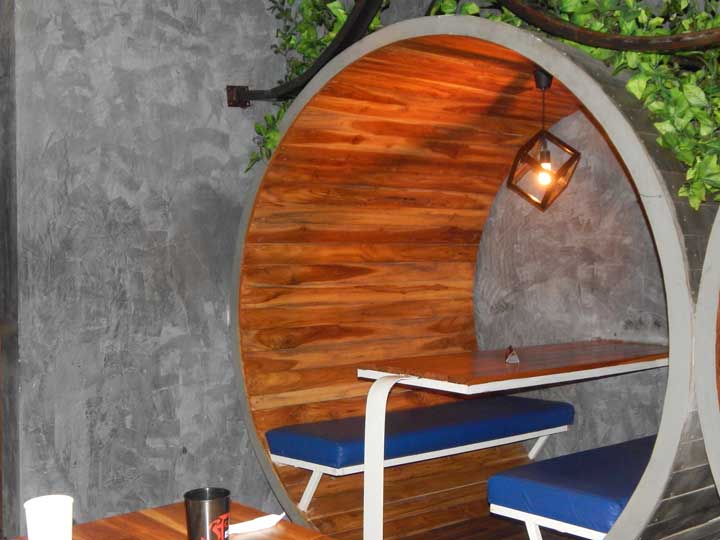 We visited AnnCensored on a muggy Thursday evening and were immediately enveloped by the air conditioning, some pop music and an upbeat vibe. As the night progressed, more and more customers streamed in, cut loose and began to sway to the music.
The Drinks
As the night went on, we also got progressively tipsier, thanks to the potent cocktails from the restaurant's quirky cocktail menu which has a collection of tiki cocktails, regular cocktails and classic drinks.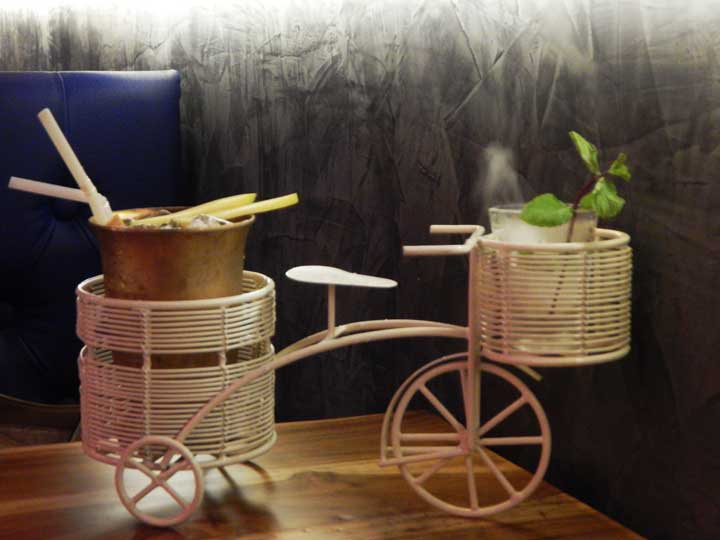 The tiki cocktail menu includes drinks like 'I like to Move it', 'Shipping to Barbados' and (of course) 'Captain Sparrow'. We decided to go for the Shipping to Barbados, which combined vanilla syrup, grapefruit juice, lime juice and vodka to make an intoxicating yet refreshing treat. Typically, the Shipping for Barbados uses rum, but the bartender, after hearing about our love for vodka, made ours with vodka instead, explaining he would do the same for all customers.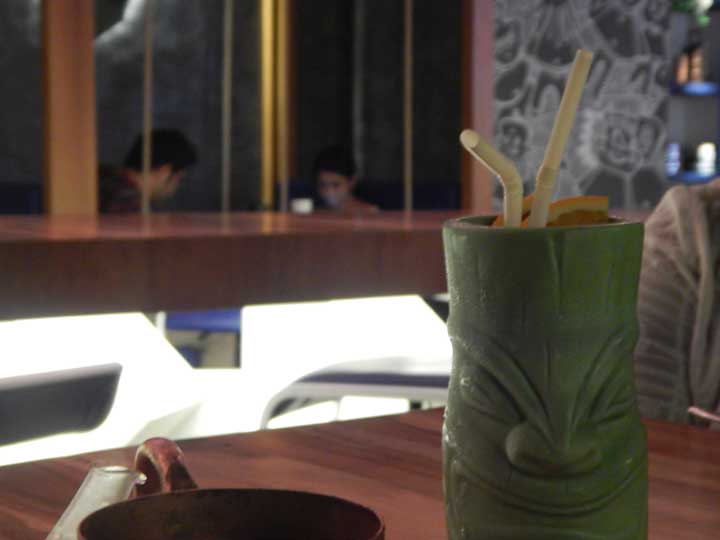 We then went on to have the Pulserate which combines fresh mangoes, vodka, kaccha aam, ginger and a sweet and sour mix to create a tangy, tongue tingling drink. We also loved the Bellihaan which sells itself saying "no more 'mahi' only haan" and combines a generous dose of rosemary vodka, peach, white wine and sofa.
The Food
You know that saying "all drink and no food makes Jack a drunk boy"? Well, perhaps we're adapting the saying slightly, but after getting a little too infatuated with the drinks we realised we should probably start eating some food as well. From the Censored menu, we ordered a mushroom consume with hazelnut foam, a three melon and feta salad with pine nuts, chicken sorba, malai mushrroms, butter chicken croquettes and chicken bomba.
The three melon salad was divine; a perfect balance of crunchy watermelons, crumbly feta and velvety greens.
We also loved the malai mushrooms, which were coated with cream and packed with a thick, smooth 'amul cheese fondue'.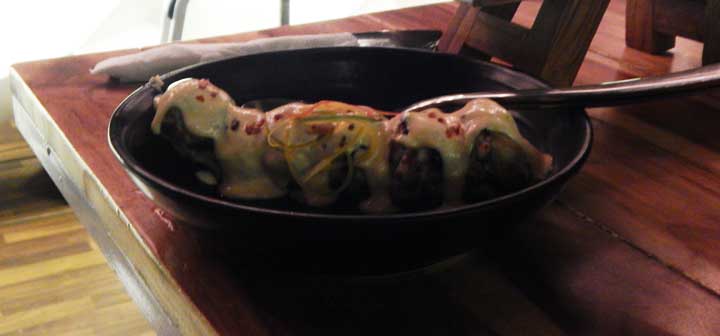 Another major hit were the butter chicken croquettes; delicately spiced butter chicken is wrapped in a crispy croquette covering creating a beautiful, surprising balance of textures.
Through the Mains and On To Desserts
Suitably impressed with the appetisers and small plates, we went on to the mains; a mutton shank with berry pulao and a range of assorted kulchas. The mutton shank was cooked in a heady, balanced gravy and was incredibly soft and tender. Meanwhile, the kulchas were soft yet packed with flavour.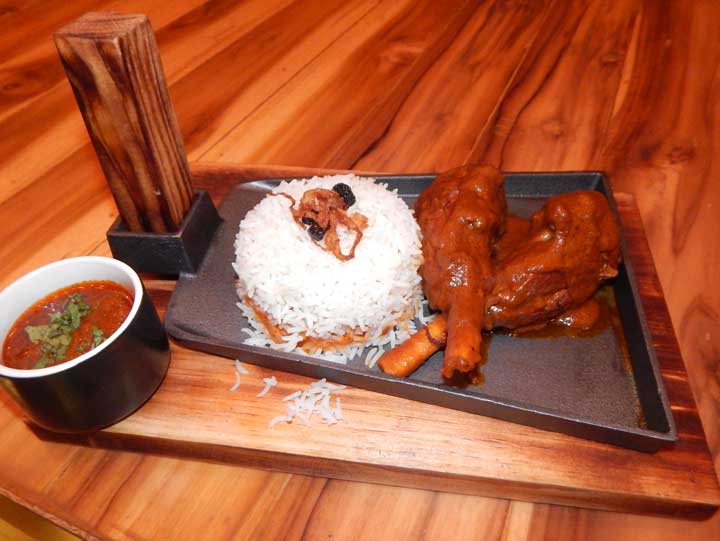 Finally, although we were holding our stomachs and groaning, we rounded off our meal with an orange cheesecake which was served along with a tangy raspberry coulis. The cheesecake was wonderfully soft and was pleasantly cool, thanks to having been doused with a dose of liquid nitrogen at our table.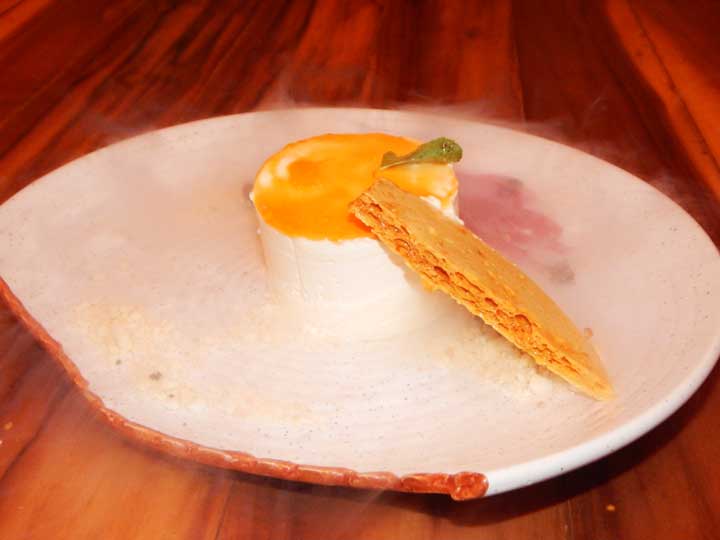 With this innovative touch, it was the perfect way to finish off a meal that had been quirky, sometimes astonishing but always delicious.
Want to enjoy these quirky culinary skills yourself? Head over to AnnCensored soon; remember to tell us what you thought?o