Taj Coromandel is Here to Help You Bring a Smile to your Mother's Face
"All that I am, or hope to be, I owe to my angel mother." – Abraham Lincoln.

The selfless love and countless sacrifices that your mother silently and lovingly undertakes for you, most often goes unnoticed or under appreciated. She never complains though, she only strives to give you the best of everything in the world. She tends to your scraped knee and knows what can fix your broken heart.  She shows you how to be a better person, she teaches you lessons that textbooks can never hope to hold. She loves unconditionally and let's face it, the woman always knows when you've done something wrong! She feeds you even when you roll your eyes and mock her; and when the day comes when you crave for your mother's food, she will never remind you of your mockery.
There is nothing and nobody to take her place and she is a woman who deserves to be celebrated every single day. Mother's Day is just around the corner and we think it's time to make up for all those times we took our mothers' for granted.
She definitely deserves a big break from cooking, so spend some quality-time with your mother at Anise, the all-day diner at Taj Coromandel. Spoil her with the choices of their brunch buffet spread; featuring star dishes from both India and abroad!

Extensive Menu

Savour Kebabs like Masala Aloo tikki with almond flakes; Anaar aur Angoor ka Paneer Tikka; and Chatpatta Murgh Tikka. Other selections include Baked potatoes stuffed with asparagus and sundried tomatoes; Oven roasted chunk vegetables with rosemary & garlic; Steamed fish with Chilli, ginger and soy glaze; Thyme and garlic roasted chicken drumstick with shallot jus; Nilgiri Subzi khorma; Gobhi Adraki mutter; Era thokku; and Gosht Tariwala. The desserts on offer are chocolate and berry gateaux; marbled raspberry and white chocolate terrine; chocolate spanish plan; blueberry and almond linzer; five spice chocolate mousse; and cranberry pate de fruit.
Brunch buffet priced at INR 2380 all-inclusive (non-alcoholic) and INR 3250 all-inclusive (champagne brunch).  Call +91 44 6600 2827 for more details.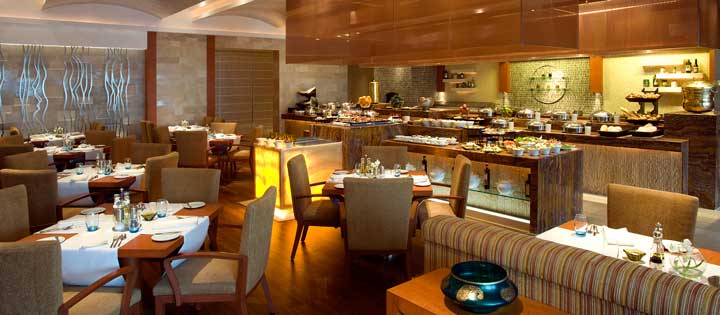 Taj Coromandel further brings to you an array of tantalizing offers, all designed to bring a smile to your mother's face and maybe even that tell-tale tear at the edge of her eye which she will hastily wipe off, pretending it never happened! Mothers are adorably emotional like that, and we wouldn't have them any other way!
For a change, treat the woman who is always whipping up delectable treats for you; with some mouth-watering cakes and pastries from La Patisserie, Chennai's favorite cake shop at Taj Coromandel!
Concocted and whipped up by ace Chef Ravi Varma, choose from a cornucopia of desserts – Chocolate hazelnut for the chocolate lover or vanilla and blueberry cupcakes for the innocent child in you! Not to mention the lip-smacking raspberry and pistachio dessert, the sinfully delicious praline choux buns, the mango and mint mousse and the meringue wreath, that simply cannot be passed upon!
Once your mothers stomach and heart is full with the sweet explosion and there's an oblivious smile plastered on her face, pull out the surprise of gifting her with an edible chocolate photo frame (Personalized chocolate photo frame with edible picture and frame); or Chocolate Barks(Hazelnut and almonds in dark and milk chocolate respectively).INR 220 (all inclusive) onwards.    Validity: May 12 – 14.
Taj Coromandel also offers you the traditional cakes in the flavours of Chocolate Elsie's, Passion fruit and Mango; and Classic Opera.