The Biryani Project, New Delhi Is The Gourmet Biryani Takeaway We All Deserve
The Indian Capital is a potpourri of many cultures and traditions. A regional blend that brings forth an enriching spectrum when it comes to the people, places, festivals, and food. From the backwaters of Kerala to the valleys of Kashmir, Delhi has a place for them all on its palate. However, a few nuances do get lost in transit. Case in point, biryani.
The biryani sees a fair amount of variation all across the country, and while the streets and restaurants of Delhi do a stellar job of replicating the original, most of them are not quite there. Enter, The Biryani Project (TBP), an initiative that has pledged to serve up only the most genuine and delicious handcrafted biryani.
Cross Country Biryani
But how do we know it's legit? Well for starters, The Biryani Project came into existence after two whole years of research across different regions in India where the TBP team delved in deeper to understand how the royal cuisine(s) incorporated various flavors, imparting their own uniqueness and variety to the cuisine called biryani. With this knowledge in hand, TBP, the brainchild of Adit Madan and his team of dedicated biryani-lovers, kicked off operations in October 2017 to satiate the Capital's need for epic biryanis.
Given Delhi's inclusive palate, this biryani delivery service concocted a menu that comprises of an exciting selection of biryanis including Lucknawi, Hyderabadi, Godavari (Andhra Pradesh), and a Dilli-style biryani. To stay on top of the flavor game, TBP sources the highest quality ingredients, so if one bite transports you to the valleys of Kashmir, it's because the kesar (saffron) used will be from Pampore, Kashmir. Meanwhile, the other ingredients too are top-notch, with the meats being sourced fresh daily and the rice being the oldest basmati.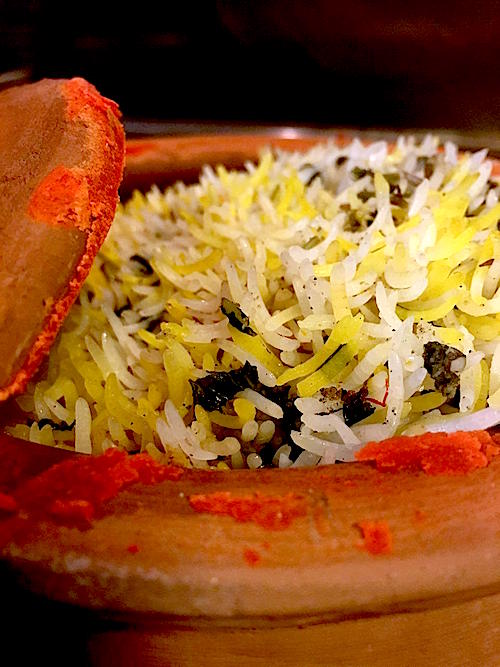 That said, TBP is not just about the food, it also stands for bringing the 'ustad' out in every regular cook that they get on board. Fun Fact: every TBP member knows how to cook at least one kind of biryani. Now that's dedication.
Here's Proof
TBP's biryanis are made to order, meaning they are whipped up fresh – and individually – for every order. We got a sample of this biryani haven's prowess in the form of their Hyderabadi Dum Biryani, so we can say with much-affirmed confidence that The Biryani Project is exactly what it claims to be – delicious, handcrafted, and most importantly, authentic. Our piping hot chicken dum biryani came packed in a small clay pot that was sealed shut with atta.
The mini handi was accompanied by a glass jar filled with raita. If only we had enough words to describe just how delish our biryani was, we'd still fall short. The rice was perfectly cooked with each grain upright, courtesy a flawless dum. The meat too played its part perfectly as it came together with the rice and spices to bring out one of the best Hyderabadi biryanis we've tasted in a while.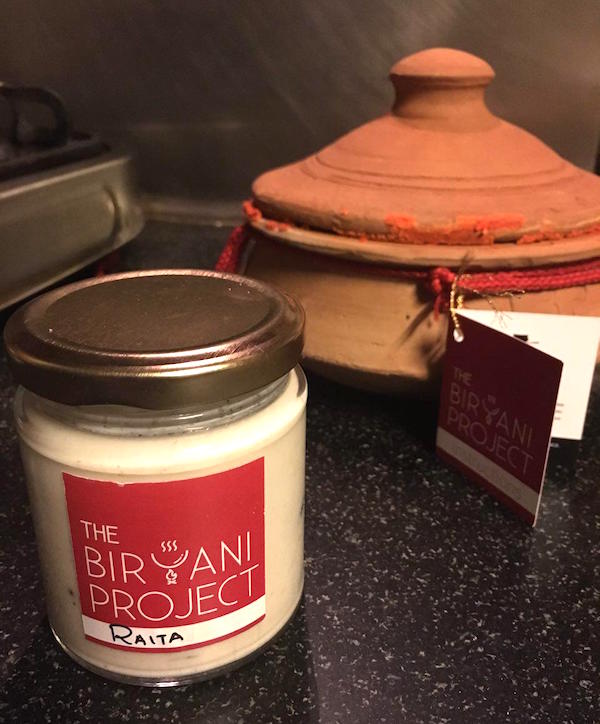 The clay pot also came with a tag of instructions on how to re-heat the biryani, although if your handi has just been delivered, your biryani will be hot off the stove. Speaking of deliveries, TBP will be more than happy to transport your handi-full of happiness to your home, even if it is out of their delivery range. All you've to do is bear the Uber charges. Isn't that just wonderful?
In conclusion, The Biryani Project has managed to recreate the authentic biryani magic right here in the heart of Delhi. And if you are looking to treat your palate to a legit Nawabi, Nizami, or Mughlai feat, your prayers have been answered! Click here to order your biryani now.