This Wedding Cake Is A Dream Cake For Lovers of Unicorns And Unicorn Food
Okay, so we must agree that the unicorn food trend has spun a little out of control. And we're only saying that because we're looking at this crazy beautiful cake and we're not sure where to even begin with this awesomeness.
Reshmi Bennett of Anges de Sucre is the genius behind the Unicorn Croquembouche Wedding Cake. It's a one of a kind and obviously, for those who love all things unicorn food, this is just what you're looking for. It's a treat unlike any other and honestly, it's so magical, you might not want to cut it when the time comes. For one, where would you cut through really?
We checked out the website to get more information and here's what we have in terms of what has gone into the cake: It's a towering feast for the eyes, and is created with a 100% cake tower with layers of chocolate and vanilla sponges and frosted and glazed with our signature silken vanilla Swiss meringue buttercream and chocolate glaze. The tower is fully decorated with a whole host of delicious desserts – sprinkle glazed choux buns and eclairs, baked buttermilk doughnuts, assorted macarons, Ferrero Rocher and "soft-serve" buttercream cones, piped buttercream flowers, chocolate pearls and candied popcorn with subtle silver lustre and sparkle.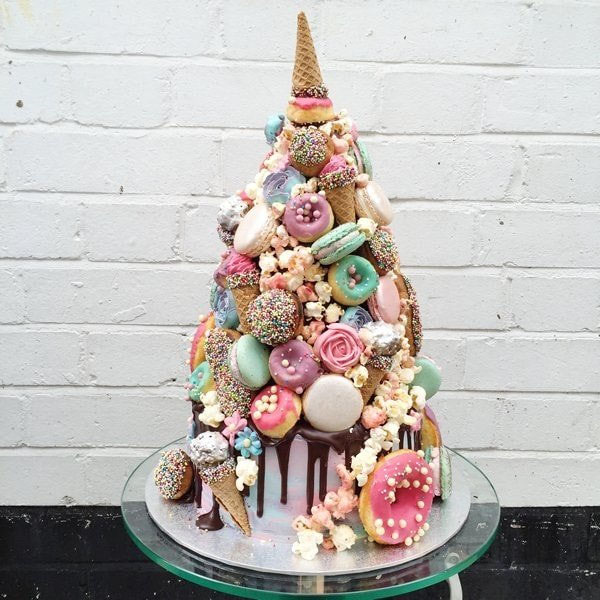 It takes almost three days to make and costs £825 (approximately Rs. 66,962). Plus, it's made from scratch and customers can add their modifications and make requests regarding the same. But here's the obvious catch – they only deliver their products within the UK. Till you can find a way to make this happen for yourself closer to home, pictures will have to do. And if unicorns aren't your style, they've also got a Mademoiselle Matcha Croquembouche Wedding Cake or a Something Blue Croquembouche Wedding Cake.