You Won't Believe Why Bangladesh PM Sheikh Haseena Brought Hilsa To Delhi
India has been active in going for foreign visits and also hosting foreign delegates in the Capital (or elsewhere). And most often these trips are complimented by a lavish dinner either at 7, Lok Kalyan Marg or the Rashtrapati Bhawan. The latest foreign minister to join India's guest list is Bangladesh's Prime Minister Sheikh Hasina, but here's what was different with the lavish banquet this time.
PM Hasina came armed with her own hilsa fish and oversaw the cooking of the same in the President's kitchen herself. We are a thousand per cent sure that our Bong President Pranab Mukherjee would have absolutely relished the special gift from Bangladesh, but why did the fish cross the border? If you thought that it was simply a gift, then here are some facts to burst your bubble.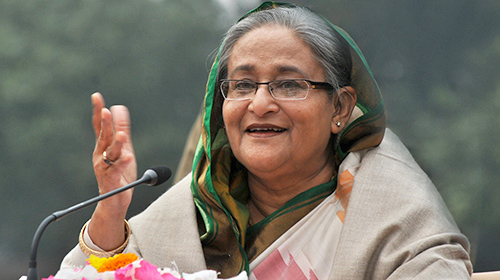 Image: News Mobile
The Fishy Issue
As per a report by The Economic Times, One of the key aims of Hasina's trip was to secure greater cooperation from India over management of the rivers that both countries share. And hilsa, which lives in the sea but travels upriver to spawn and is a widely consumed fish in Bangladesh and West Bengal, is a potent symbol of riparian health. But in recent years, the hilsa catch has suffered, partly due to the inability of the two countries to keep river waters flowing smoothly.
The reasons for this are many. For starters, the rising demand for seafood as the healthier meat, especially one which not bred under inhuman conditions. Moreover, the dependence on fisheries has also been on the rise and fishing has become and industrially large scaled activity.
Aaron Savio Lobo, a marine conservation specialist, points out that another reason for increasing dependence on fisheries is the crippling drought affecting most of south India. "People in southern Tamil Nadu are abandoning farming to try their luck at sea." Inevitably this is leading to conflict with existing fishing communities, forcing many to travel even further – many workers from the east coast now migrate to the west coast.
And that is just the tip of the iceberg as the problem is manifold and colossal. But Sheikh Hasina bringing in this edible solution may just be the start of something new, constructive, and commercially viable! Well we'll have to wait and watch.
Feature Image: Bethica's Kitchen Flavours