Zomato updates its iOS app. The Food journey is on.
It's alright to have mood swings
[dropcap]Z[/dropcap]omato has upgraded the features of its app, and has given more flexibility and accessibility to the online restaurant experience. It gives an improved user interface with its new features and mood-based recommendations. Whether it is home-delivery or just good old hanging out with friends, based on your moods you get to choose between restaurants.
How to keep track of everything
https://www.facebook.com/zomato/posts/525330880841767
Online reviews and friend's references are critical while determining whether a restaurant is worth the trip. Zomato now allows users to share their dining experiences with photos, comments and reviews. You also get to tag friends as well peek into their dining experiences, thus, allowing you to broaden your restaurant search.
"Given that people are now viewing information on-the-go more than ever before, mobile has become the focal point. Our iPhone app, built to include iOS8 features, brings a whole new and efficient way of deciding where to go and what to eat," said Deepinder Goyal, founder and CEO of Zomato.
The genre of food, the price for one customer, the distance of the restaurant and online ratings based on votes are generally considered before making decisions. The updated filters installed takes note all these factors and makes the search more streamlined.
These are times where you have to do a background check even for food
'Bookmarks' is a handy feature which not only allows you to mark your most frequented restaurants, but also lets you remember the restaurants you would like to try out. Do you remember how important the internet used to be when accessing your 'Wishlist' and SpeedDial'? That's not the case ever since they were added to 'Bookmarks'.
"We are constantly looking for ways to enrich the restaurant experience for our users by providing an all-round dining experience- right from discovering a great place in the neighbourhood, to checking-in along with friends, uploading pictures during a meal, and signing off with a review," Deepinder Goyal, founder and CEO of Zomato.
Zomato has redesigned its entire image to such an extent that even the 'Search Bar' and 'Search Results' have not been spared. The Featured content lists the 'Top 25 Restaurants' that have made it to the top of the leader board. It's based solely on featured reviews and ratings.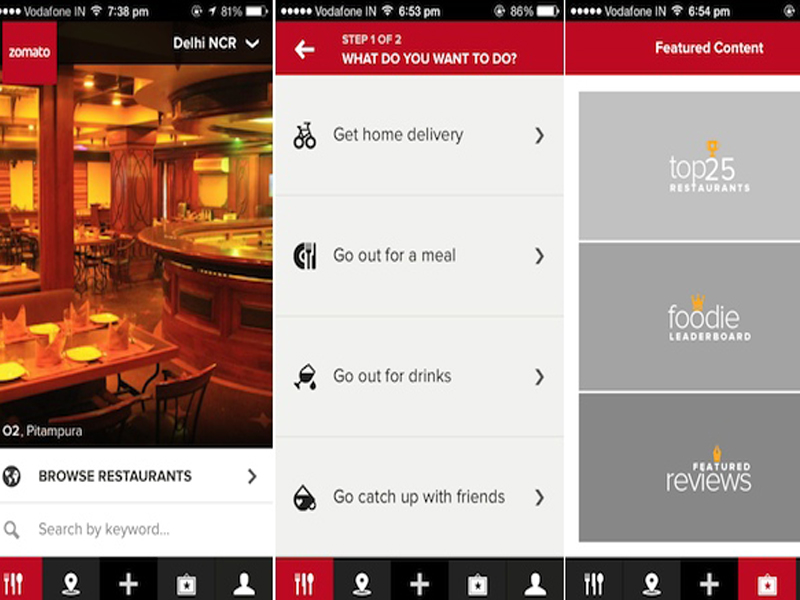 A lot of countries are resorting to use Zomato to find their food in their cities.
How about you?