Bring In Ugadi In Style With A Little Help From Dakshin At Crowne Plaza Adyar Park in Chennai
It's that time of year when traditional festivals are happening to celebrate the new year and other festivals. This month, it's Ugadi. The New Year's Day celebration for the Telugu and Kannada communities in the country. The celebrations for the festival have already begun, with houses being washed, new clothes being bought and food being prepared. It is also a sign of the mango season, as the houses are decorated with mango leaves and coconuts.
To celebrate this festival, many restaurants and hotels in the city are planning Ugadi themed meals and festive foods, so that everybody gets a chance to try and experience Ugadi the right way. One of these such celebrations is happening at the Crowne Plaza Adyar Park in Alwarpet. The South Indian restaurant in the hotel, Dakshin, is one of the most popular and well-loved restaurants in the city. Serving food from different southern states and specialising in everything South India, Dakshin has made quite a name for itself. And this year is no different.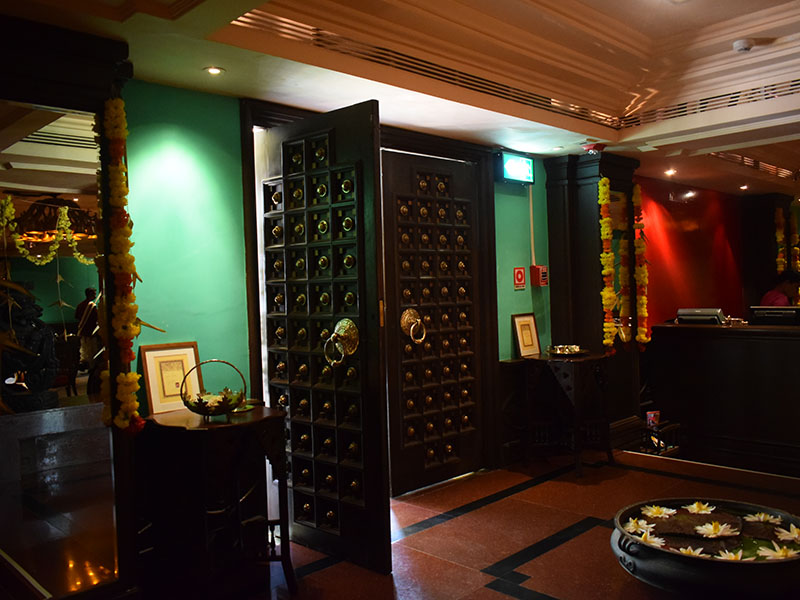 They have a special menu created for the festival, featuring popular Ugadi dishes like Ulavacharu, Chikkudukaya Tomato Kura and so much more. They also have a Thali option, where you can choose from vegetarian or non-vegetarian. The thali is served with steamed rice and biryani, if you so wish.
We had the thali, of course, and it was exactly what you could ask for with an ample number of dishes and a dessert to end the entire meal.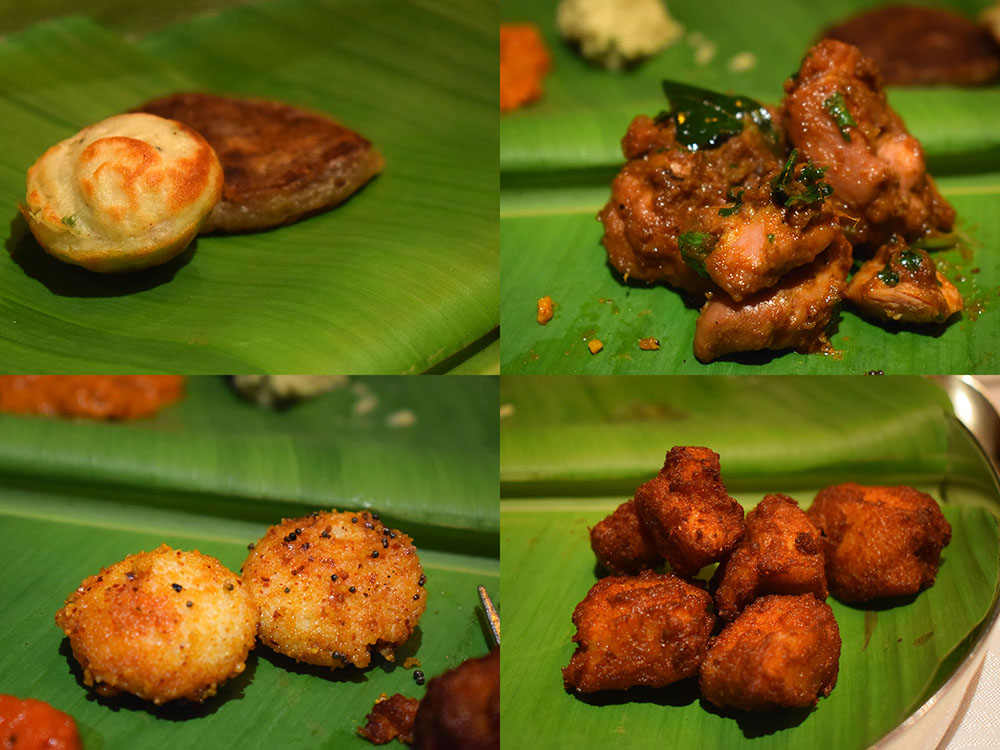 To start with, you're served a glass of buttermilk which is the best compliment to the Chennai summer. Then you're presented with the first course of your thali. Which includes four different kinds of chutney. You're also served paniyaram and a banana dosa, one savoury and one sweet and it's a perfect balance. Then, there's Podi Idli, Kodi Vepudu (which is a chicken starter) and Chapa Fry (which is a fried fish). Also served is a Kodi Charu, which is like a rasam, but with chicken. It might have been our favourite dish in that moment. It is spicy and tasty and has all the elements of a rasam with a little something more thanks to the chicken.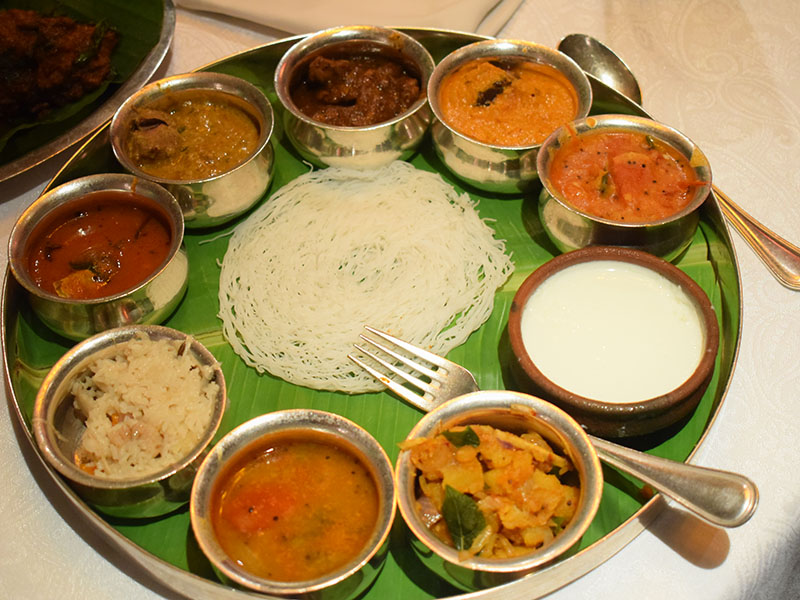 Then came the thali itself. Like any traditional thali, the food is served in a steel plate with a banana leaf and each dish in small steel katoris. We were started off with Idiyappam (string hoppers) and Pesarattu (it's a dosa-like item, but instead of urad dal, it is made with the batter of green gram).
The non-vegetarian thali comes with chicken (Kodi Koora) and mutton (Miriyala Mamsam) curries, both rich with flavour and absolutely delicious. If you're an adventurous kind, you can have the idiyappam and the pesarattu with any or all of these dishes. There's also a fish preparation known as Chapa Pulusu which is the perfect blend of flavours and spiciness.
Onto the vegetables served in the thali, there's a yam preparation (Ganisi Gadda Thalimpu), a Brinjal curry (Kuthi Venkaya) and a tomato dal which looks a lot like a sambar, and isn't very different.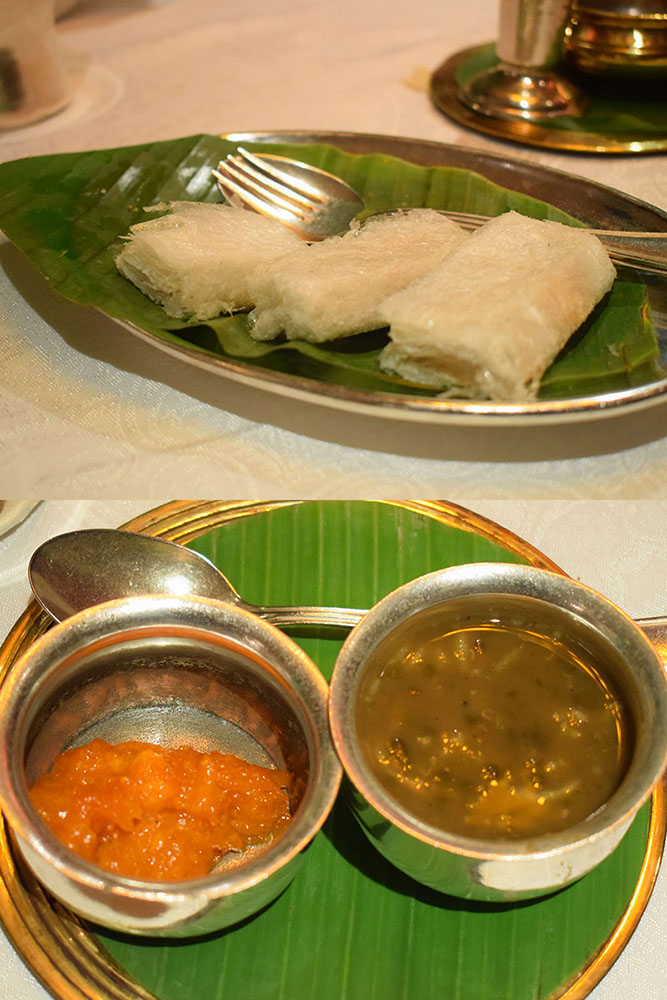 And finally, dessert. If you've never enjoyed Andhra food before, just know that the dessert is actually the best part. Pootharekulu looks a lot like a paper dessert and maybe even remind some of soan papdi. The texture is very similar and it's also sweet enough to not completely knock you out. There is also a Pesara Puppu Payasam which is made using moong dal and is a Telugu speciality. And finally, we also had the Gumidikaya Halwa, which is made using pumpkin. While the orange colour might make some believe that it is carrot halwa, it is actually made using pumpkin.
The Ugadi Utsavalu will be at Dakshin till Wednesday, March 29th for lunch and dinner. Make a reservation today to enjoy the full experience of the food festival.