Burger King Dressed Up As McD For Halloween, And 10 Other Times The Fast Food Giants Got Creative
It's quite true about the saying – There's no such thing as bad publicity. And regardless of the company, there is always at least one prank or joke to fuel the social media fire. Off late, fast food chains have been getting very creative when it comes to social media, and publicity, with each chain one-upping the other.
BURGER KING DRESSES UP AS MC DONALD'S FOR HALLOWEEN
This Burger King dressing up as a McDonald's ghost is a a level of pettiness once unheard of pic.twitter.com/fldCfZ0gWD

— Eric Fawcett (@Efawcett7) October 25, 2016
Recently, one location of Burger King decided to pull what's likely its most innovative stunt to date: "dressing up" like a McDonald's ghost. As expected, Twitter went crazy with this one, both lauding and waving its virtual finger at the burger chain.
KFC CALLS OUT TO EXTRATERRESTRIALS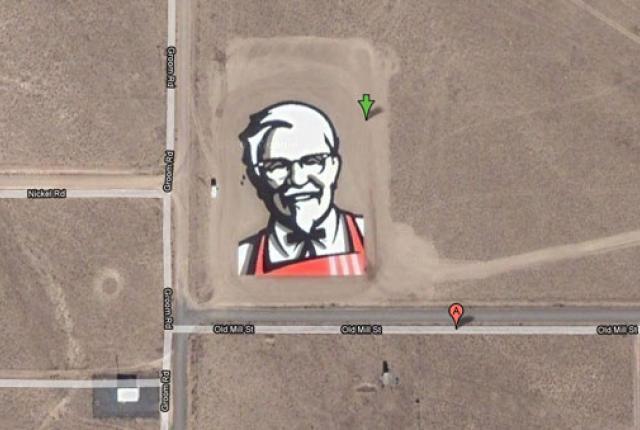 The other times include when in 2006, KFC created an 87,500 square-foot logo at Area 51 in Rachel, Nevada. The company wanted to be the first brand visible from space. And it was no coincidence they picked a spot near 'The World's Only Extraterrestrial Highway.' "If there are extraterrestrials in outer space, KFC wants to become their restaurant of choice," said Gregg Dedrick, former president of KFC Corp. The world is not enough for KFC. They need the entire universe hooked on their Original Recipe.
TACO BELL BUYS THE LIBERTY BELL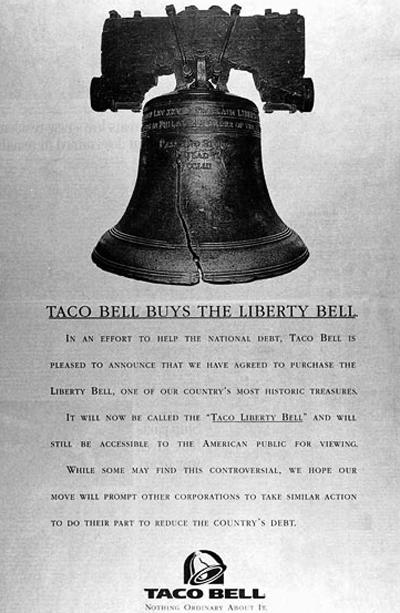 And sometimes, they don't go so well! In an April Fools day gag in 1996, Taco Bell took out an ad in The New York Times saying they bought the Liberty Bell in Philadelphia, Pa. The ad also informed people of the bell's new name: "Taco Liberty Bell." Back in the mid-nineties, people couldn't go on Twitter or Facebook to find out the truth. Instead, they wrote the publication voicing their outrage.
BURGER KING'S SCENT OF SEDUCTION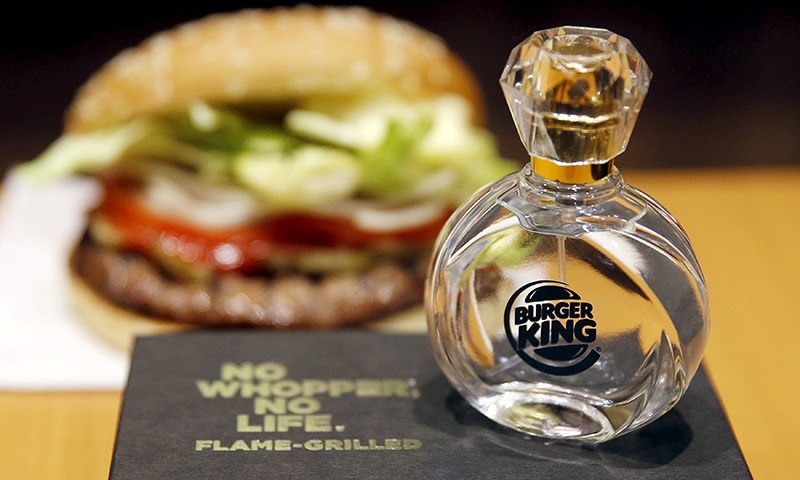 Burger King's 2008 campaign promoting the "scent of seduction" may be one of the weirdest ideas. The fast-food company thought they could capture the world's attention by creating and advertising a meat-scented cologne called FLAME by BK. Though select NYC stores actually sold the scent, all of this was a tongue-in-cheek campaign to make the 18- to 35-year-old male demographic laugh
COLONEL SANDERS SCALES NEW HEIGHTS
In 2011, a man dressed as the Colonel strapped on a harness and rappelled down Chicago's River Bend building. The Colonel didn't stop at rappelling down the 40-story building; he also handed out $5 everyday meals to window washers. What was KFC's concept behind this dangerous promotion? They wanted to show the world they were taking lunch to "new heights."
PIZZA HUT'S BLOCKBUSTER BOX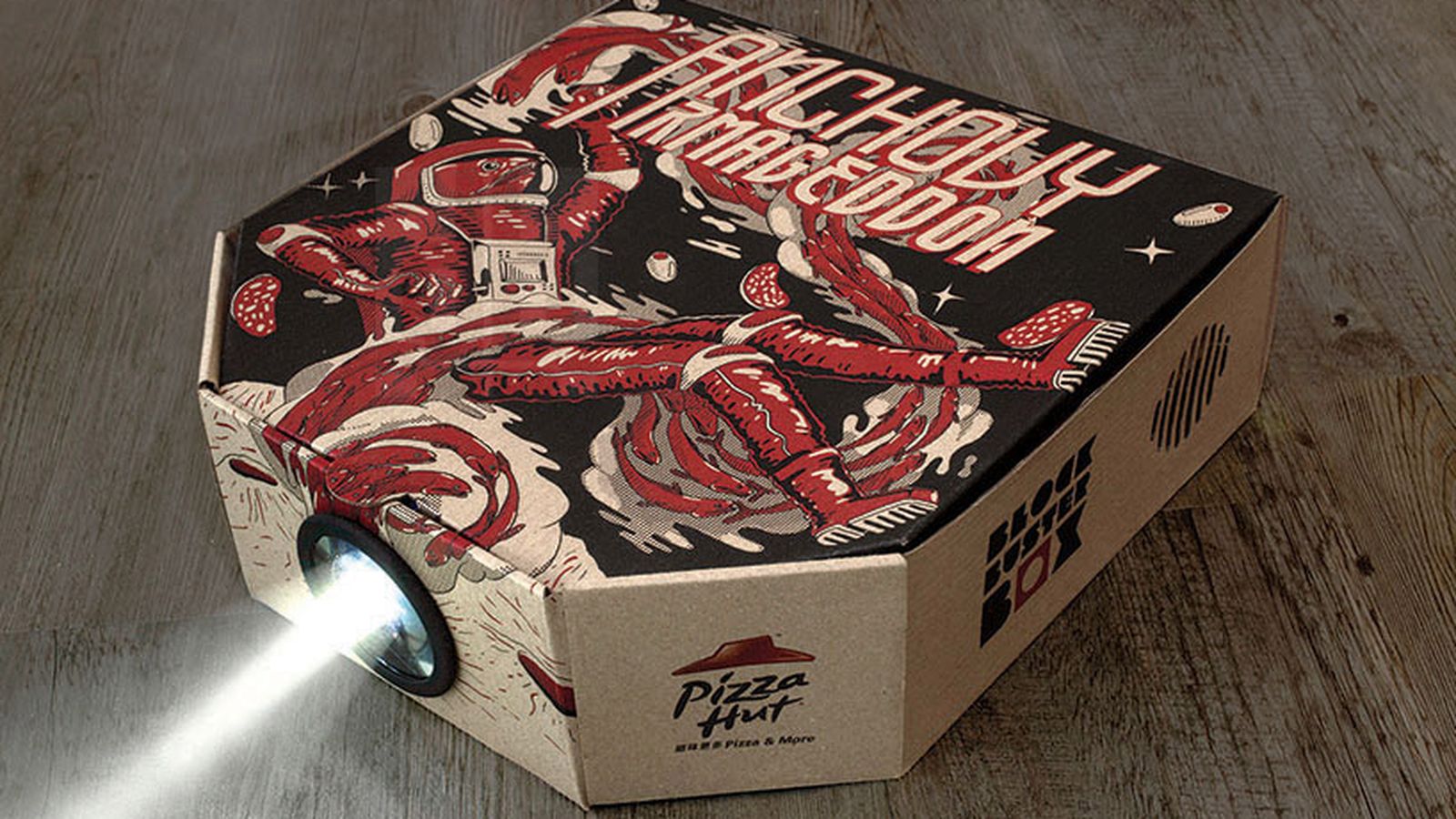 When Ogilvy & Mather wanted to connect the dots between Pizza Hut and movies, it turned boxes into film projectors. A detachable lens in the middle of each pizza pops into a perforated area of the box. People then use a smartphone to scan a QR code that links to a website that plays a movie. Propping up the phone on a makeshift stand inside the box then projects the movie on a wall or screen. Genius.
SHOULD PHONES BE FINGER LICKIN' GOOD?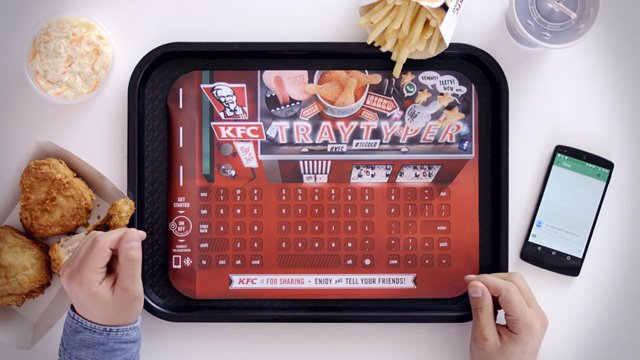 And in another stunt, Playing off of the chicken chain's "Finger Lickin' Good" slogan, KFC's "Tray Typer" campaign in Germany equipped restaurant trays with Bluetooth-enabled mats so that people could use their phones without touching them with greasy fingers. The mats had built-in Wi-Fi and were rechargeable. According to Serviceplan, the agency behind the campaign, social media chatter located around the restaurants grew, although it's not clear by how much.