Cadbury Celebrations Highlights Changing Attitudes In Sibling Relationships This Raksha Bandhan
To mark the changing attitude towards women in Indian society as well as the changing relationships between brothers and sisters, Mondelez India has released a new ad for its Cadbury Celebrations brand. This ad has been released during the Raksha Bandhan festive season, to encourage customers to buy boxes of Celebrations for their siblings.
The Ad
The ad film was conceptualised and executed by Contract Advertising. In it, a sister maintains that she does not need her brother to protect her:
Kapil Mishra the ECD at Contract Mumbai, said, "Rakhi (Rakshabandhan) started as a festival of the brother's resolve to protect the sister. But times have changed. And with the changing times, lot of gender roles have changed. Yet, the essence of Rakhi, the love between brother and sister, has remained the same."
Meanwhile, "Prashant Peres, director – marketing (chocolates), Mondelez India, said, "Festivals mean a lot to us Indians, and over the years, Cadbury Celebrations has become one of India's favourite gifting options during these celebrations. Cadbury Celebrations has been representing a plethora of emotions, by getting people together and strengthening relationships especially during festivals like Rakshabandhan. Even our latest Cadbury Celebrations TVC, in a light-hearted set up, highlights the innocent brother-sister relation and how a pack of Cadbury Celebrations brings them closer to each other, than ever."
The Cadbury Celebrations Box
Cadbury Celebrations are specially packaged boxes of chocolate which include a range of Cadbury chocolates. The Cadbury Celebrations Rich Dry Fruit Collection, for instance, contains Cadbury Almond Magic, Cadbury Nut Butterscotch & Cadbury Rasin Magic. The Cadbury Celebrations 'Your Favourites' box includes dairy milk, 5 stars and Gems.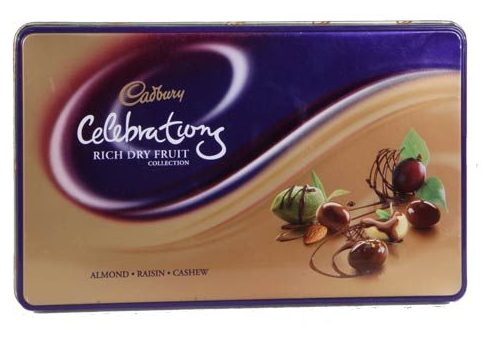 Cadbury Celebrations are available at leading grocery stores across the country as well as online on Amazon and Indian Gifts Portal, which is also sending out rakhis with the chocolate boxes.