Chennai Based House Of Gables Found The Solution To Your Everyday Dessert Cravings
Have you ever had this totally random craving for something sweet while you're either lazing around and reading or spending an entire night binge-watching a new show on Netflix? Shravya Reddy of House of Gables did and that's how she and her mother came up with the idea for an Instant Chocolate Batter. It's, without a doubt, the most magical thing available in stores right now. It takes no effort on your part and all you need is a microwave and a jar (or more) of their famous dessert batter – Molten Surprise.
In a time when there are lots of desserts available from dessert jars to pastries, doughnuts, ice cream and other delicious treats that can be delivered straight to your front door, it's rare that you find something that's fresh and new and also can stay in your fridge for a lot longer without going bad or losing the flavour. As Shravya told us, "When you're watching TV you crave something sweet and you have no chocolates or you pick up desserts and come back home and three days later they're dry and it doesn't taste the same." The point of the dessert is lost when it goes dry and stops tasting as good as it might have on the day you bought it. After all, desserts of that kind are meant to be eaten instantly. But not the Molten Surprise from House of Gables.
Started in the summer of last year, House of Gables is the company started by Shravya and Samantha Reddy, a mother-daughter team passionate about food and cooking. You can tell by the way they talk about the product just how dear it is to them. "This has been a family recipe forever, my mom's been making it forever. So we were shopping and we figured there was nothing in the dessert space that was ready to eat. You have Kitchens of India, MTR, Aashirvaad, you have all these brands that make ready to eat in the savoury space. But there's nothing in the dessert space except for maybe like a kulfi," Shravya explained when asking her how they came up with this innovative dessert in a jar.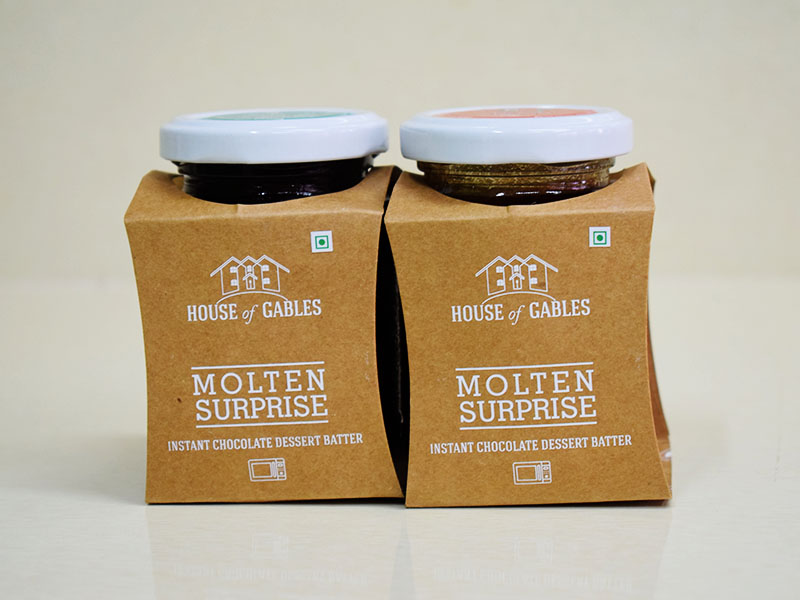 And there's more to the jar than just being easy to enjoy, it's vegetarian and dairy free making it the perfect treat for even vegans. Plus, they don't use preservatives. And it takes less than 30 seconds to get ready. "Even the Pillsbury and Betty Crocker mixes, you still need to add eggs and oil, beat it and preheat your oven and bake it. And it becomes a whole process. You might as well just get your ingredients together and bake your own cake, right?" What the instant dessert batter does is satisfy that exact craving, but without making you have to work so hard for it.
The first time you hear the name, you're not going to connect it to food because it sounds a lot like the Nathaniel Hawthorne book, The House of the Seven Gables. But Hawthorne and his book have nothing to do with it. "'Gables' is our holiday home in Ooty. That's where mom's and my culinary journey began, we used to live there when I was in school. And for lack of nothing to do, we used to cook a lot and for literally survival because you didn't have many restaurants there back then if you wanted to eat anything, we'd have to cook it," Shravya told us. It was also the place where she first served the instant batter to her friends and realised that it made for the perfect dessert in times of cravings.
All you need to do is refrigerate the jar once you buy it, then stick it in your microwave for 40 seconds to a minute so that the batter thickens. When you buy the jar, the dessert is pre-mixed and putting it into the microwave cooks it the rest of the way. And if you want it nice and gooey, you can heat it up for a little longer to get the right consistency. Remember that just because the jar is out of the microwave doesn't mean it's stopped cooking. The heat will continue to work the dessert, so time it perfectly. And then you can eat it directly out of the jar, or you can add it to your bowl of ice cream and enjoy!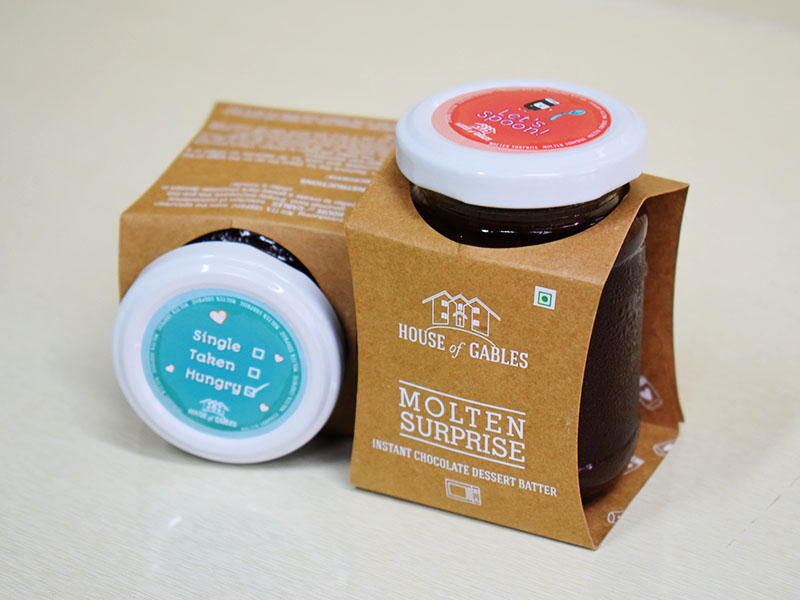 Dessert isn't the only thing on their minds. Shravya and Samantha want to try something else. They're looking at marinades and sauces, to make your lives easier! All these products will be vegetarian and it will really be helpful for anyone at all. "The idea is to really help harried professionals, multi-tasking mothers or clueless bachelors and be like 'all you need to do is microwave this' or 'all you need to do is marinate your food and grill it' or 'all you need to do is throw all your veggies in a wok and toss it up with this sauce'," they told us. Plus, they're going to introduce more dessert batters, in different flavours just to give you everything you might be looking for under one brand name.
The dessert jars make for great gifts after a wedding, a baby shower and any other party. House of Gables works closely with event management companies to provide you with cute customised jars that are perfect for everyone.
The Molten Surprise Instant Chocolate Dessert Batter is available in Amma Nanna, Sunny Bee, Old Madras Baking Company and The Miner Diner. Each jar of 150g is priced at Rs.140.