Dairy Milk Launches Ad For Its Marvellous Creations Chocolate
Following the launch of Marvellous Creations, Cadbury Dairy Milk has launched an ad campaign across social media to make the public more familiar with the new chocolate.
Marvellous Creations
The new chocolate was launched in early August. Available in Jelly Popping Candy flavour and Cookie Nut crunch flavour, Cadbury Dairy Milk Marvellous Creations are milk chocolate bars infused with jelly beans, gems and pooping candy.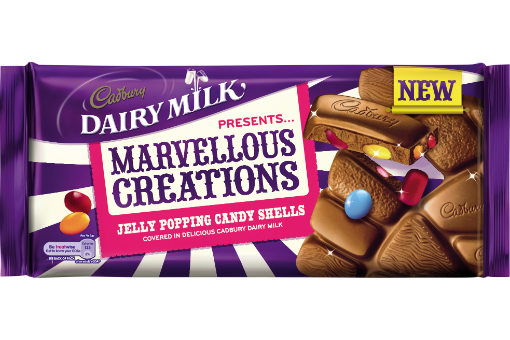 On the launch, Prashant Peres, the director of Marketing of Modelez India said "We are delighted to introduce global innovation like Cadbury Dairy Milk Marvellous Creations in India. We are well positioned to identify and bring some of our world leading brands to India. Cadbury Dairy Milk Marvellous Creations reflects India's celebratory spirit and our objective is to bring fun and excitement into the way Indians enjoy their favorite chocolate. The product combines exciting inclusions like gems, jelly and popping candy in an indulgent bar of milk chocolate that literally explodes in your mouth with every unpredictably delicious bite."
The Campaign
In order to convey the appeal of Marvellous Creations, Dairy Milk has launched short videos across their social media channels. In one, a man takes a bite of the chocolate and immediately plunges into a world of song, dancing and partying. He then gives a bar to his wife and child who experience the same.
There's also a video of a balloon of chocolate bursting, to capture the experience of Marvellous Creations bursting in customers' mouths:
https://twitter.com/DairyMilkIn/status/770978394699739136
The chocolates are now available in Amazon.in.