Dilli Diaries: The Story Behind Delhi's 5 Most Iconic Food Spots
Over centuries of being a part of various dynasties, empires, and kingdoms, Delhi has finally emerged as a diverse culture hub. The Capital, among many other things, is known for its iconic food and stunning folio of eateries that can put the highest of star ratings to shame. From the bustling lane of Chandi Chowk, a.k.a. Parathewali Gali, to the lively courtyard of Jama Masjid, that is, Karim's, Delhi prides itself on a multitude of vintage restaurants. Restaurants that along with epic food also come with a fascinating history. Here are some really interesting ones.
Karim's
Karim's founding family came from the lineage of Mohammed Aziz who had been in the cooking profession during the Mughal Era. Aziz was a cook in the royal Mughal court. However, post the Revolt of 1857, the family left the city for Meerut and subsequently Ghaziabad. But the culinary streak once again came to life in 1911, when Delhi Darbar was convened to commemorate the coronation of King George V. Aziz's son, Haji Karimuddin, came back to Delhi with the dream to open up a Dhaba that would cater to everyone coming to attend the coronation. This Dhaba eventually came into being with just two items on the menu – aloo ghosht and dal that were served with rumali roti.
Subsequently, in 1913, Karimuddin established the iconic Karim Hotel near Jama Masjid. Needless to say, his business caught on like wildfire. The establishment went on to open its first branch in Nizamuddin West during the 1990s and later on all over the Capital.
Currently being run by the family's fourth generation, Karim's remains to be synonymous with some of the best kebabs, nalli nihari, and breads that the country has ever seen.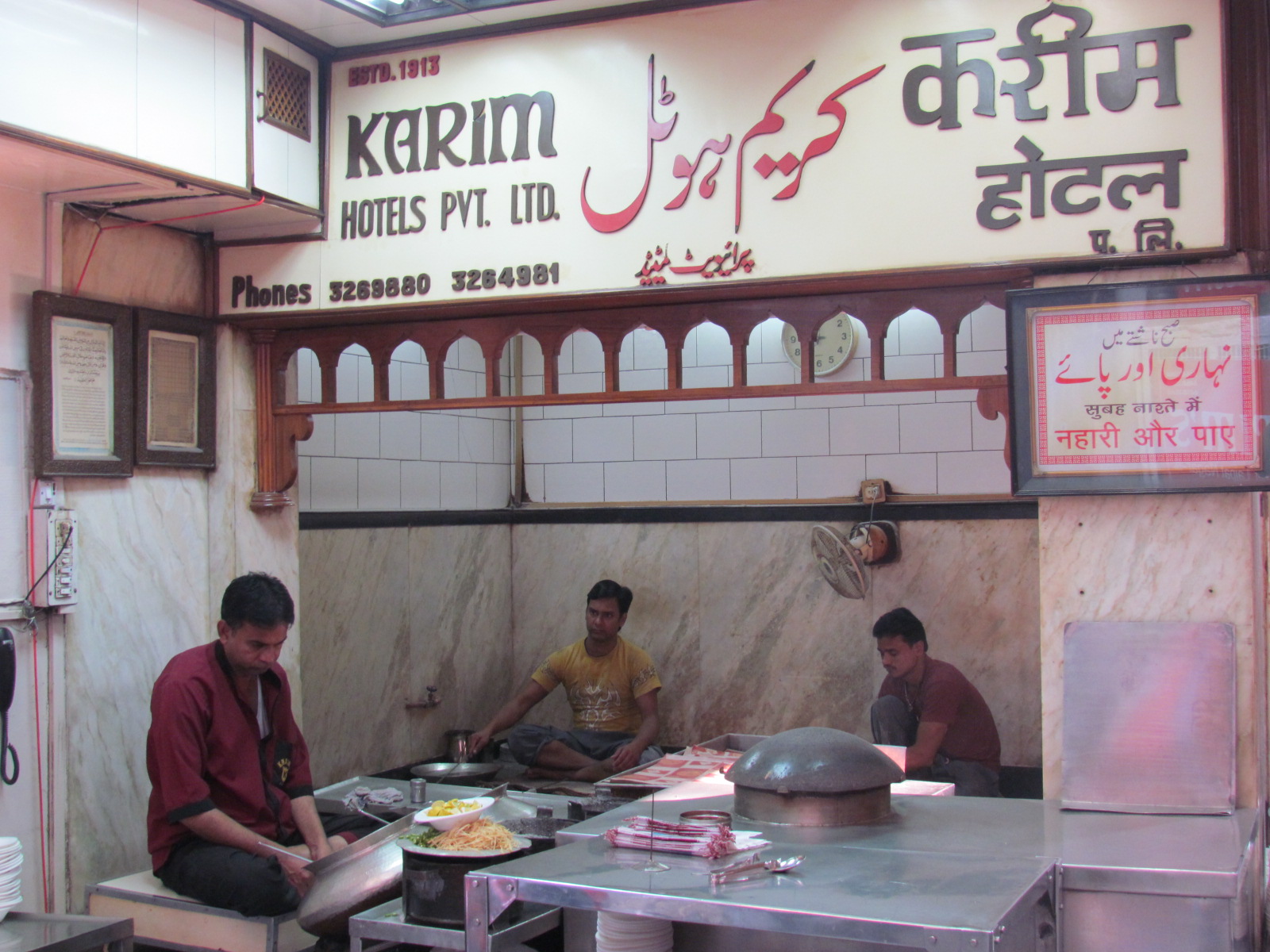 Image Source
Parathewali Gali
In the hopes of a better life, a man named Pandit Gaya Prasad migrated from Agra to Delhi in 1876. His business plan was simple and his product flawless (till date). Prasad acquired a small shop in Chandni Chowk, where he started rolling out parathas, which soon gained a lot of attraction. So much so, that not only did the owner have to call upon his family members to assist him with the business, the shop even expanded to over a dozen locations along the same street, which was subsequently renamed from Dariba Kalan to Parathewali Gali or Gali Parathewali.  
Although, now only three of these dozen shops remain – Pt Kanhaiyalal Durgaprasad Dixit (est. 1875), Pt Dayanand Shivcharan (est. 1882), and Pt Baburam Devidayal Paranthewale (est. 1886) – as many of the members shuttered their respective outlets and moved out, but the signature deep-fried parathas still attract customers from across the globe.
The chain is currently being run by the sixth generation of the family, which has not only maintained the quintessential charm of the place but has also kept alive an extensive menu of parathas.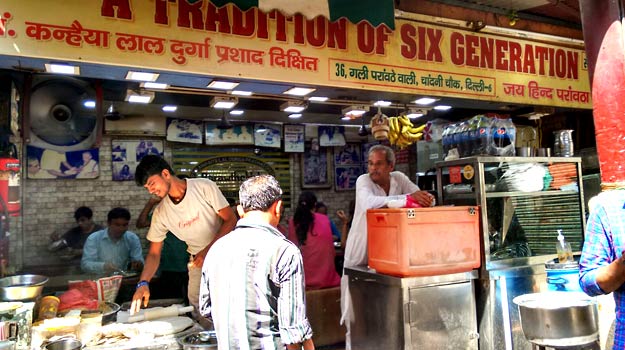 Image Source
Giani Di Hatti
Four years after the India-Pakistan partition, Giani Gurcharan Singh moved from Layalpur (now in Pakistan) to Old Delhi in 1951 with his family. The man may have left behind a flourishing shop in Pakistan, but he carried the recipe for his famous iced rabri falooda across the border. He used this recipe to kick-start at Church Mission Road by the same name that he did in Layalpur – Giani Di Hatti, which soon became synonymous with the brain freezing dessert. Priced at 4 annas (now INR 70), the tall glass of rabri falooda led Singh's business to success.
Today, the third generation of Giani Gurcharan Singh's heredity pilots Giani Di Hatti, which now carries a menu that spans beyond rabri falooda. Despite having over 40 outlets, locals from all over Delhi and tourists from all over India frequent the original shop in Old Delhi's Fatehpuri Market for its unmatched shakes, ice creams, and halwas (among a host of other dishes).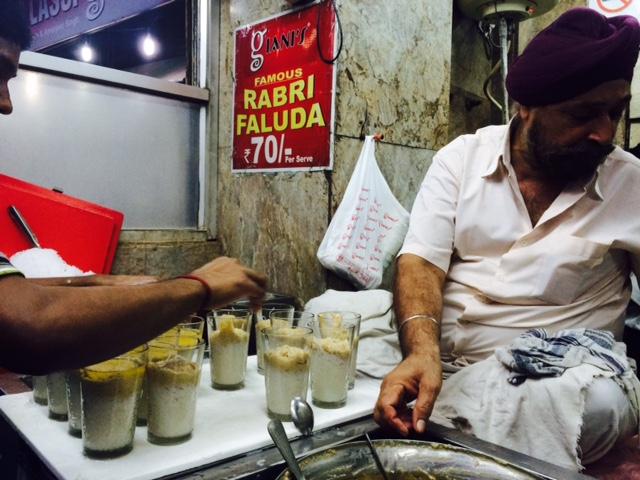 Image Source
Moti Mahal Delux
Founded in 1947, Moti Mahal is the brainchild of Kundan Lal Gujral, who drew inspiration for the restaurant from his previous place of work in Peshawar, British India. Owned and run by a man named Mokha Singh, this restaurant was called Moti Mahal. It was the first to start the trend of digging up a tandoor where the art of firing up tandoori chicken came into being.
Post-partition, Gujral and his family were relocated to Delhi where Gujral took up a small space in Daryaganj and kicked off Moti Mahal along with Thakur Das Mago. The restaurant, which now needs no introduction, not only successfully made a mark for itself in the Indian as well as across the globe, but it also went on to give us legends like dal makhani and butter chicken.
Carrying forward his father's success, during the late 1970s Kundan Lal's son, Nand Lal 'Bila' Gujral, expanded this business further to various parts of Delhi. And so, the Moti Mahal Delux chain of restaurants came into being.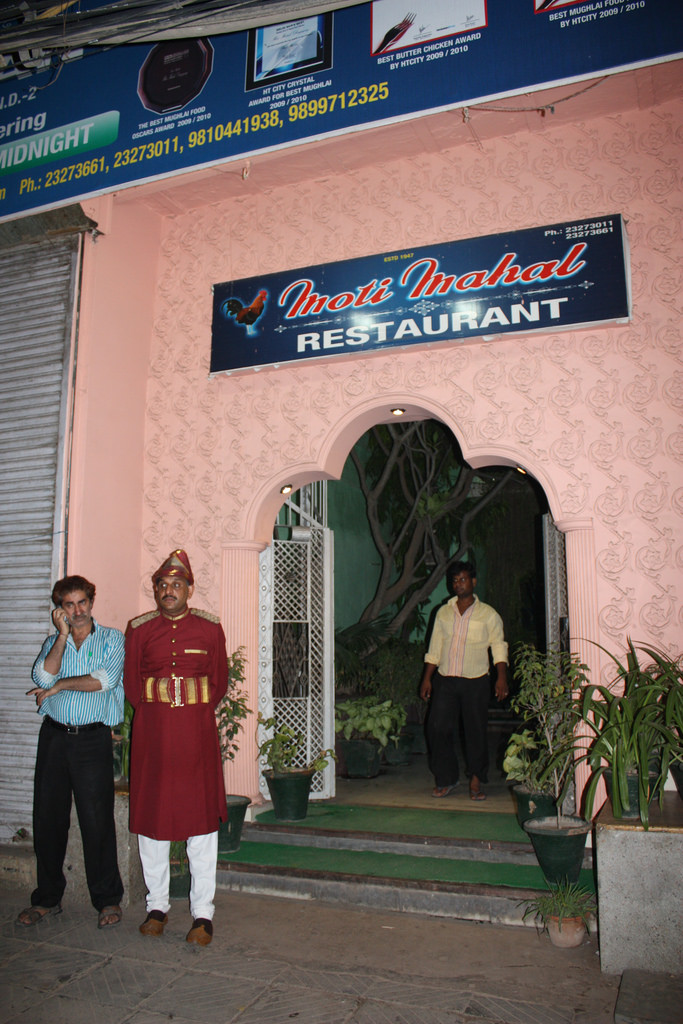 Image Source
Wenger's
Designed by British architect Sir Robert Tor Russell in 1926, Wenger's is one of Delhi's oldest bakeries. (Fun Fact: It is older than Connaught Place, which came into being in 1933) The place was owned by a young Swiss couple named Wenger, who started off a two-floored bakery, restaurant, and café. Not many know this, but in its heydays, the first floor of Wenger's used to be a ballroom as well as a sit-down Swiss café and restaurant. This was also the first establishment that introduced the Capital to French bread, Swiss chocolates and margarine pastries
However, in 1945, two years short of India's independence, the Wengers sold off the place to B.M. Tandon, an employee at the bakery. Following the Independence, the ballroom and dining spaced failed to garner much footfall and were hence broken up and leased out to various smaller shops. But that was all that changed. The bakery continues to be a celebrated name in the Capital, despite the rise of a number of ritzy cafes and posh confectioners. The place may have downsized over the decades, but its charm remains intact in the form of Wenger's unparalleled baked and iced goodies.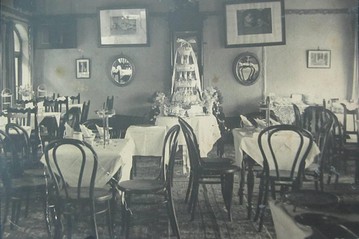 Image Source
And the rest, as they say, is history.