Ellen & Oprah Went Grocery Shopping And Lost Their Minds
On last night's episode of The Ellen DeGeneres Show, the host and Oprah Winfrey went to do something neither of them has done in ages – grocery shopping. The duo hit a nearby Gelson's outlet to pick up some edible essentials and to take a look at Winfrey's new healthy food product line, "O, That's Good!"
Although, Oprah has a whole range of food products to her name, she hadn't gone grocery shopping since Thanksgiving, while DeGeneres admitted that for her it had been "years". And with the two out of place celebs – and a bunch of cameras – scouting the local grocery shop, what unfolded was sheer madness.
The ladies were borderline maniacal with their Louis Vuitton "grocery bags" that were really just two massive pieces of luggage, which was very graciously provided by Ellen. To give you a better idea of the hilarity that ensued, here's an excerpt from the marketing trip: DeGeneres pranked the media mogul by asking her to hold up two round melons in front of her chest, and then proceeded to snap a pic. Because, you know.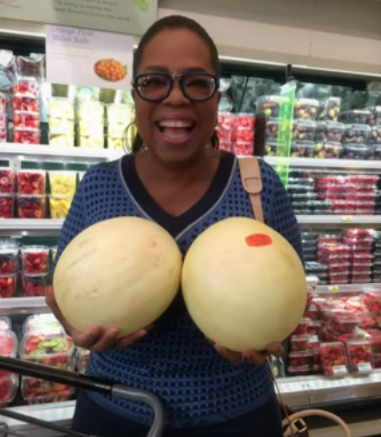 Yep, that's Oprah.
"I like fresh peaches too, lets get some of those," Winfrey says while reaching for the stash. "Too hard, softer, softer, softer, softer, softer" she adds looking for the perfect one. Meanwhile, Ellen went around announcing: "Oprah's touched all the peaches everybody!" she said, adding, "Whoever wants a peach Oprah's touched them."
Ellen was her crazy best as she went on and sprayed all the fruits with a hose and even made an announcement on the shop's intercom that she needed "dandruff shampoo for Oprah". Honestly, the two were oh so relatable if ever you and your sibling (or best friend) have let yourself loose at a supermarket. Take a look at the grocery bit from the episode below.
Feature Image: Just Jared