Enjoy The Flavours Of Nepal At Ashvita Bistro's Latest Food Pop-Up
Ashvita Bistro has become a popular name in Chennai for one very good reason – their interesting and adventurous food pop-ups. The bistro in Alwarpet has been bringing in chefs from all over the country, introducing Chennai food lovers to something new almost every other month. Last year alone, they had eight food-ups with different cuisines, different chefs and different experiences. And to kick 2017 off, they've got a Nepalese Food Pop-Up, introducing their regulars and new customers to something absolutely new.
"The idea is to collaborate with the chefs from other cities, who specialise in a particular cuisine. They come to Ashvita for a weekend and they showcase their cuisines. The idea is to make it very interactive and to let the diners get a very different experience," Munira Daniel, Head of Events & Public Relations at Ashvita. And diners most definitely get an experience that they don't expect and come back for more. Last year, both Ashvita Bistro and Ashvita Nirvana (in Besant Nagar) saw exciting new pop-ups including a Burrito Pop-Up and a Chicago Deep Dish Pizza Pop-up with Mafia Chef.
But what's different this time is that there are no visiting guest chefs, instead, it's a little closer to home. "The USP of this pop-up is that we don't have any guest chefs, this is being done by our in-house chefs. Our chefs are from Nepal and for a change, we thought, why not celebrate their cuisine. Because they've been a very important part of Ashvita from its inception," Munira told us and explained that this food pop-up will give diners an authentic experience of Nepalese culture, including the way the food is presented.
The entire meal, except for the soup, is served in a banana covered thali. They have a standard menu for the four days of the pop-up and depending on what you want to eat – vegetarian or non-vegetarian – you are given the respective thalis.
on the menu
As soon as you're seated, you are given a delicious glass of Darjeeling Iced Tea. With Chennai slowly starting to get warm, this is a really good way to start a meal. The tea is brought from Nepal, along with a few other ingredients that they have used in the food.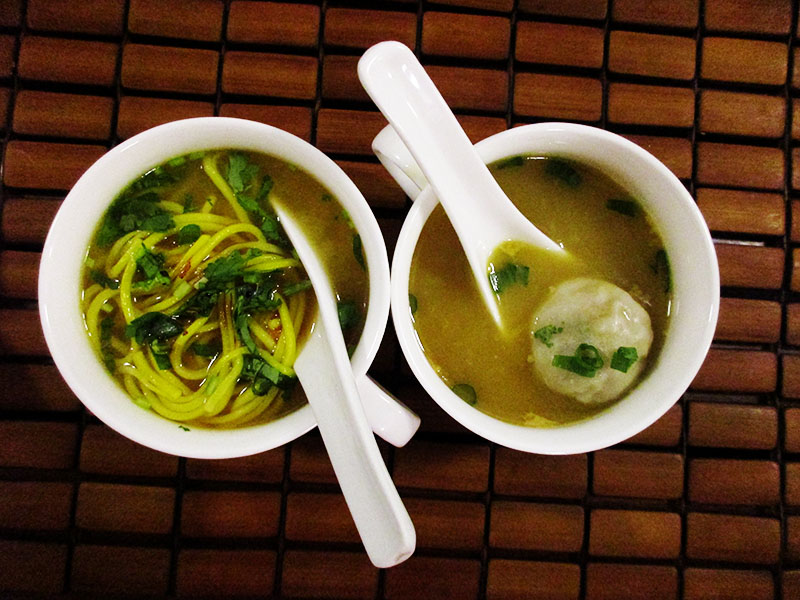 Then you get a bowl of soup – Momo Ko Jhol for vegetarians and Thupka Ko Sherwa for non-vegetarians. The vegetarian soup comes with a momo and has the right amount of spice to give your tastebuds a wake up call. The non-vegetarian soup has noodles which is another ingredient that they brought from Nepal.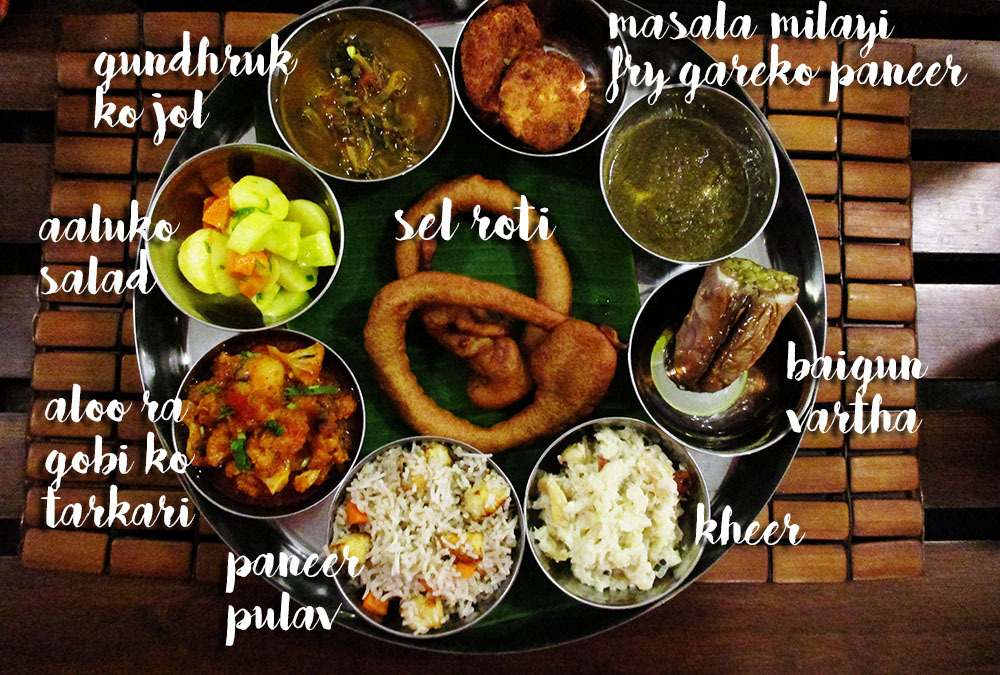 The main course comes next. In the vegetarian thali each diner gets a portion of the Sel Roti, which is a traditional home-made sweet, ring-shaped rice bread. It looks a lot like a pretzel or a donut, but isn't as sweet. The Sel Roti is what you eat with your food, like you would eat a regular roti. Also in the thali is an Aaluko Salad, Masala Milayi Fry Gareko Paneer (a sort of paneer cutlet), Baigun Vartha as starters. The main portion has a Paneer Pulav, Aloo Ra Gobi Ko Tarkari and Gundhruk Ko Jhol (which is made from sun-dried radish leaves). And of course to end the meal is Kheer that is made using cabbage.
The non-vegetarian thali also comes with Sel Roti, Aaluko Salad and Kheer, but everything else is different. As a starter, they've got Bareko Kheema (which is made with chicken) and Prawn Momos. In the main course section, there's Bhuteko Bhat (the rice with chickpeas), Mutton Dal Cha and Dahi Macha (a large piece of fish). All of this can be eaten with the Sel Roti or the rice, but as a combination, everything works really well.
The Nepalese Food Pop-Up is on from January 26th to 29th for lunch (12pm – 4pm) and dinner (7pm – 10pm). The vegetarian thali is priced at Rs. 799 and the non-vegetarian thali is Rs. 999. It is best to make a reservation so that you can be sure to get a chance to experience this pop-up. To make reservations, call 044 42109990 or 9791088189 right away!
Ashvita Bistro is located No.11, Bawa Road, Alwarpet.