We Experienced The Taste Of Kashmir At Jamavar & It Left Us Wanting More
Every so often Jamavar, the fine dining Indian cuisine restaurant at the Leela Palace, treats us to a food festival celebrating the gastronomical delights of various locales in India. Last time, we were treated to some scrumptious Andhra cuisine, and we couldn't wait to see what the Taste of Kashmir held in store for us.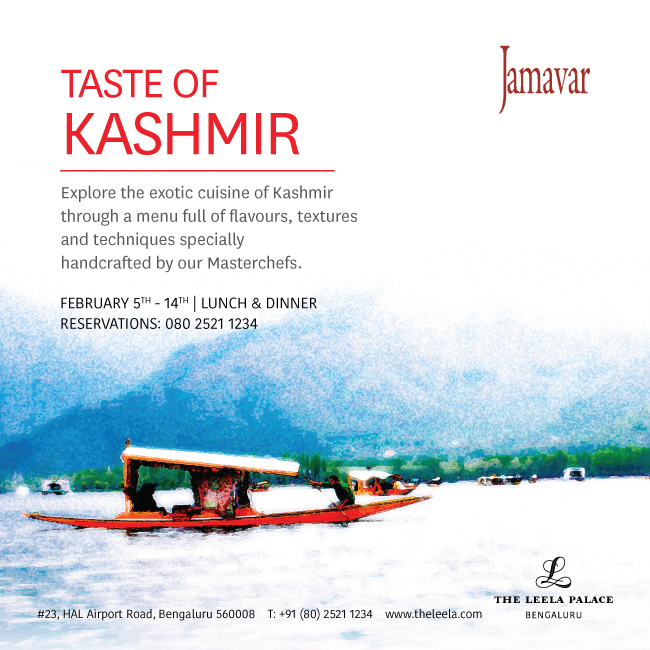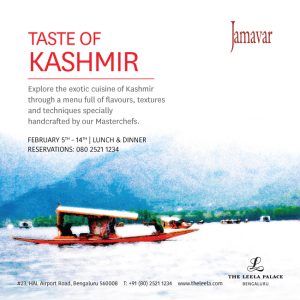 We started off our meal by trying out a selection of pickles and chutneys native to Kashmir. The walnut and curd chutney was an absolute delight and is definitely making its way into our recipe log! In Kashmir, the cuisine incorporates nuts, roots, and lots of mutton and we couldn't wait to dig into the appetizer platter before us.
The Nadru Mand (lotus stem fritters) was a big surprise – honestly, we could eat through a plate of the crunchy delight without getting overpowered by the taste of the lotus stem. If you're making the trip to Jamavar, you mustn't miss out of the Kashmiri Trout – the combination of Kashmiri spices and the fresh trout sourced all the way from Kashmir is one of the highlights of the food festival.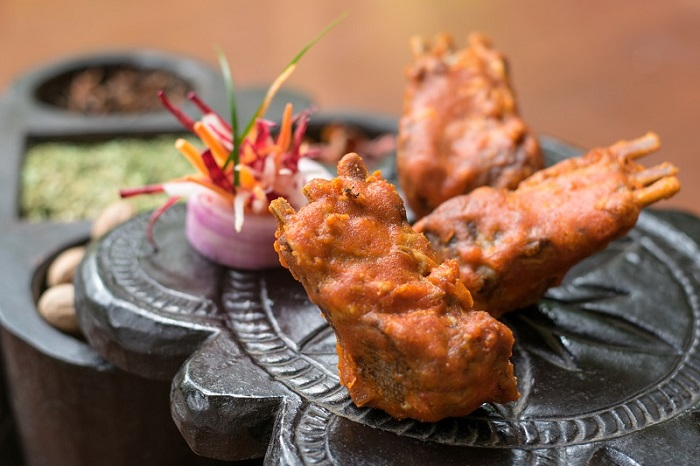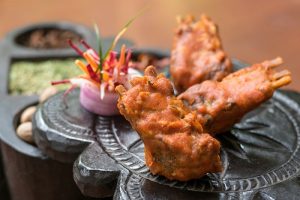 The Kokur Ke Gulabi Pasandey was also a favorite, beautifully cooked chicken breast with a hit of spice tenderized from the marination. Frenched lamb chops also made an appearance in the Maaz Kabargah which was batter-fried and allowed the wonderful flavors of fennel and cardamon to sing!
Don't forget to sample the Sheermaal and Baqar Khani which are breads native to Kashmir that taste beautiful on their own. We warn you though, they're deliciously addictive!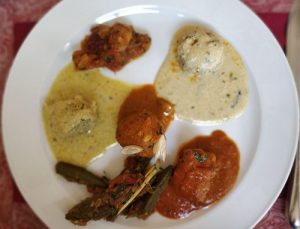 For the mains, we enjoyed the Nadru Goshtaba, lotus stem dumplings filled with dry fruits served with creamy yogurt gravy (we honestly never knew lotus stem could taste so good). As expected the Rogan Josh was delicious, but our pick of the mutton gravy was the Maaz Goshtaba – a must try for all mutton lovers. Vegetarians, we promise you'll be impressed by the Rajma Gogi, it has the addition of turnip as well!
Dessert meant Hare Seb Ki Phirni, Seb Ka Halwa and Badam Anjeer Halwa (arguably our favorite). A must try in the dessert selection is the Zaffrani Kulfi, rich and saffron infused this kulfi was the star of the show. If you'd like to experience the Taste of Kashmir head to Jamavar for a glimpse of authentic Kashmiri cuisine.