"I go for five heavy meals", Ayushmann Khurrana On Food & Eating It With Hands
Actor, singer, and music composer are a just a few of the feathers Ayushmann Khurrana has tightly tucked in his heavy hat. In a column for Daily News & Analysis, the Meri Pyaari Bindu actor revealed his love for veggies, home grown food, and eating with hands. The actor explained at length his liking for vegetables that most people would give a miss and also his immense fascination with eating sans any cutlery.
Khurrana, who claims to be "always hungry", says he loves vegetables like bottle gourd, bitter gourd, cauliflower, and Indian squash, especially if they are homegrown. "Shipping is a despicable thing for the vegetables. They get jet-lagged. That's why exotic vegetables don't taste perfect in India. I feel for them, bro. I feel for them", he says.
A Heavily Indian Palate
Unlike what most nutritionists suggest, Khurrana likes to down heavy meals, and five a day, no less! The actor who is blessed with a metabolism "faster than Usain Bolt" loves to stuff his tummy with enormous amounts of food. "I get a lot of happiness in good food. There have been times when I have fantasized about food. Just dreaming about food", he admits.
Talking about his likes and dislikes when it comes to cuisines, Ayushmann explains that his palate is largely desi with a liking for "everything Indian, from Kashmir to Kanyakumari. From Gujarat to Gangtok." And looks like the actor is not too different from us when it comes to eating, as is made clear when he says "as long as there's food in my mouth, I can solve even rocket-science questions."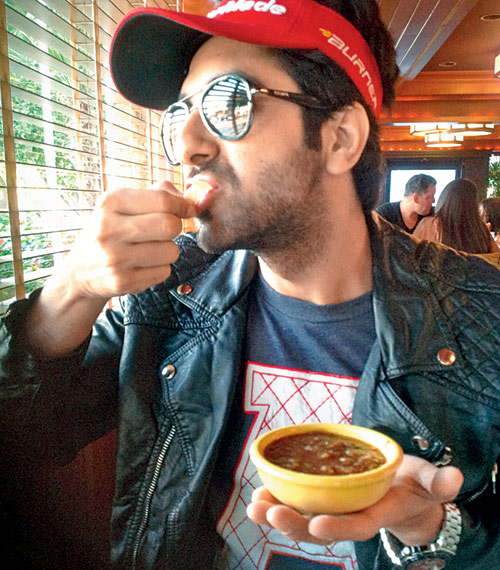 Image: www.mid-day.com
Eating With Hands
Despite being brought up with Punjabi values (that do not in any way profess eating with hands), the actor has grown to love eating food without using forks and knives. "If you eat with your hands, the food directly connects with the soul. There's a certain honesty in that connection between your clean limb and food, which reflects in your eyes and satiated belly", he explains.
The actor picked up the habit form one of his peers in college, who belonged to Bihar, and there has been no looking back since. "It must've been 2pm during one buzzing spring afternoon in the mess that I attained nirvana for the first time. That was the time I realised what my hands were truly capable of, apart from aimlessly strumming the guitar", he adds gleefully.
Basically, Ayushmann Khurrana is an amalgamation of all of us when it comes to dining. And that's probably something that makes him oh-so relatable on screen and off it!
Feature Image: Shortday.in