Junkyard Alley Café – Where Scrumptious Food Meets Quirky Décor
As we walked through the pebbled alley, what immediately catches our eye is the decor. Giant tires in place of table legs and brightly painted cycle tires hanging on the wall dominate the patio scene at Junkyard Alley, Anna Nagar. Of course, that was enough to put to rest our curiosity behind the café's name.
If we had our apprehensions of how a junkyard theme would make for an appetizing ambiance, the artistically done interiors with recycled objects set us straight. Rustic, quirky and bold interiors built with recycled logs of wood, tires, iron pipes, wine bottles and even automobile parts together give off an old-world charm in a very modern perspective. The seven-month-old café offers continental dishes and we for one couldn't wait to start our meal.
We began with an appetizer that we hear is a crowd favorite – the Hot Wings. A finger-licking spicy dish of chicken wings marinated and deep fried served with garlic sauce and garlic aioli,  the chicken wings were tender, juicy and burst with flavors. The wings are served with freshly-made mayonnaise that balances out the spiciness of the dish. Needless to mention, the Hot Wings were a definite hit.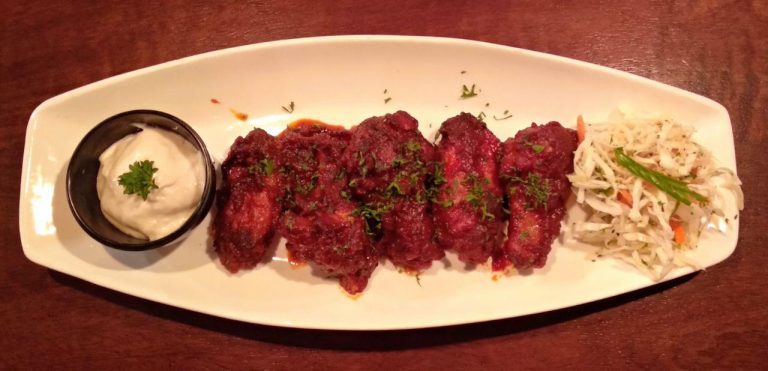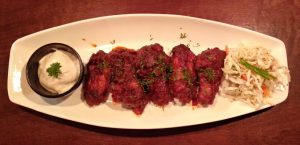 Our next appetizer had an unusual yet very apt name – Can't Ban Me. Those of you picturing a beef dish right now would be right to do so.  A dish of grilled beef slices, grilled zucchini, and capsicum, with the most delicious mushroom sauce we have ever tasted, Can't Ban Me is an absolute treat to meat-lovers. The well-spiced beef goes amazingly well with the veggies and that mushroom sauce was undeniably the best.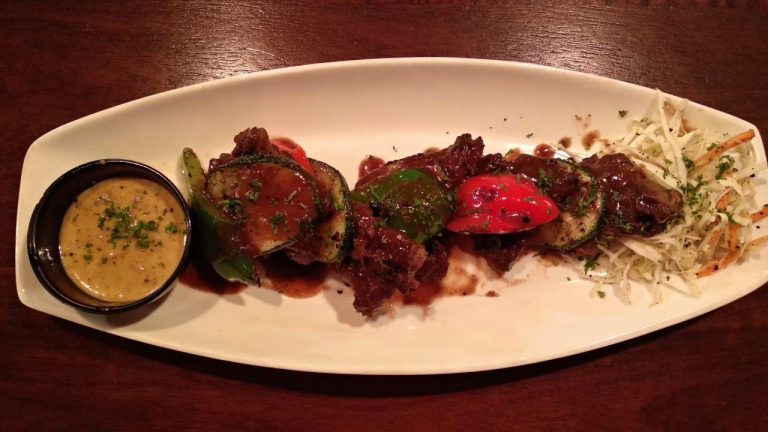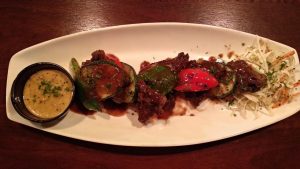 For the main course, we chose their Chicken Mac and Cheese, that was macaroni tossed with cheddar, mozzarella and parmesan cheese with a generous amount of cheese sauce. Creamy, stringy and deliciously cheesy, the Mac and Cheese was everything you'd want in a pasta dish. The chicken was very well-cooked and melts in the mouth. On the whole, if you're craving for the ultimate comfort food, this dish is all you will need.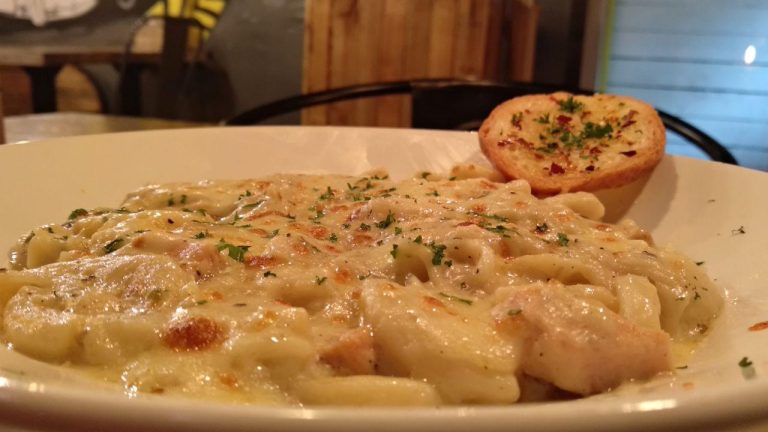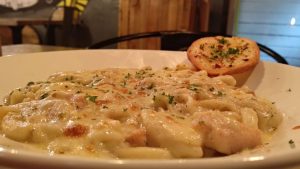 We went Mexican for our next dish and tried the Tacos Veg, a soft taco shell stuffed to its fullness with fresh diced vegetables served with a dollop of sour cream and garnished with spring onions. The tacos were served with yummy brown rice and a cup of salsa. The dish hits the eye with a myriad of colors and tastes as good as it looks. A beautiful melange of freshness and flavors make the dish a wholesome experience.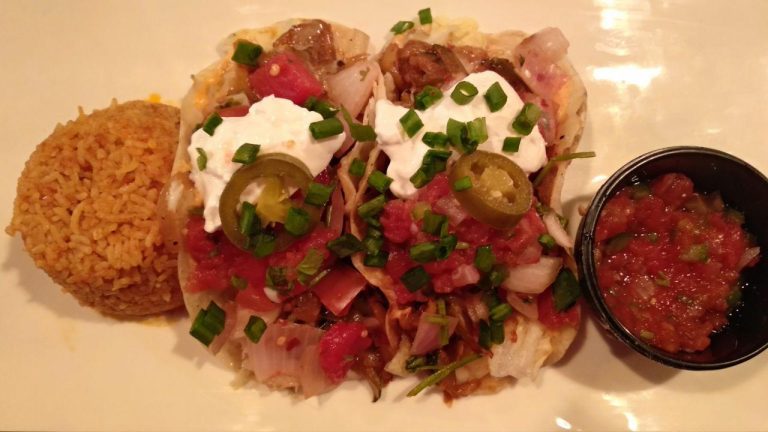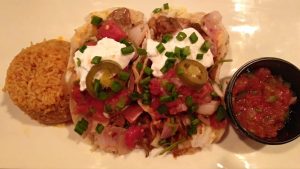 For dessert, we chose their famed Dream Shake, a chocolate milkshake blended with chunks of KitKat, chocolate ice cream, and nougat that comes with copious amounts of whipped cream, prettily presented with sprinkles and KitKat sticks. The specialty of Junkyard Alley Café's shakes is the generous quantity of ice cream they add to their shakes which makes them super thick and super filling. Needless to say, the Dream Shake was indeed as dreamy as we could have hoped for.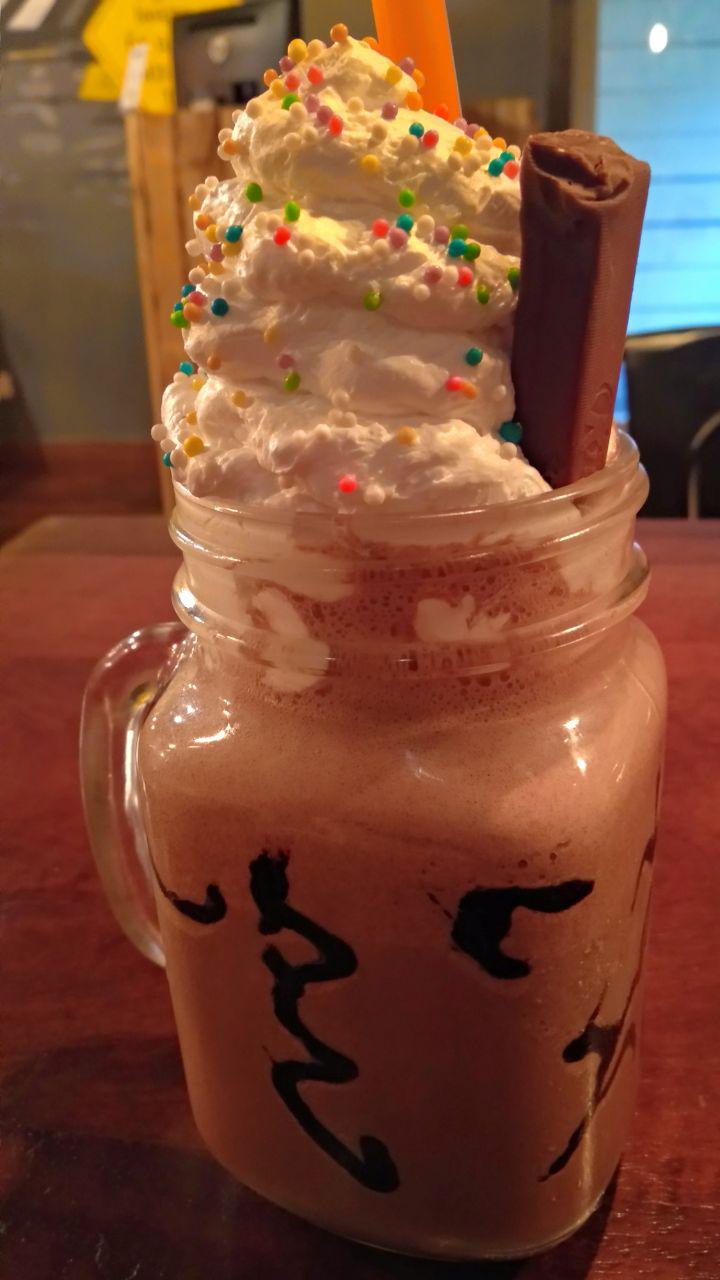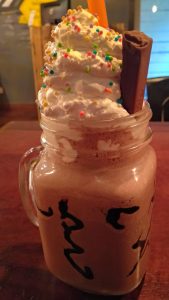 We decided to wash down our meal with a mocktail and tried their Cranberry Kiss, a truly divine concoction of cranberry juice with mint and lime. If you love mocktails as much as we do, this one is a definite must-have. What with the scorching Chennai heat, the Cranberry Kiss was refreshing and perfect for the season.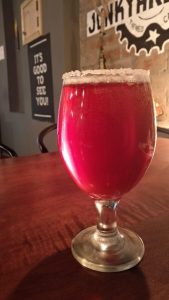 If you are looking for a themed restaurant that does justice both to the quirky décor and to the delicious food, Junkyard Alley Café, Anna Nagar, Chennai is where you need to be.