These Models Really Do Look Good Enough To Eat
Did you think some models look good enough to eat? Make-up and hair artist Karla Powell has taken that saying extremely literally, and used her artistic skills to transform models into living works of food.

Powell has put together a personal food project in which she's used inspirations like sushi, vegetables and ice cream to come up with make-up and hair looks for her models. So, you can drool over her magnum ice cream look where the models' eyes and lips are painted to match magnum ice cream colors and her vegetable beauty look, where a model's make-up perfectly complements her lettuce hair-do and carrot necklace.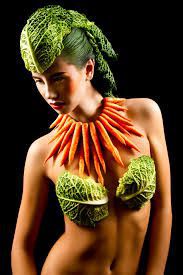 Are you suitably impressed by these photos? Check out this video which shows you how Powell went about her sushi look – hopefully it'll demystify you a bit.