Namma Chennai : Kalathi Rose Milk Will Always Be No.1!
As the summer days are winding down and the cool monsoon breezes are hitting us in the evenings, we are thinking fondly of out favourite Rose Milk. The afternoons are still quite hot and one can still find the ever present long queue at the non-descript Kalathi Newspaper stand where people wait to get a glass of the frothy rose milk.
Decades of Refreshment
Kalathi News Mart was started by Kalathi Mudaliar in 1927 as a neighbourhood shop for household essential items like plantain leaves, lights and betel leaves, among other provisions. It even sold newspapers and magazines, and delivered publications to the doorsteps. Over the years, based on demands of the people staying in the area, the shop grew to sell more items including soda, tea and biscuits as well. But it was the rosemilk prepared at Kalathi kadai that became a huge hit in the area.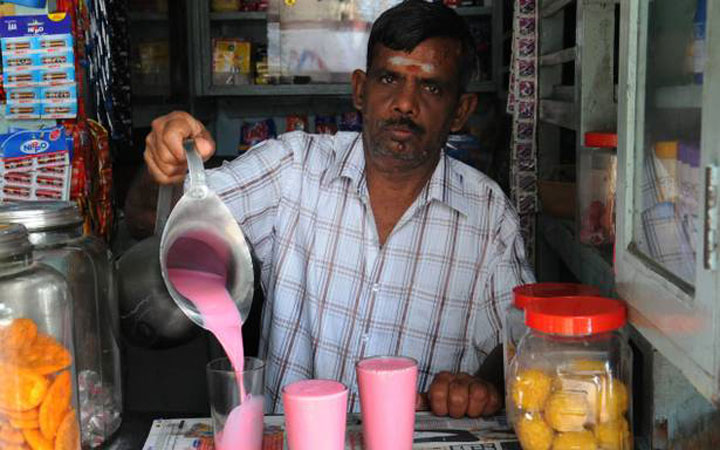 The shop still sells close to 500 glasses of the home made drink. The syrup is prepared from scratch at home and this is one of the reasons it tastes so good. The current owner, a descendant of same family who started the shop is fully involved in the making of the pride of his shop.
This tiny hole in the wall sells the favourite pink drink at 15/- a glass and you can even buy a bottle of the wonderful syrup. The other favourites at the news stand are the Panneer Soada and the Lime Soda.
The Place has gotten even more popular over the years after being featured on the very popular Highway on my Plate show. Watch as Rocky and Mayur tell you why you should track this place down.
Kalathi Newspaper Mart is located at No.27, East Mada Street, Mylapore.
If you don't live in Chennai and are not visiting any time soon, we've got you covered with some awesome rose-y recipes to try
Featured image : Food pecker.