A One Way Trip To Vietnam at Benjarong's Food Festival
Discovering Vietnam!
We were at Benjarong to get a glimpse of the Vietnamese Food Festival that was launched recently but what we got out of the visit was more than just a glimpse. Walking into Benjarong made us feel like we'd just opened a portal to the streets of Vietnam as we caught glances of Vietnamese hats hung up on the walls of the restaurant. Chef Ram Kumar, the Brand Chef of Benjarong hosted this lovely "trip" by joining us and serving what is known as ice cold tea (served in place of regular water all over Vietnam). We learnt that he had spent some time in Vietnam prior to the Food Festival to understand it's cuisine himself and give back the authenticity of it to the crowd here in Chennai.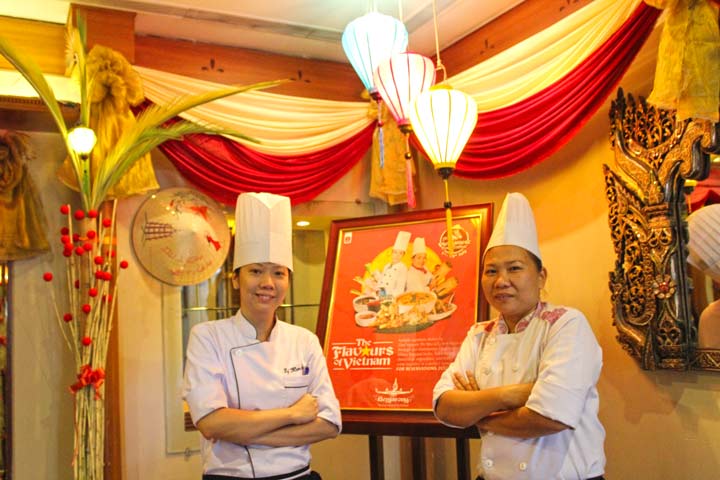 The Food Festival is hosted by expat chefs, Chef Nguyen Thi Nho and Chef Ly Kim Ngan who travelled here from Vietnam, along with Chef Ram Kumar. They have, together, created a fantastic menu featuring the best of traditional and contemporary Vietnamese cuisine and having the chefs hosting it makes it all the more special. The ingredients used for this festival were brought all the way from Vietnam! Some of these speciality ingredients include rice paper, tofu skin, sesame, lotus seeds and coffee powder. Benjarong, known for hosting some of the best international food festivals in the city, is hosting the Vietnamese Food Festival for the second time after the great response from the city last year. Why Vietnam?, you may ask. Well, being a neighboring region, Vietnamese cuisine is one to be explored because of its unique flavours and the absence of Vietnamese restaurants here really calls for this festival.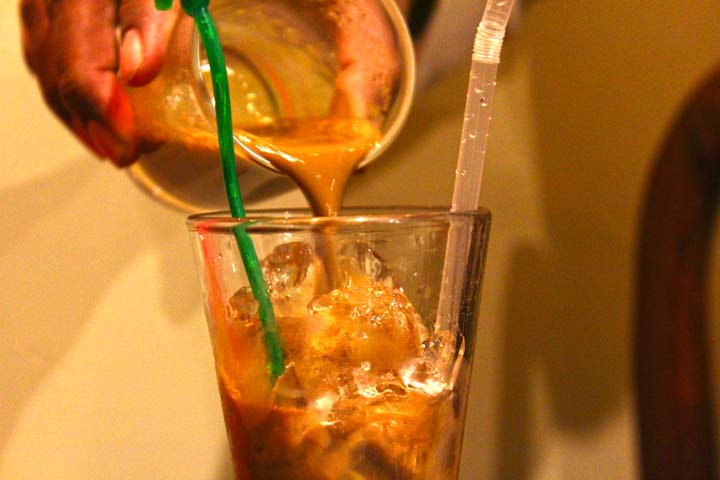 So, let's talk about those unique flavours. But how do you word something THAT beautiful? We loved the plating and ate with our eyes before we could reach for the forks. And when we did, we gobbled all that was in front of us in seconds. You might say we were just hungry. But does one really ask for more food and wipe plates clean after being stuffed from the third or fourth (did not keep count) serving? Not really, no. It was the flavours that lured us in like an ice cream truck would to children. Vegetables so fresh and crunchy, sauces with overwhelming flavours, and meats cooked to perfection – we were in heaven. This meal had us wanting to board the next flight to Vietnam and we're sure you'd think the same thing. But if moving is too much then how about walking in to Benjarong? It's the wardrobe that leads to Narnia. A Vietnamese Food Festival kind of Narnia, where you're about to experience magic.
What we had:
Vietnamese Iced Coffee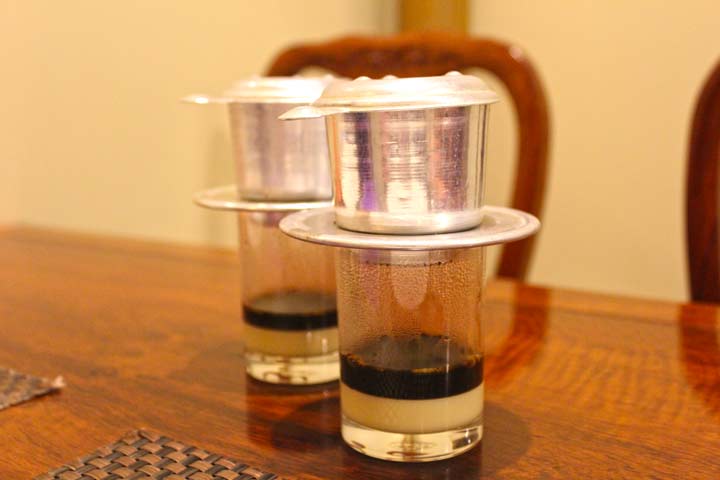 A layer of condensed milk, a layer of decoction dripping in from a filter above the glass and poured over ice. TBH, some of the best coffee we've ever had. Ever.
Beef Pho Noodle soup (Pho Bo)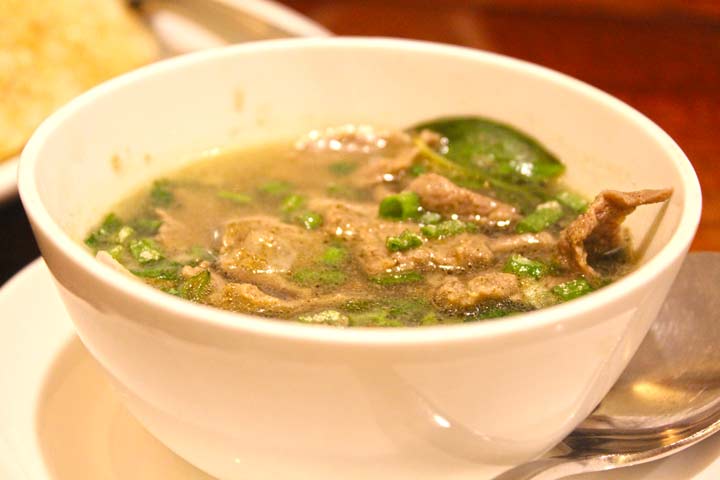 This soup is relished any time of the day in Vietnam. At Benjarong, you can relish it in three different varieties – Beef, Chicken, and Vegetable.
Banana Blossoms Salad with Chicken and Sesame Rice Crackers (Goi Ga Bap Chuoi)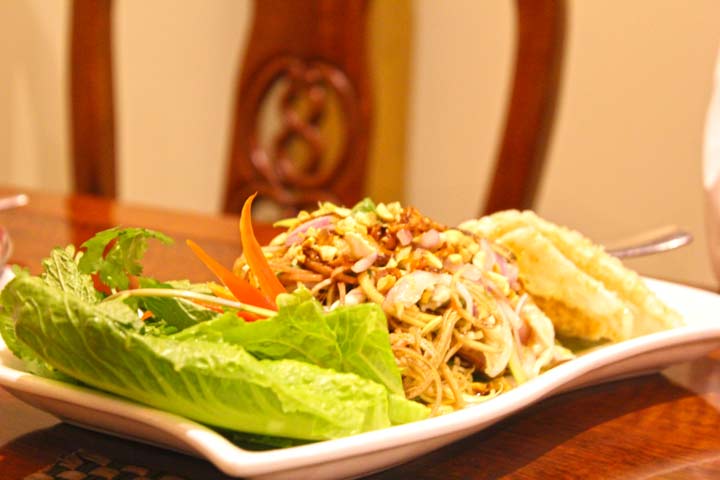 Who knew banana blossoms can be THIS delicious? We loved every bit of this salad, including the rice crackers we used as a spoon (that we could bite into) and enjoyed the textures combined.
Charcoal Grilled Beef on Lemongrass Sticks with Fresh Rice Vermicelli and Chilli Garlic Fish Sauce (Bo Cuon Sa Nuong Voi Bun Tuoi Va Nuoc Mam Toi Ot) and Crispy Rice Paper Wrap Filled With Crab Meat and Chicken served with Fresh Vermicelli and Mixed Herbs (Bun Nem Cua Ga)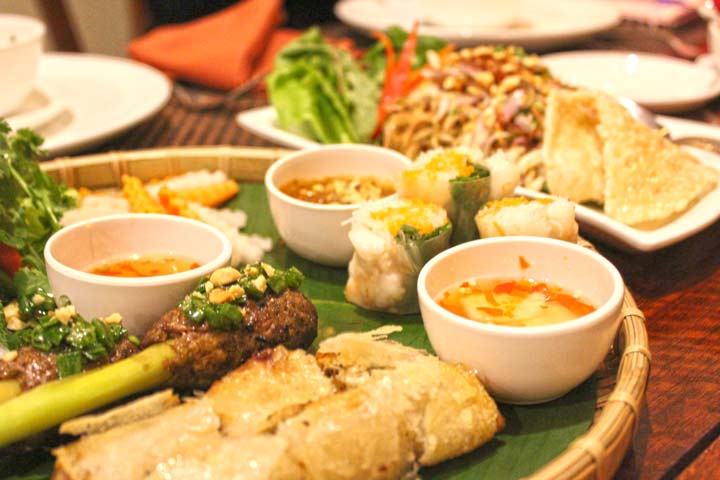 Amazingly well cooked, you can taste the different flavours in every element. You have to try it to believe just how amazing this dish is. The art of Vietnamese Rice Paper really shows itself here. Another similar variation was the Prawn Rice Roll served alongside. We loved the fermented bean paste for a dip. Simply mind blowing.
Vietnam Chicken Curry in Coconut Gravy (Cary Ga Nuoc Cot Dua)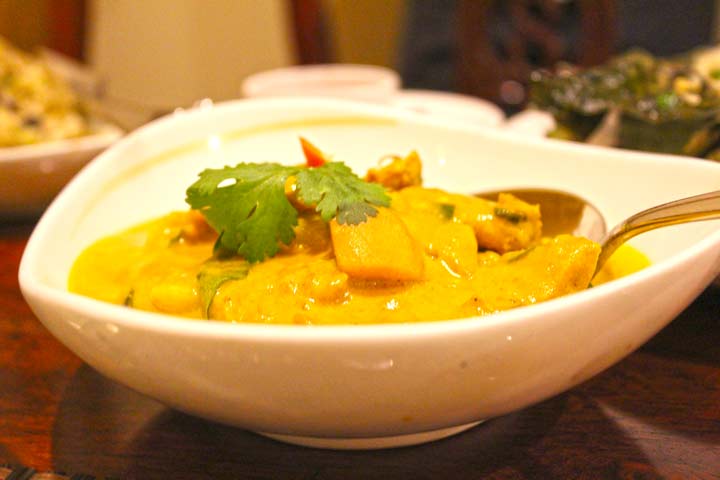 This rich, creamy Chicken Curry will have you asking for more. Tender chicken cubes and potatoes grace this lovely curry.
Crab Meat With Stir Fried Glass Noodles (Mien Xao Cua)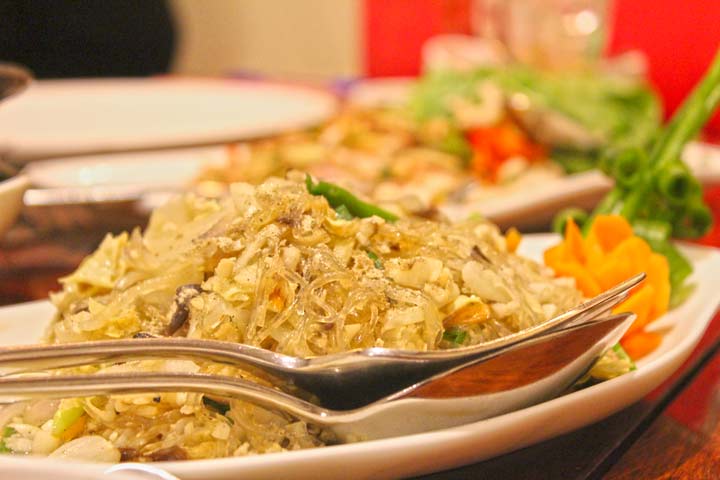 Soft and delicious glass noodles with a beautiful aroma and perfectly cooked crab meat. So good, you'll probably find yourself taking another one for midnight cravings at home.
Caramelized Fish In Claypot (Ca Kho To)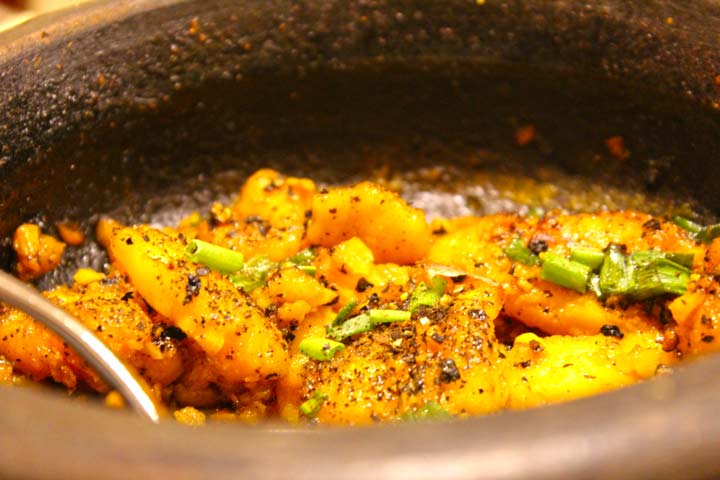 Beautiful soft fish, well steamed and cooked in a claypot of caramelized sauce. You'll fall in love with this dish. Really.
Lotus Seed Fried Rice wrapped in Lotus Leaf (Com Chien Hat Sen Va Thit Hoac Hai San)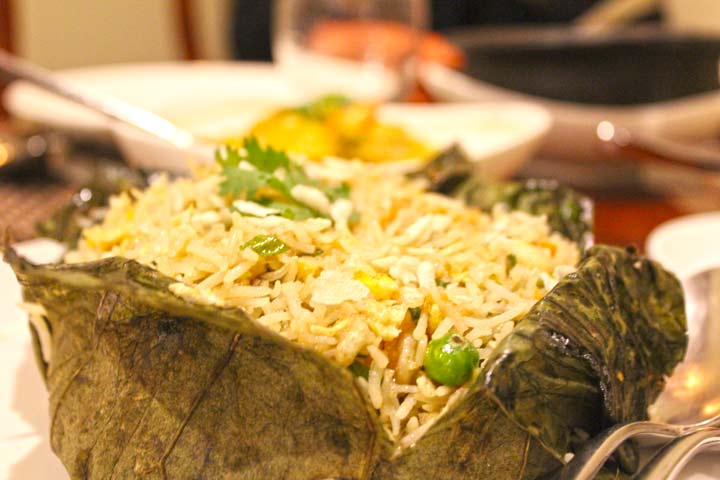 An aromatic dish of puffed rice and regular rice mixed together with lotus seeds for a crispy yet soft texture. Such a brilliant delicacy. This dish has a variation with choice of meat or seafood too.
Mung Bean Cake (Banh Dau Xanh)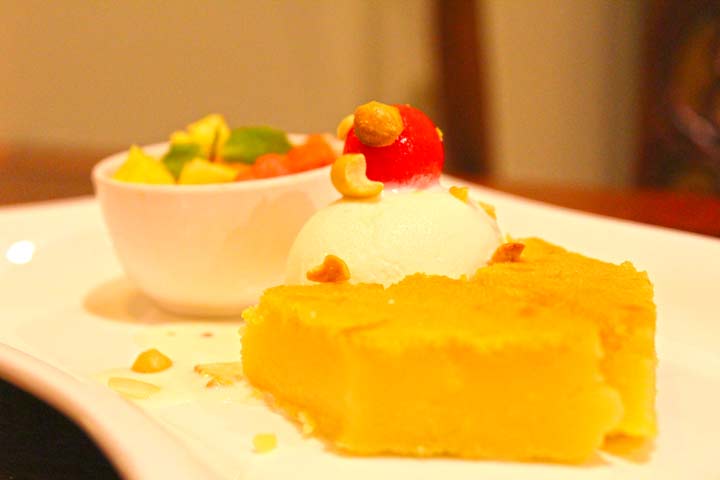 This dessert is a beautiful Vietnamese treat, served with fresh fruit and ice cream.
Sticky Rice, Corn, and Red Bean Pudding with Coconut Cream and Tapioca Sticks (Che Bap Dau Bot Khoai Nuoc Cot Dua)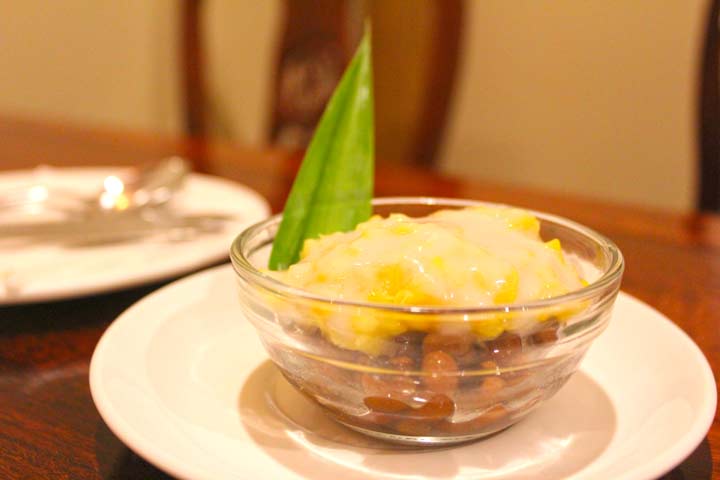 Unique flavours build this lovely dessert to a layered pudding that you just can't get enough of. We learnt that the desserts in Vietnam use less dairy and more of fruits, vegetables, and pulses instead. Different and delicious!
Benjarong, the city's favorite Thai Restaurant, is located on TTK Road, Alwarpet and is hosting the Vietnamese Food Festival from 1st to 19th July.