Put A Crown On Your Cashback
The first term you need to know is cashback, because that's where all of this begins. So, the official definition of the term is "a form of incentive offered to buyers of certain products whereby they receive a cash refund after making their purchase."
Crown It (available for iOS, Android and Windows) is an app that provides this service to their users. Everybody uses their phone for shopping regularly and you never go a day without your phone either, so for this generation, this is the perfect app. It's a new generation of vouchers and gift certificates.
How does it work exactly? It's really simple. Check-in when you're at a restaurant and after your meal, take a photograph of your bill using the Crown It app and you instantly receive 'Crowns' which can then be redeemed for online shopping, booking movie tickets and recharging online. Obviously this only works at outlets that are connected to Crown It, so make sure you check their app to see if you are eligible.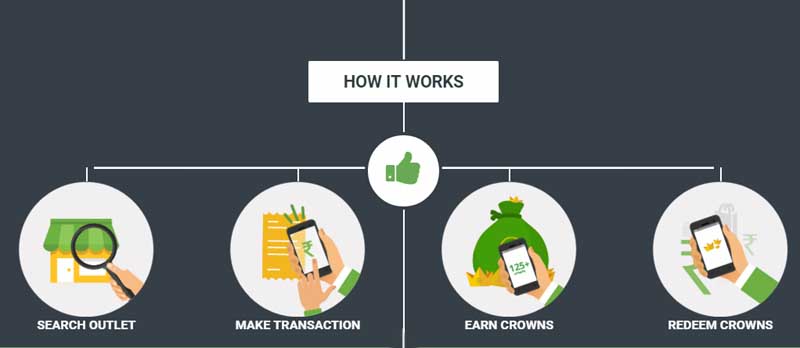 Psst. You can also refer your friends to earn extra Crowns and earn 10% of their cashbacks while you're at it.
The features of this app go beyond the basic earning of Crowns. You can use these crowns to buy vouchers or coupons on popular online stores and use them at a later stage. Also, when you're in a tight spot and have no money to recharge your phone, use your Crowns to make it happen. Besides getting the best out of eating all the food you want to eat, you have access to various online stores too!
And, they have a feature called Weekly Rush where users get a chance to participate in a lucky draw every week. With each check-in/transaction, users get a ticket that can be used in the draw (there is no limit to the number of tickets you can collect), and you could win goodies like headphones, movie vouchers, iPads and more!
Users can earn exclusive cashback from restaurants, salons, hotels, movies, fashion and more. Currently the app is servicing Gurgaon, Delhi/NCR, Mumbai and Bengaluru, but it also gives you access to hotels in other parts of the country.