As we have suggested before, Coachella might as well be called 'Foodchella', because the variety of snacks and innovative food options available at the International music festival are unreal! From a meaty garlic crab fries to some chocolaty ice cream sandwiches, the event is as much a food attraction as it is musically inclined. Another absolutely mind-blowing, intriguing, and absolutely delish food being talked about at Coachella is the snickerdoodle.
As the name suggests, snickerdoodle is not your average snack; it is something way special. And no, it has got nothing to with Snicker bars. The snack is, in fact, a kind of soft and chewy cookie that boasts of a unique texture and flavor that consists hints of cinnamon. You can enjoy your cookie as is or give it the ice cream sandwich treatment and sandwich your favourite ice cream 9we suggest vanilla, of course) between two snickerdoodles.
Image: Vegan Yum Yum
Feature Image: Delish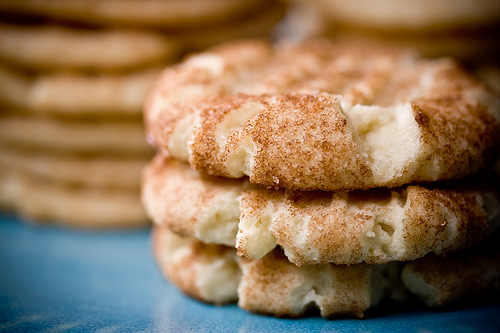 | | |
| --- | --- |
| | |
Mix butter, 1 1/2 cups sugar and eggs thoroughly in a large bowl. Combine flour, cream of tartar, baking soda and salt in a separate bowl.

Blend dry ingredients into butter mixture. Chill dough, and chill an ungreased cookie sheet for about 10-15 minutes in the fridge.

Meanwhile, mix 3 tablespoons sugar, and 3 teaspoons cinnamon in a small bowl.

Scoop 1-inch dollops of dough into the sugar/ cinnamon mixture. Coat by gently rolling balls of dough in the sugar mixture.

Place on chilled ungreased cookie sheet, and bake 10 minutes.

Remove from pan immediately and let cool. Enjoy!