Relish Delicious Food And Quirky Cocktails At The Newly Opened Hitchki At BKC
BKC is home to many corporate offices and MNCs but these office goers have one thing in common, their love for food. It is this love that has resulted in restaurants and bars mushrooming in the vicinity and the latest entrant is Hitchki. This is the second outlet of Hitchki in Mumbai within the year and surely there must be something special here. That's exactly what we went to find out at the BKC outlet.
The Ambience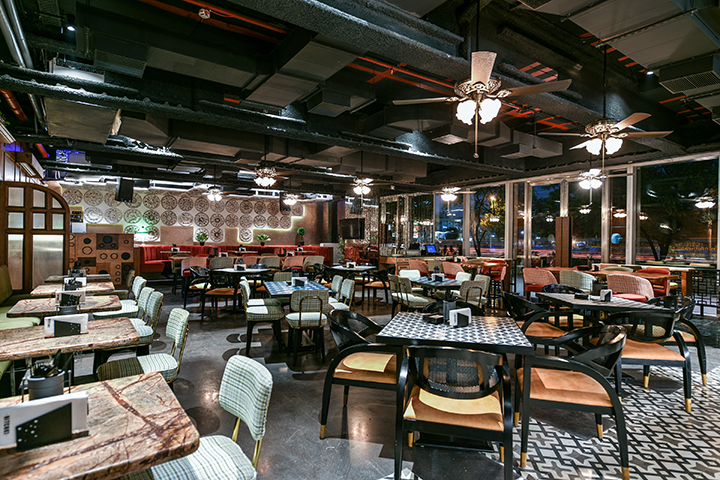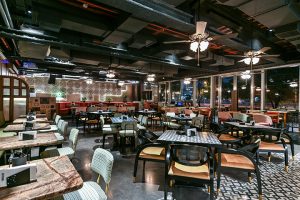 Hitchki at BKC is quite spacious and the atmosphere here on a Saturday night was absolutely amazing to watch. With customers still in their formals chatting away about their latest office gossips, celebrating a colleague's birthday to even having a few drinks with their cool boss, the place was buzzing with excitement. The music was party focused and was giving us and everyone present there a groovy weekend vibe.
The Food
https://www.instagram.com/p/Bc6w7FGHTIA/?taken-by=hungryforeverco
We ordered two cocktails to start out with, Imli Ka Boota and AAP. We know what you're thinking about the quirky names, well the restaurant means 'hiccup' to begin with and the playful menu sets the tone and gives an indication that the whole experience at Hitchki is going to be full of fun. And it was! Imli Ka Boota cocktail was spiked with tequila and we loved it. The taste was brilliant especially with the sourness coming from the tamarind and tang of the chaat masala which was used to rim the glass. The cocktail was a desi one and perfect for those who can't do without a little spice in everything. Next we tried AAP which was on the mellow side and spiked with vodka. The amalgamation of the kairi mango, coconut and vanilla ice cream played out quite well.
https://www.instagram.com/p/BcwgbaWnLXk/?taken-by=hungryforeverco
Along with the cocktails we started on with the appetizers and even here the quirk didn't seem to fade away as our first order was Full Zhol Che. This was a delicious, mouth-watering cashew nut tikka which was soft and really delicious. It was irresistible and we can say that because the plate was wiped clean. Served with almond mint yoghurt this was treat to the taste buds.
https://www.instagram.com/p/Bc4Bu8TH98h/?taken-by=hungryforeverco
Next we tried the Charlie Chapli kebabs and these were tasty, succulent and well spiced just like a kebab should be. Served with potato chips and thecha mayo this too made for a delicious snack. The vibe we got so far from Hitchki was that it's a place to hang out and let the conversations rolling as the drinks and delicious nibblers do the rounds.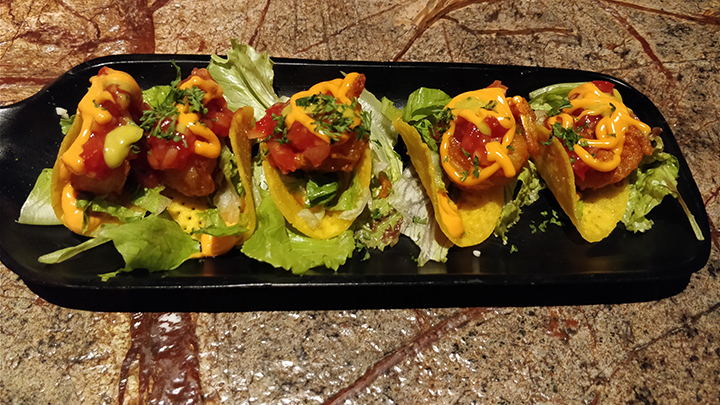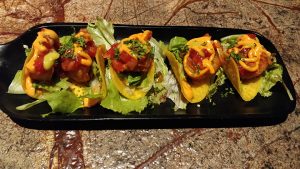 We probably saved the best for the last – Zhingat Tacos. We feel that it has been given that name because the flavours do a little Zhingat dance on your taste-buds. Delicious tempura prawns, salsa, guacamole and smoky BBQ mayo in the crispy taco shells is a treat you must experience when you visit Hitchki.
We loved our quirky and delightful experience at Hitchki and can't wait to come back for more quirks, great music, excellent food and a brilliant time.