Steve Aoki Unveils His Pizza Delivery Service, Pizzaoki
What do you do when you're a globally known and loved music artist who could do just about anything with their money? A lot of us would relate well with Steve Aoki's answer to that question – kick-start a pizza delivery service. Yep, Aoki is now the proud owner of Pizzaoki, a delivery-only pizza service.
ILYSM Steve Aoki!
The DJ-cum-restaurateur's latest venture will have on offer a bunch of interesting pies with names inspired from Aoki's discography like Just Hold On, which is a cheese pizza with Mama Aoki, Chizuru Kobayashi's traditional sauce, the Mayhem that's a combination of cheese, pepperoni, sausage, meatballs, mushrooms, olives, onions and peppers), and the DIMMAK that will come topped with mozzarella cheeses, pepperoni, ground sausage and homemade meatballs.
The 40-year-old artist took to social media to announce his pizza business and man are we excited! "Who wants some Pizza!! Excited to announce the opening of my new pizza delivery spot @pizzaoki", he wrote in an Instagram post that had Aoki expertly tossing a large pizza base in the air. Take a look.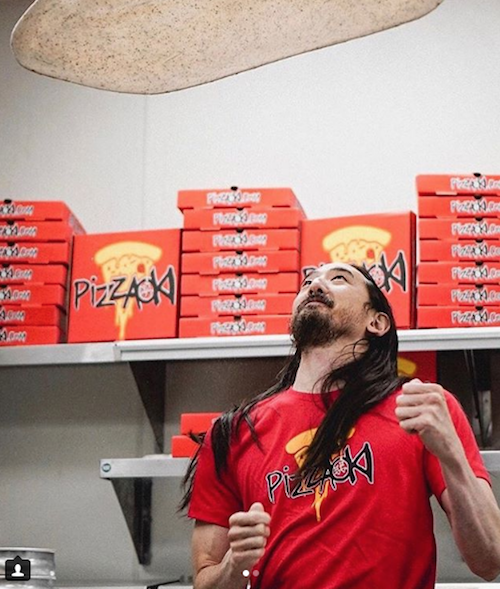 Image Source
However, Steve Aoki isn't the first in his family to step foot in the restaurant business. His father, Hiroaki Aoki, was the brain behind the popular Hibachi chain Benihana that was founded in 1963.
According to People Magazine, the launch will start with five kitchens that will service 16 greater LA locations. Pizzaoki pizzas will be available for order on Postmates and UberEats as well.