The Story of Cowboys.desi And Why Their Products Are Good For You
In 2014, Aalekh Agarwal started Cowboys.desi as a small livestock farm with eight cows and a small plot of land to grow vegetables. He wasn't well informed in agricultural science and operations, which was proving to be a handicap. But when Mr. Agarwal realised that automation was the way to go, they adapted that to every aspect of the company. Once the company got production underway, a cold-chain was developed to transport the milk to Delhi and in January of 2015, the brand name "Cowboys" was initiated where they sold untouched milk. Since then, their product range has expanded to include Cow Ghee, Honey, Cooking Oil and Spices, among others.
Since then, the farm has now increased to 160 acres in size and houses more than 450 cows. Farm activities include Dairy Farming, Floriculture, Horticulture, Fruit Orchards, Vermicomposting, Apiary, Commercial Crops and more. Cowboys.desi delivers to hundreds of satisfied customers in South and Central Delhi.
Aalekh Agarwal graduated with a Masters in Business Information Systems from Royal Holloway University in London and when he witnessed the manipulation and malpractices of food products in the market scenario, he made agriculture and dairy his full-time job. And in 2013 he started working on agro-farming with a small portion of land in Jaipur, which eventually led to the birth of Cowboys.desi.
In a recent conversation with Mr. Agarwal, the owner/founder and Chief Farming Officer of Cowboys.desi, we got to know the difference between milk produced by his company and regular milk in the market.
How did the name come about?
Our cows were hand-picked from all over India by me and while transporting these cows to our farm, we used to hear the locals saying "Gaay wale aa gaye" (Cow people have come). That helped us coin the name Cowboys.
Why should someone use Cowboys milk over other brands?
Cowboys is the only true holistic farm to home milk brand. Ours is an integrated and inter-dependent agricultural ecosystem. We grow our own fodder for which we use our cows' dung. Our cows graze on our pastures which are replenished by their own manure. We are the only end-to-end brand where we control virtually every aspect and component of our milk production starting from feeding the cows to packaging and delivery to the end customer.
The practices at our farm are totally organic and all major operations of the farm are mechanized. Milk is extracted using Automatic Milking Parlors, cows are fed using TMRs and so on. The cows are housed in modern housing with all amenable facilities. A major component of cow's diet (i.e. the fodder) fed to the cows is grown at our own farm without the use of chemical fertilizers.
What do you mean when you say 100% Cow Milk?
Cows who have grazed in pasture year-round rather than being fed a processed diet produce healthy and good quality milk. They should be allowed to lead a natural lifestyle (roaming freely in the farm, graze on natural grass and no medicine injected). The milk coming from these cows are rich in Omega3, Calcium, Anti-oxidants. This milk is more nutritious, tastier and does not pollute the food chain.
Also Normal or Packet milk is a mix of Cow, Buffalo, Goat and even Camel Milk – all collected from village farmers by an agency in unhygienic drums, supplied to the chilling center, pasteurized and processed to meet the FSSAI standards and packed in plastic pouches. There is no check for contaminants, hormones, pesticides or chemicals in packet milk.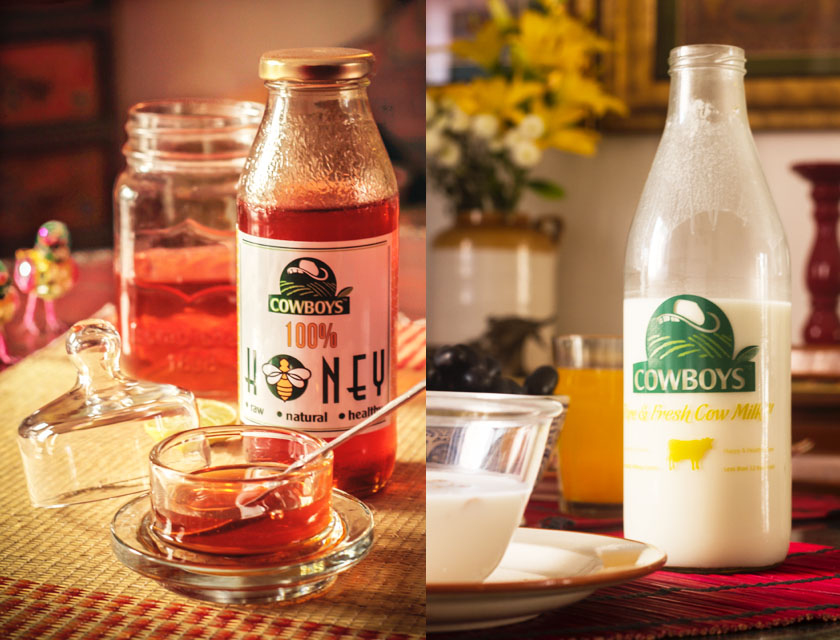 What is the difference between Organic milk and regular milk?
We already talked about what goes into normal or packet milk, and this differs from Organic milk in the sense that the latter is obtained from holistic farms with the following features:
a) Modern housing for animals.
b) Automated milking systems wherein the milk is untouched from farm to glass.
c) Animals are fed a balanced and nutritious diet.
d) Animal hygiene is maintained.
e) Adulterants, hormones and chemicals are strictly banned.
f) Cows are allowed to roam freely.
g) Fodder fed to the cows is grown without the use of insecticides and pesticides.
You also have honey, cooking oil and spices, how is this different from the other products that we get in the market?
All our offerings are grown using the best quality of seeds and organic care. Cowboys 100% Honey for instance contains no added sugar and is pure honey that has been filtered and bottled. Cowboys Spices are also harvested from our farm and ground without any adulteration or manipulation to give the consumers the most natural flavour and taste.
What makes organic milk a healthier option?
Non-Organic food is passing down synthetic chemicals through our food chain in the form of pesticide, insecticide and hormonal residue. This has caused a host of conditions ranging from depression to cancer. Organic milk contains more Omega3, Calcium, Anti-oxidants, is more nutritious, tastier and does not pollute the food chain.
In one sentence, tell us why Cowboys.desi should be the only brand we should use.
Cowboys is the only true farm-to-home brand that offers 100% natural and organic produce.
You can order their products via Amazon or