A Sweet Story About Beelicious Honey In Mumbai
"Carefully selected from exquisite lands like Himachal, Jammu and other parts of Northern India, I've been personally handpicked just for you. Everything about me is healthy and drool worthy. I'm free of added fructose or corn syrup. I go through a unique state of the art filtration process that allows me to keep my goodness intact. Not only am I rich in antioxidants, enzymes and vitamins, but most of my pollen content has been retained too. So pick me up!"

– Beelicious Classic Premium Honey
If honey was a celebrity we bet this speech would find a place in BrainyQuote, Quotopedia and all those other portals which collate the most inspirational quotes that celebrities have to offer. Beelicious Classic Premium Honey gets its voice (and owes its creation to) from LivRite Foods LLP, a growing F&B company.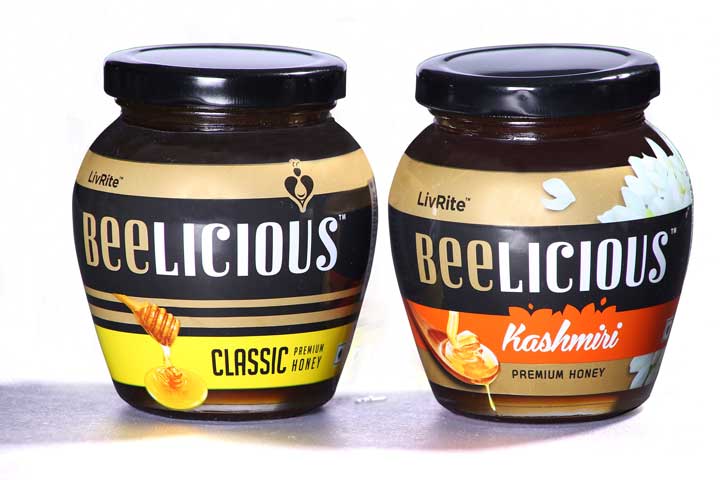 LivRite's first products include the Beelicious Classic Premium Honey and Beelicious Kashmiri Premium Honey, full, as the honey itself says, of anti-oxidants. rich in enzymes and vitamins and free of fructose and corn syrup.
Without added sugar and corn syrup, Beelicious honey is the first of its kind to grace shelves in Mumbai. To learn more about it, we caught up with Kayan Motashaw, the Founding partner of LivRite Foods: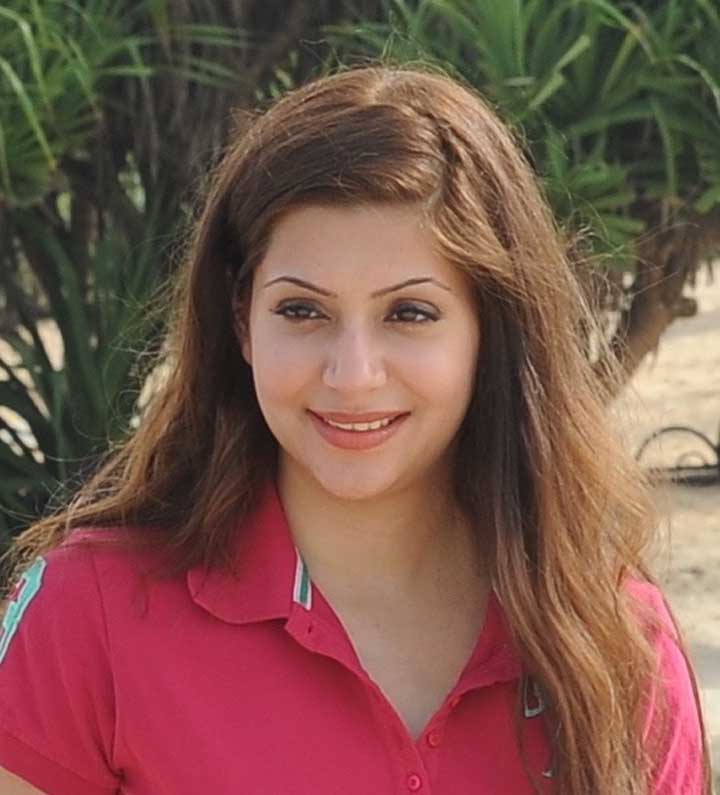 What lead to you founding LivRite?
Being a biochemist and a health enthusiast, I always found myself delving into the details of various nutritional products. One such episode of curiosity left me with a new learning. A bottle of honey had 'Corn Syrup' as one of its ingredients. After further research, I realized that barring a few, most of the others never carried out rigorous quality control measures, and also destroyed vital anti-oxidant and enzyme content during processing. I started researching a lot more about honey 4 – 5 years ago. At the time there were only 2 -3 brands in the market and the imported ones weren't available here; except in a few stores which sold foreign products.
As I travelled with my father, we discovered some new types of honey that weren't introduced in the Indian market yet. This was when we decided to launch our very own brand. We were keen on introducing new flavours of honey that most people had never tasted before. One that was pure, wholesome and honest to consumers. A brand of honey that would stand for being 100% natural, pure and superior in quality.
One of our flavours – the Beelicious Kashmiri premium honey variant is one such example.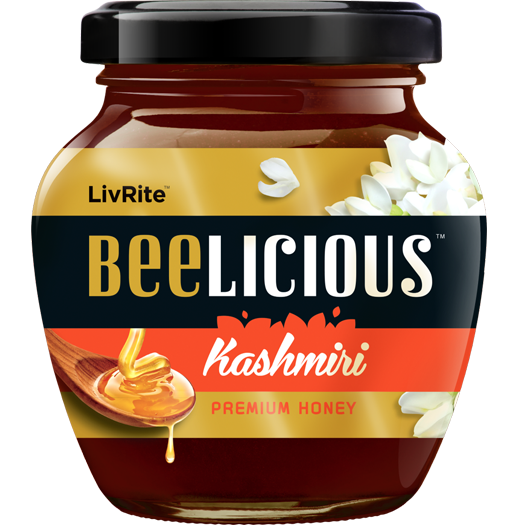 This honey is available only in Kashmir and for a span of only 30 days in a year, just before snowfall. It is extremely premium and exquisite. And i am delighted to see that our efforts are paying off as it is very well liked by one and all."
What are some of the therapeutic and medicinal benefits of honey?
"Honey is a wonder food. It is the only food in the world on which a person can survive solely. It has miraculous health benefits and yet is a delight to the taste buds." Here are just some of the benefits Kayaan shared:
"Beelicious honey is great for help with energy and muscle recovery during pre and post workout.
Our honey is totally pure and free of any corn syrups or added sugar that can tamper with weight loss plans. Switch to Beelicious for a month to experience the difference.
Daily doses of Beelicious honey can help flush toxins from your body by regulating your digestive movements. In addition, it can help hydrate your colon while introducing "friendly" probiotic bacteria that can create a healthier digestive environment.
Pinocembrin, is a unique enzyme found in only a handful foods, all over the world . This enzyme can boost memory function and prevent cellular loss within the brain. Since Beelicious is processed with utmost care , we make sure not to destroy it by overheating.
Beelicious Honey is also a fatigue fighter – dissolved in warm water or green tea sipped throughout the day will keep you hydrated and charged up with energy giving carbohydrates. Skip the afternoon coffee for a natural honey high!
Amp Up Your Immune System. – Beelicious Honey's powerful array of antioxidants, enzymes, vitamins, and minerals helps to kill bacteria and strengthen your body's immunity against disease.
Allergy assistance – Beelicious honey acts like a natural vaccine .
Sore Throat Soother – Beelicious Honey helps to coat and sooth the throat. According to a 2007 study, it can relieve coughs more effectively than over-the-counter cough suprressants.
Sleep Aid – Honey can be a health aid for sleepless nights. Similar to sugar, honey can cause a rise in insulin and release serotonin — a neurotransmitter that improves mood and happiness. "The body converts serotonin into melatonin, a chemical compound that regulates the length and the quality of sleep.
Beelicious honey is also great for hangovers !
Part of Beelicious' proceeds (Rs.1 for every bottle bought) go to malnourished children. Why did you decide to carry out this initiative?
"The driving force behind a Parsi's charitable instinct is his religious ethos. Parsee and philanthropy go hand in hand . Since honey is all about nutrition and nourishment, this is the most relevant cause that we can be associated with . Akshaya Patra is doing a great job with the kids and we are happy to contribute our bit."
How do you recommend your consumers enjoy your honey? How do you enjoy eating it yourself?
The list is endless but to name a few , one can have a spoonful plain , first thing in the morning, or enjoy it with a glass of warm water, with black or green tea, in milk , over cornflakes, over pancakes, waffles and even on toast and a simple chapati.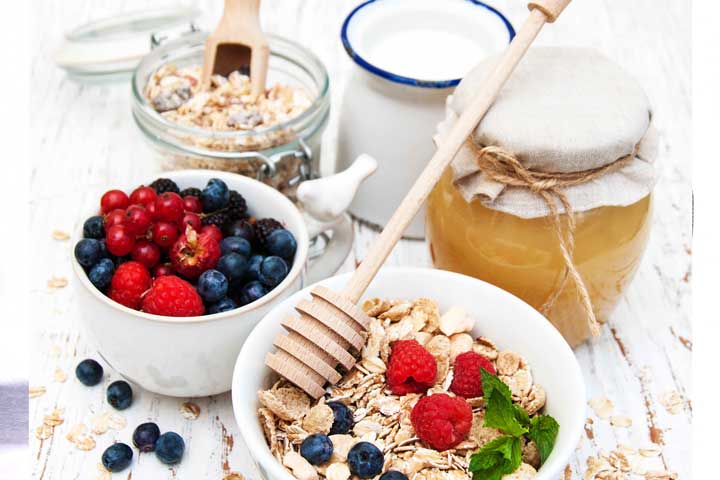 Honey with dry fruit is an all-time favourite for many and very healthy indeed. One can also replace sugar with Beelicious honey in milk shakes , smoothies, coolers. Beelicious also tastes yummy with butter cookies and as ice cream topping. It can also be enjoyed with yogurt, with fruits and as a salad dressing with lemon. Beelicious honey with turmeric is also a wonderful health food and has numerous benefits.
Personally I enjoy having Beelicious with Green tea, with haldi, with dry fruit and most of all , a plain spoonful to experience and relish its wholesome flavour.
Tasting The Talk
Along with her advice about the benefits of Beelicious honey and her suggestions for consuming it, we were given two fat bottles of Beelicious honey to try for ourselves. Taking her suggestion, we dipped a spoon into the bottle, and spent some time watching a spoonful of the golden honey waterfall back into the bottle; a hypnotic and strangely relazing process.
Then, we scooped up a full spoonful of the Classic Premium honey and tasted it; it had a wonderfully smooth, silky texture and an indulgently sweet taste, which lingered on our tongues for minutes to come. We did the same with the Kashmiri Premium Honey – Beelicious' other product – which had a texture that was a trifle thicker and had an even more intense sweet explosion and longer aftertaste.
Over the days, we enjoyed the honey in a variety of ways; in a cup of green tea, in which it helped balance out bitterness, with some porridge, with a bowl of muesli and fruits and in refreshing mint lemon cooler – a recipe for which we got on the Beelicious website.
The Beelicious website has a range of other recipes, including a Honey and Hazelnut Cake and a Honey and Star Anise Panna Cotta. It also offers a plethora of information about honey, its benefits and information on LivRite for the curious consumer. If you'd like a taste of sweetness yourself, you can buy a bottle or two from the website; while the classic honey costs Rs.250 for 250 grams and Rs.385 for 400 grams, the Kashmiri honey is available at Rs.350 for 250 grams and Rs.540 for 400 grams.