TGI Fridays in Chennai- One Friday coming right up!
Move over, Rebecca Black. We have our own Friday.
Every time we drove past Ramee Mall, we would longingly look at the sign that said "TGIF, COMING SOON" and sigh. Because it cannot come soon enough. And now it is here. Today is going to see the launch of TGIF in Chennai and we are thrilled. We just peeked in to see what they have to offer. This is top secret so we're just going to put it out here for the world to see and so you can share and call every one you know and scream like there's no tomorrow.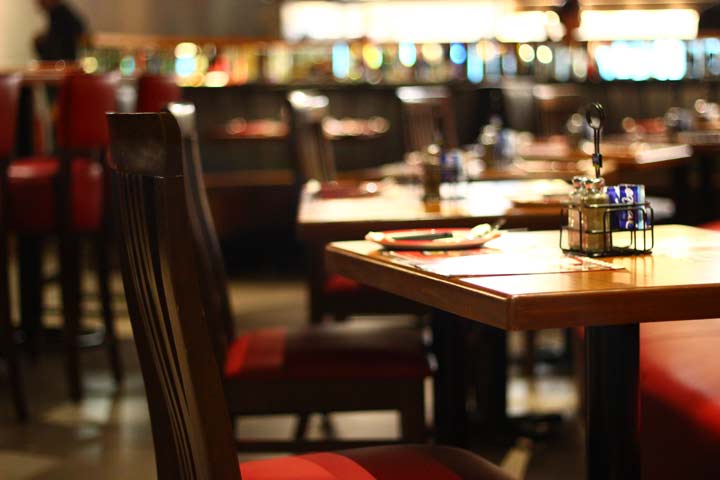 The place looks like a dream. Furnished with fantastic interiors, it definitely makes you feel like it's Friday.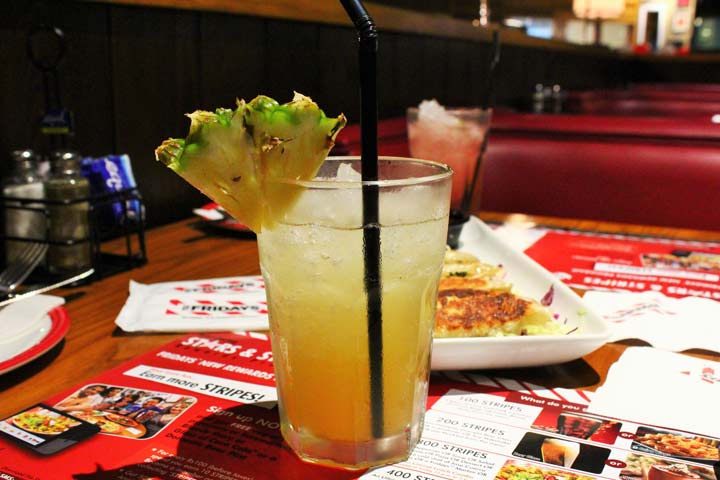 It was a really hot day and we were really looking forward to tasting some of their interesting Mocktails. (Their cocktails will come soon, but we promise you, that these mocktails are just as yum). Pineapple sunshine and November sea breeze were brought to our table. Let's just say that they're aptly named. We were quite chilled out after slurping the glasses dry and just in the mood to get down to the juicy bit – The food.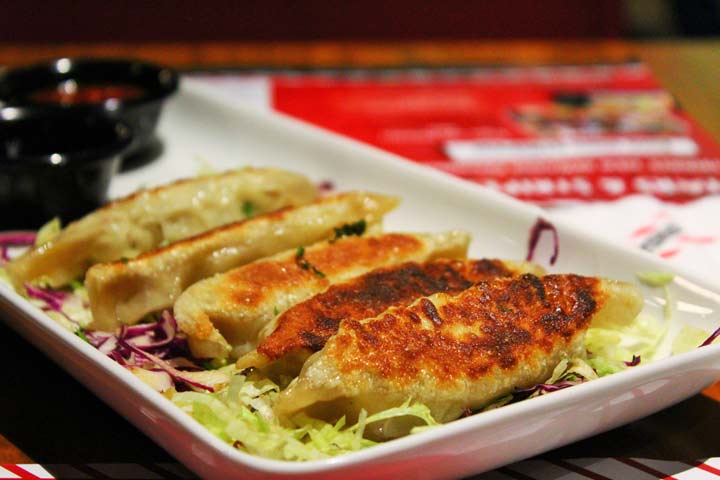 We ordered Chicken Pot Stickers. Now these are like the big daddy of Momos. Amazingly soft and super yum, they're served with a spicy sauce.
Just as we were elegantly (trying to) lick the yummy sauce off our fingers, the main course arrived.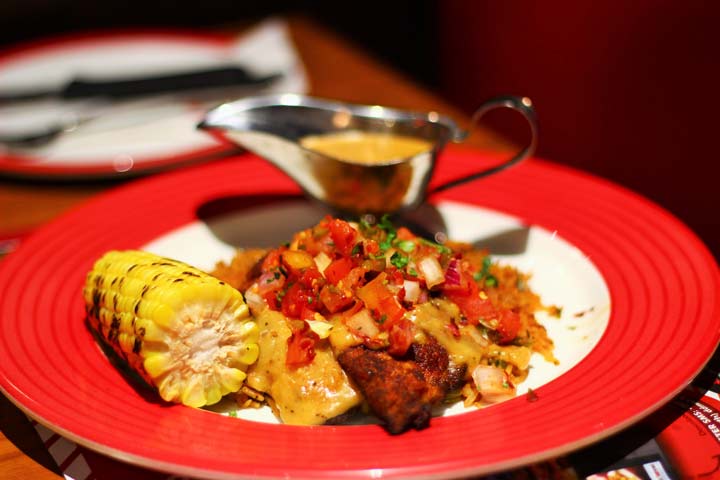 Wicked Chicken- Boy was it wicked or what. It had sinfully succulent chicken coated with a gorgeous sauce. The rice that it came with was wonderfully light and completed the dish well.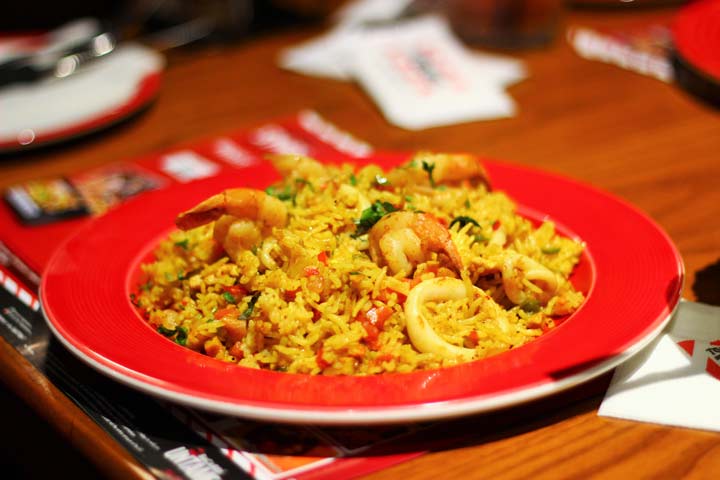 Caribbean Seafood with Chicken rice- I, for one, have always been a little finicky about mixing seafood and chicken. It's always been one of those things that very few people apart from my mother, got right. TGIF, is one of those few people. Every bite was sure to have calamari, prawn, and wonderfully cooked chicken. Needless to say, my plate was polished clean!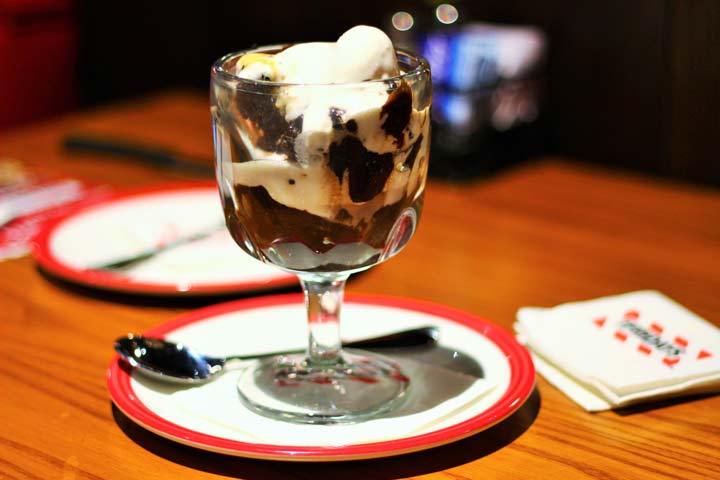 The turtle that won the race- For me, a meal is not complete without dessert. And while we love our cheesecakes very much, chocolate will always have a place very close to our hearts (ignoring what every dietician has to say, of course). Now how about a gigantic mug of chocolate brownies with a dollop of ice cream on top? Oh you think I'm kidding? Just you wait. Remember these words – Chocolate Malted Turtle.
What we had:
Pineapple sunshine
November sea breeze
Chicken Pot Stickers
Wicked Chicken
Caribbean Seafood with Chicken rice
Chocolate Malted Turtle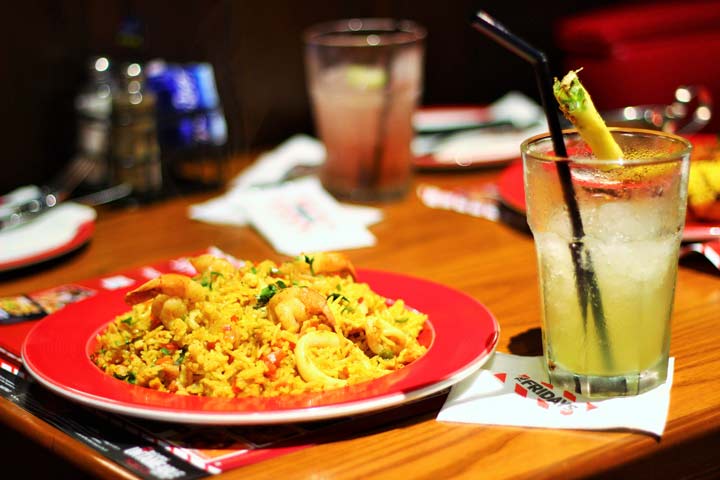 Find TGIF at Ramee Mall, 365, Annai Salai, Poes Road, Subbarayan Nagar, Teynampet, Chennai