The Changing Indian Cricket-lover's Perception of Pepsico
Pepsi cheers the fan who cheers for cricket
Pepsi, which entered India almost as the same time as the re – entry of Coke, some time in 1989, was often at the receiving end of unfair comparisons to Coke. That was, until the 2011 ICC World Cup. Pepsi's " Change the Game" campaign came at an opportune moment, when the Indian cricket team was coming into its own as a name to be reckoned with, under a captain who didn't believe in playing by the book. Dhoni's helicopter shot kicked off the campaign, followed by Kohli's brash shots. For the first time, cricketers appeared with body paint. All over India, young people were choosing to veer off the beaten track with unorthodox choices of careers or change of jobs. This was in sharp contrast to their parents who had opted for medicine,engineering , teaching or the civil services -or plodded along in a dingy office from start to finish of their working lives. This attitude to rules, of changing and not breaking them, was reflected in Pepsi's energetic campaign. India won the cup and Pepsi came into its own as the voice of Young India.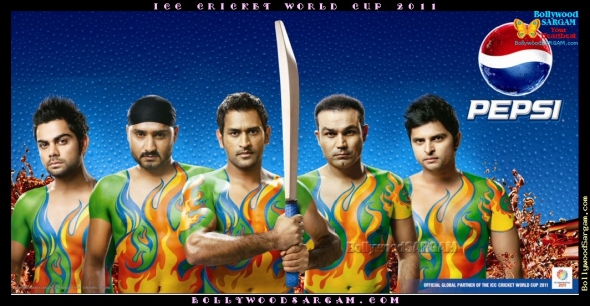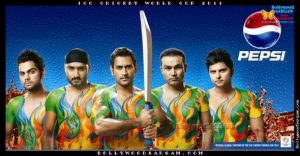 Oh Yes Abhi – the IPL love story
Then the IPL happened and DLF gave up the title sponsorship. Pepsi grabbed the heavensent opportunity. From then on, Pepsi was IPL and IPL was Pepsi. Their slogan, "Oh Yes Abhi" said it all. It aptly summed up the fact that cricketing fans were as fickle as the weather when it came to their favourite team of the IPL, but, when it came to their favourite drink, there was no question.
Pepsi enters the football arena:
In 2012, though, much before taking on the title sponsorship of the IPL, Pepsico also branched into football. Ranbir Kapoor was the new face of this "Change the game" campaign, embodying the truth that the nation was no longer totally hooked on to cricket.
Pepsi's present position on the cricket field:
In October 2016, Pepsi's honeymoon with IPL came to a close, two years ahead of schedule. The tournament, plagued by controversies involving match-fixing, which led to much litigation and the eventual ban on two teams, was no longer seen as attractive for Pepsi to have an association with. By giving up the contract, Pepsi sent out a clear signal to the governing bodies of cricket that they'd better clean up their act.
For the ICC T20 happening later this month, Pepsi is present as the official beverage and snack partner. And, four months after exiting the IPL, Pepsico has bagged a four year contract to be the ground sponsor for all one day internationals and test matches to be played in India. So, though no longer willing to be a major or title sponsor, Pepsi will still be a strong presence in every major cricket tournament happening in the world. The average Indian cricket fan has a strong emotional connect with Pepsi, as it has been associated with everything that is of interest to him – Bollywood, music and cricket. And it will take another brand a colossal effort to topple Pepsi from its perch.