This Monsoon, Lap Up Dim Sum Baskets & More At The Roseate, New Delhi
With monsoon bringing with it a rhapsody of bliss, beauty and relief from the scorching heat, The Roseate, New Delhi is all set to captivate Delhi gourmands with 'Monsoon Delights'. Now get ready to give your taste buds a treat and savor the lush monsoon fragrance coupled with the idyllic surrounding of The Roseate, New Delhi!
Eat The Rainy Season 
Starting July 15 through August 15, guests can head to The Roseate, New Delhi and avail the 'Monsoon Delights' offer at Chi Ni – the Chinese fine dining restaurant as well as Kiyan – the all-day world cuisine restaurant. Priced at INR 1500, inclusive of all taxes, the offer includes a fresh fruit cocktail along with a choice of appetizer on offer at each of the restaurants.
Guests at Chi Ni opting for the offer will be able to enjoy two dim sum baskets of their choice celebrating oriental flavors with choicest ingredients blended with contemporary cooking technique. Guests can select from an array of delicacies such as shrimp and scallop with tobiko dim sum, mock 3-chili pan seared bao and four-seasoned chestnut & cashew nut dim sum with a choice of noodles available in vegetarian as well as non-vegetarian. Little bundles of joy and delicious glasses of happiness, Chi Ni promises all that and more!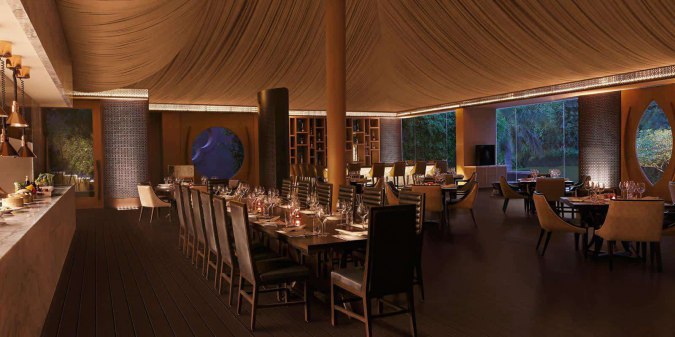 Those looking for an experience in global cuisine can head to Kiyan where guests can indulge in delicacies created from The Roseate, New Delhi's own organic farm. As the city's best-known farm-to-table restaurant, 'Monsoon Delights' offer at Kiyan includes a choice of one appetizer or mini pizza along with seasonal fresh fruit cocktail.
Reserve your spot by contacting the hotel directly at +91 11-33552211 or drop a mail at [email protected] or [email protected].
What: Monsoon Delights
Where: Chi Ni & Kiyan, The Roseate, Samalkha, NH-8, New Delhi
When: Mon, 15th July – Wed, 15th August