This Restaurant Has Always Been Our Favourite With Their Amazing Food and Awesome Ambience
All of us are familiar with The Madras Diner now. It has become an integral part of the city's food life. It is our go-to place for food, desserts and all things nice. For those of you who do not know the story behind the restaurant, we will fill you. Read all about how the restaurant was started over here.
FOR THE MODERN MADRAS
If you are a foodie and have a palate for the global cuisine, The Madras Diner is the perfect place for you. If you have been to the restaurant before, you would be familiar with their Kung Pao Chicken or the Hariyali Macchi Tikka, and we would not be surprised if you were tempted for seconds because we were!
It's not just the food that makes us come back here again, the service at the restaurant can be considered as one of the best in the city. The delicious food and exceptional service make the restaurant one of our favourite places in Chennai.
They have a rolled out a new lunch combo and we absolutely love the whole idea! For those of us, who do not have the luxury of sitting back and enjoying the lunch at our own pace thanks to deadlines and meetings, these lunch combos are an absolute blessing.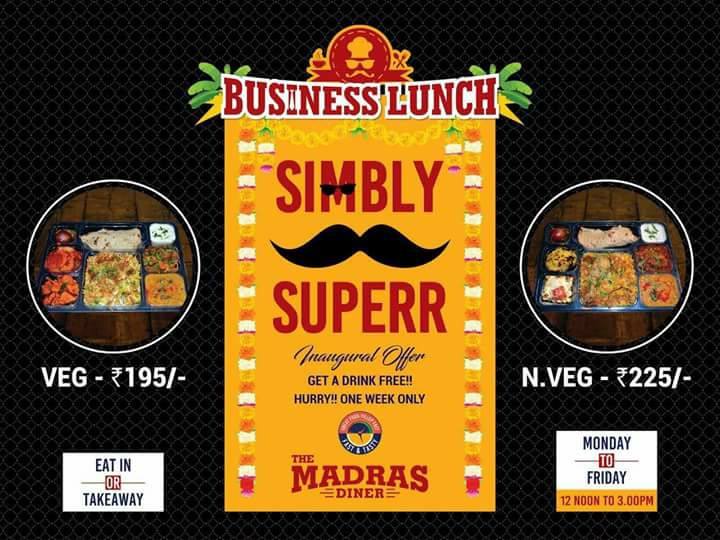 The lunch combos will be available on weekdays- Monday through Friday from 12 PM to 3 PM.The veg combo cost INR 195 and non-veg combo costs INR 225. Therefore, if you are in a hurry but famished at the same time, you know where to go.
So, the next time you are wondering where to go for lunch or dinner, you know the best place to go!