Tilly Ramsay Lands Book Deal, Set To Complete With Ramsay Sr.'s Cookbooks
We recently learnt of Gordon Ramsay's buffalo milking prowess, and while that may have been one major fail, it doesn't take away the rest of the feathers from Chef Ramsay's hat. With many a TV and web series, cookbooks, and restaurants to his name, Ramsay is a genius! But that genius may soon become history with his own legacy overshadowing him.
Dramatic as it may sound, it's true. Ramsay's 14-year-old daughter Matilda Ramsay, a.k.a. Tilly, just landed a major book deal with publishers Hodder & Stoughton, and is gearing up to give her father competition in the cookbook market. Tilly's first cookbook will be released by the very company that is set to release Gordon's cookbook in Spring next year. The cookbook is said to be an accompaniment to her hugely successful CBBC series Matilda And The Ramsay Bunch, which is currently in its third chapter.

Image: The Ramsay Brunch
Ramsay Jr.'s show, which is set in various cities including London, Cornwall, and Los Angeles, features the young cook whipping up a variety of meals like a pro! Guests often accompany her on the show as well, and a lot of times it is her mother Tana, and father along with siblings Jack, Holly and Megan. And it's not just the family, Tilly has hosted a number of famous faces like Cookie Monster from Sesame Street, James Corden and Cruz Beckham on her show.
The Book
The much talked about cookbook will come packed with 60 of Tilly's recipes with some bonus cooking tips from Daddy Ramsay – who according to Tilly, she's a better cook than! "Dad might think he's the best cook in the Ramsay family but I can beat him hands down when it comes to scrummy home-cooked food that everyone loves," she explains.
And it's not only the young 'un who truly believes in having honed cooking skills better than her father, Chef Ramsay too agrees with his daughter. "There's quite a lot of rivalry in our house, especially when it comes to cooking. Tilly's a very good cook. In fact, she is the number one in the household", he said in an interview.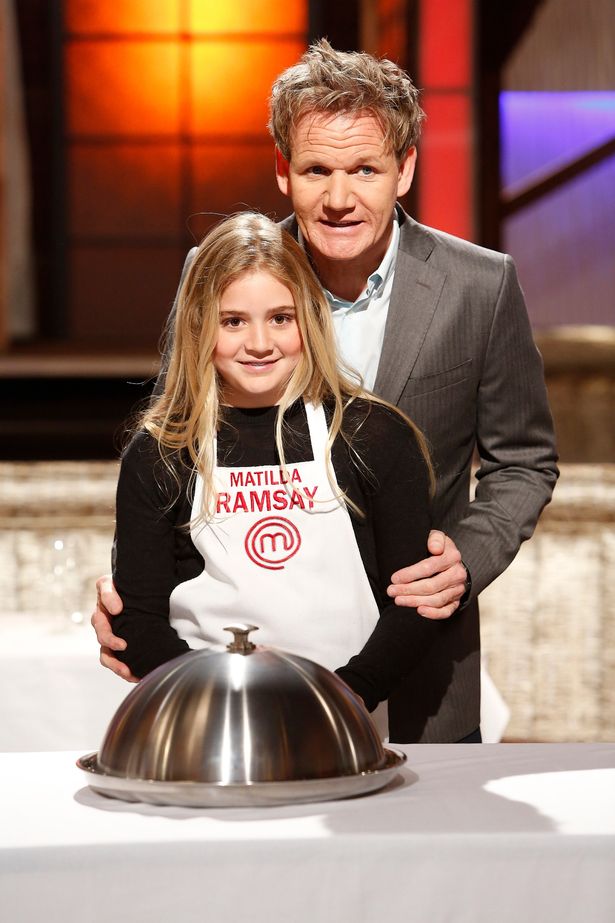 Image: Mirror UK
A spokesperson for Hodder & Stoughton, the publisher, said, "Tilly looks set to follow in her dad's footsteps. And whilst she's not exactly the girl next door, she still has that 'girl next door' quality which makes her so appealing to tweens and teens. We are very excited to be publishing both Gordon's and Tilly's cookery books."
Matilda Ramsay is not the first to follow her celebrated father's footsteps into the cookbook world. Tana Ramsay too forayed into the food/literary sphere with her cookbook Tana Ramsay's Family Kitchen (2008); Tana Ramsay's Real Family Food (2009); and I Love To Bake (2011). That is a lot of cookbooks for one family!
Feature Image: BBC