Too Busy To Worry About Eating Right? Paninaro Will Take Care Of That For You!
Corporate life is not easy in Mumbai. With the enormous amount of time it takes to commute, office goers find that they have to wake up at six or earlier to clock in at office by nine or ten. After a long day in front of a computer or dealing with clients, how does one expect the corporate Mumbaikar to find time to plan healthy meals for themselves and actually cook? It's near impossible.
That's why Paninaro, with outlets spread across business hubs in Mumbai is a life saver for the corporate crowd. A customer pressed for time only has to stroll to the nearest outlet, select a sandwich or Panini and eat it on the go.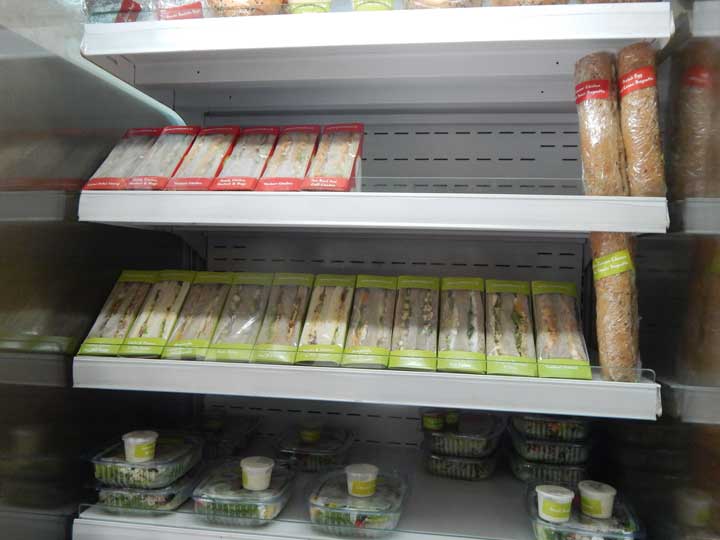 However, quick service isn't what makes Paninaro unique. Mumbai has a variety of street food vendors and fast food joints on every corner. Paninaro becomes unique in its approach towards food; it makes a conscious effort to select only the healthiest ingredients to put together meals that are both quick and nourishing. It sources vegetables directly from farms and works with fresh produce each day, ensuring that freshness and the subsequent quality is never compromised on.
Are we all talk and no taste? Never. We paid a visit to Paninaro for a taste test; Does Paninaro's commitment to fresh, healthy produce really make that much of a difference when it comes to taste? Read on.
We strolled into Paninaro's Nariman Point outlet a little after one on a Tuesday afternoon; the prime time to spot corporate folks in search of lunch. Sure enough, the small space was bustling with a crowd of office goers, dressed to the nines with some picking up neatly packaged sandwiches to go and others settling down at the individual booths.
Talking Salads
We clambered into one of the tall booths and decided to start with their tempting looking multi-coloured salads. The classic Caesar salad was packed with arugula leaves with a subtle nutty flavour, along with hearty green romaine lettuce, which spoke for its freshness. The accompanying in=house dressing was refreshingly light. Similarly, the chicken and feta salad was light with fresh arugula, grilled chicken marinated with a subtle sauce and a generous portion of feta which added an interesting texture. Red onions and a dash of olives gave the salad colour making it even more appetising.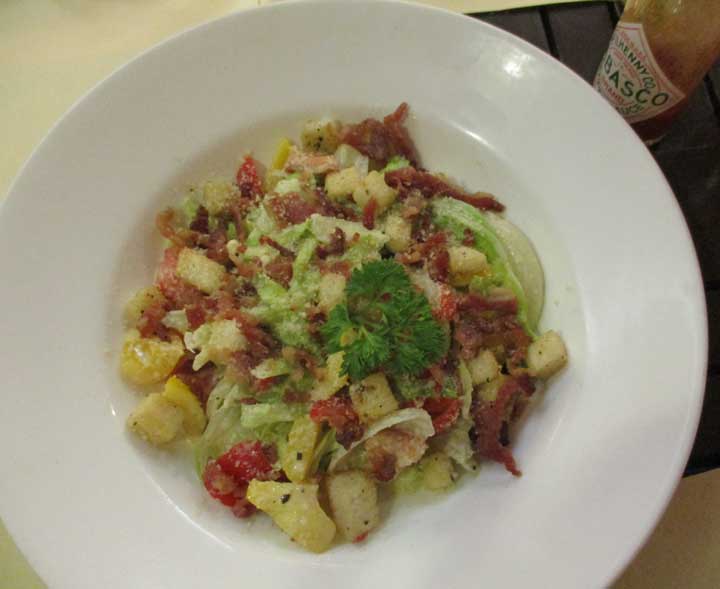 Have the salads: When you're looking for a light, healthy meal. The salad portions sizes are generous, which makes them completely adequate as a full meal.
Talking Sandwiches
We'd already tried Paninaro's sandwich star; the Chipotle Chicken with jalapenos and hummus (it's delicious) before this visit, so we decided to go off the beaten track and check out their other offerings. But, the apple doesn't (or won't) fall to far from the tree, and we ended up trying out their Chicken Masala Sandwich and their Smoked Grilled Chicken Sandwich.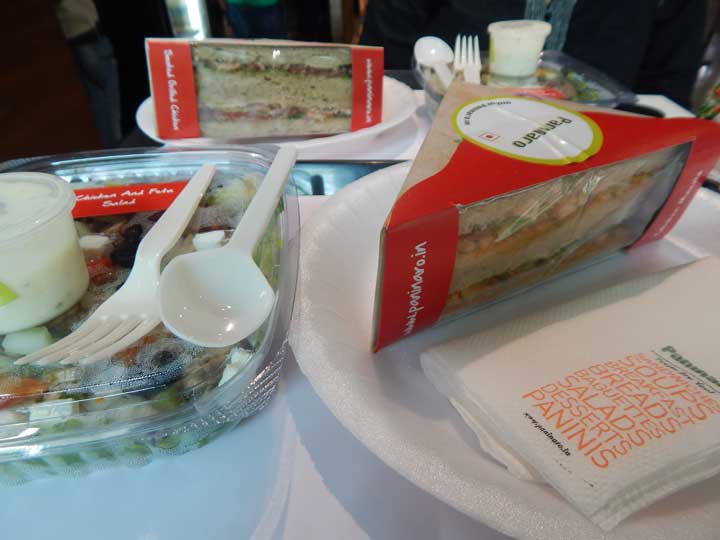 The Smoked Grilled Chicken Sandwich is the perfect choice when you're wearing your healthy hat; grilling is an extremely nourishing way to prepare proteins and the chicken is given extra kicks of flavour by the accompanying pesto and pickles. If, on the other hand, you have a firmly desi palate, try the Chicken Masala Sandwich, which incorporates chicken coated with familiar Indian masala flavours, ginger and (to give it that health kick) a generous serving of iceberg lettuce.
Have the sandwiches: When your stomach is craving a filling meal, but you still want to stick to your diet plan, have them. The sandwiches are filling and nourishing.
Just Desserts
There are two ways you can go at Paninaro when it comes to dessert; either choose to stick to the healthy eating theme and work your way through a granola yogurt jar, or decide you deserve a treat and scarf the decadent chocolate mousse. We decided to surprise ourselves and call for the yoghurt; an interesting balance between crunchy and creamy, yet sweet enough to satiate your sweet tooth while still remaining healthy.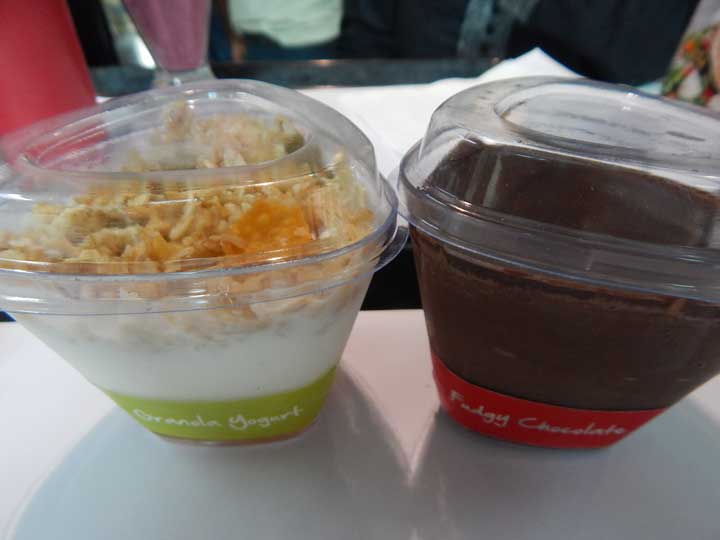 Have the desserts: When your sweet tooth refuses to take no for an answer.
By about two pm, our foray into healthy eating was finished and we walked away with satisfied taste buds and a spring in our step (must've been all that lettuce!). To all those nay-sayers who claim it's impossible to be a work house and still manage to eat healthy allow us to direct you to Paninaro.
[schema type="organization" orgtype="Organization" url="https://www.paninaro.in/" name="Paninaro Andheri " description="Get your fill of healthy, nutritious food quickly! " street="Solitaire Corporate Park, B. D. Sawant Marg, Chakala, Andheri (E)" city="Mumbai" state="Maharashtra " country="IN" phone="+91 22 6455 5130″ ]
[schema type="organization" orgtype="Organization" url="https://www.paninaro.in/" name="Paninaro BKC" description="Get your fill of healthy, nutritious food quickly! " street="Platina Building, G – Block, Plot C-59, Bandra Kurla Complex, " pobox="0″ city="Mumbai" state="Maharashtra " postalcode="0″ country="IN" phone="+91 22 6455 1199″ ]
[schema type="organization" orgtype="Organization" url="https://www.paninaro.in/" name="Paninaro Elphinstone " description="Get your fill of healthy, nutritious food quickly! " street="Indiabulls Financial Centre, Tower 3, Ground Floor, Senapati Bapat Marg, Elphinstone," pobox="0″ city="Mumbai" state="Maharashtra " postalcode="0″ country="IN" phone="+91 22 6565 5572″]
[schema type="organization" orgtype="Organization" url="https://www.paninaro.in/" name="Paninaro Lower Parel" description="Get your fill of healthy, nutritious food quickly! " street="Peninsula Corporate Park, Ganpatrao Kadam Marg, Lower Parel," pobox="0″ city="Mumbai" state="Maharashtra " postalcode="0″ country="IN" phone="+91 22 6565 5570″ ]
[schema type="organization" orgtype="Organization" url="https://www.paninaro.in/" name="Paninaro Nariman Point" description="Get your fill of healthy, nutritious food quickly! " street="CR2 Mall, Rajni Patel Marg, Nariman Point" pobox="0″ city="Mumbai" state="Maharashtra " postalcode="0″ country="IN" phone="+91 22 6565 5571″ ]