Trailer Of Chef Vikas Khanna's Biopic Will Be Launched At Cannes This Year!
The 70th Annual Cannes Film Festival is all set to roll out the coveted red carpet and usher in the who's who of the cinema-verse, starting 17th May. And while actresses Aishwarya Rai Bachchan, Sonam Kapoor, and Deepika Padukone are ready to set the red carpet on fire, there is one more Indian to look out for at the festival – Vikas Khanna. That's right, the India culinary sensation will be in Cannes for the screening of his movie, Buried Seeds', trailer.
The chef, who is not new to Cannes Film Festival, was there for the festival's 69th edition for the screening of his food documentary 'Kitchens of Gratitude' presented by Delhi-based film promoter Jitendra Mishra. The film was based on the 44-year-old chef's philosophy that food diminishes the differences based on caste, faith and religion.
Keeping up with his Cannes streak, Khanna had been dropping major hints about a new movie for some time now. For instance, this post he put up on Mother's day that ended with "#BuriedSeedsFilm Announcement Soon!".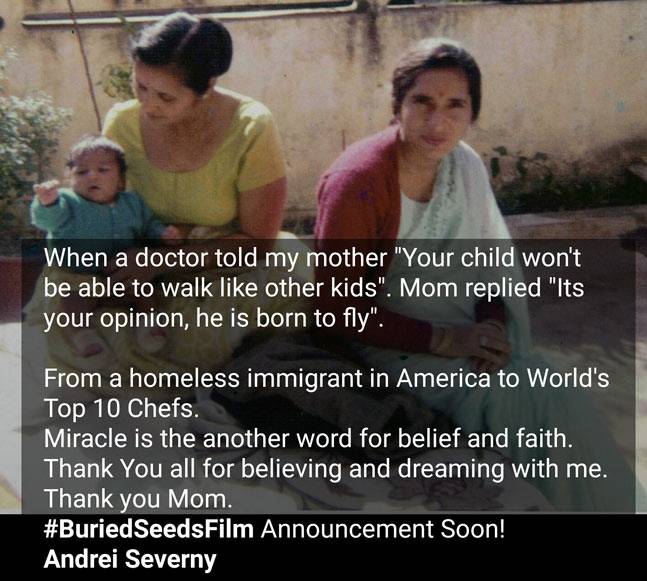 Image: Instagram | vikaskhannagroup
Hmm, now what could that possibly mean? Who knew that while his followers went bananas taking guesses, Khanna was busy picking out a tux for the trailer launch of his biopic?
This morning, during what looked like a red eye to the French Riviera, the chef took to Twitter to announce the major news that was the trailer launch of his film at the Cannes Film Festival. And at the risk of making an understatement, we'd like to say that THIS IS HUGE!
A new journey begins soon at #Cannes2017 Trailer Launch of @AndreiSeverny 's #BuriedSeeds @siffcy @nfdcindia @cannes
See you soon. 😍 pic.twitter.com/ZIFcqB27Xj

— Vikas Khanna (@TheVikasKhanna) May 16, 2017
The movie has been directed by Russian filmmaker Andrei Severny and will be launched on Thursday, 18th May. According to Khanna's tweet the trailer launch will be followed by a tête-à-tête with the director and the chef.
POSTER RELEASE TMRW. Getting ready 4 May 18, 2017 Andrei Severny's Film #BuriedSeeds @marchedufilm @nfdcindia @antoniocpacheco #Cannes2017 pic.twitter.com/86hgzmkiyp

— Vikas Khanna (@TheVikasKhanna) May 16, 2017
Vikas Khanna's journey has been nothing short of capture-worthy. In his own words "from a homeless immigrant in America to World's Top 10 Chefs", he has been quite the success story and we cannot wait to watch how Severny has portrayed it on screen!
Feature Image: Storypick