Twiss Drinks Launches Its Sparkling Fruit Juices In India
Twiss Drink Ltd, a UK-based based fruit juice manufacturer, has tied up with Amarjothi Group in India to launch its drinks and target the growing aerated drinks sector in the country. Twiss Drinks, which launched in London in 2011, will introduce four variants of its sparkling fruit juice products. The products will be marketed towards the youth population of India with distinct marketing campaigns to bring forth the quirky nature of the company and its drinks.
Although there are many aerated drinks available in the market, there are only a few which combine fruit juices with aerated drinks. Speaking of the scarcity of aerated fruit juices, Nitin Menon, MD, Twiss Drinks India, said, "Twiss Drinks brings innovation to the segment by introducing sparkling fruit juice-based drinks, which were not really available in the market. Twiss range would be in the forefront to innovate the sparkling juice drink category."
Flavours Of Twiss
The name Twiss comes from combining two different fruit flavours to provide a unique twist. Currently, Twiss will be introducing 4 different flavours as part of the launch, Mango with a twist of Lime, Passion fruit with a twist of Orange, Lemon with a twist of mint and Apple with a twist of Black Currant. Each 250 ml can of Twiss beverage will cost Rs. 40. The fruit juices will be available in Bengaluru, Mumbai, Chennai, Hyderabad, New Delhi and Pune.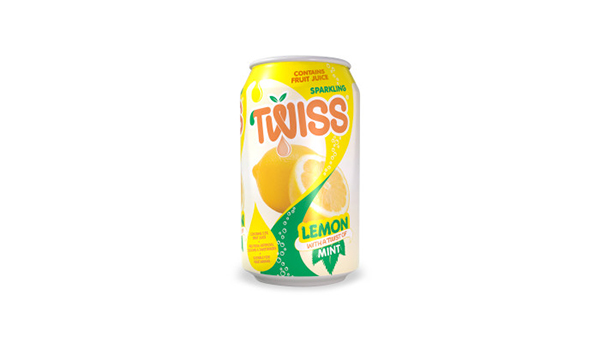 Marketing Twiss
To introduce the product to the Indian market, Twiss has come up with innovative marketing techniques to bring attention to the product. The fruit juices are marketed as a lifestyle supplement which brings a unique personality. Recently, Twiss was part of a Guinness Book of World Records campaign at Mount Carmel College in Bengaluru. Over 900 students participated in the campaign which saw the simultaneous opening of Twiss cans. The campaign broke the previous record held by Limited CidoGrupa in Latvia last year, which saw the opening of 689 cans.
2% Fruit Juice
As part of the startup week, Prime Minister Narendra Modi encouraged manufacturers of aerated drinks to add 2% fruit juice in their products to improve the revenue attained by the local farmers. With the introduction of Twiss, an aerated product containing 10% fruit juice, it has met the suggestion posed by the Prime Minister, said Menon.