Witness A Mexican Asian Marriage at Kurries & Burries in Mumbai
The family that cooks together, stays together. Or, is it the family that eats together stays together? Whichever way, the Todi family is doing both and more at Kurries & Burries, their Mexican-Asian fusion restaurant at Chowpatty.
Indeed, much of the way that Kurries & Burries operates is on the concept of fusion or collaboration. As we chatted with the owner, Kushal Todi, he told us about how Kurries & Burries became a reality thanks to the collaboration of the entire Todi family – while his mother handles the recipe creation and kitchen end of the restaurant, his sister in law handles the marketing. "There's always a family member behind the counter," he adds proudly.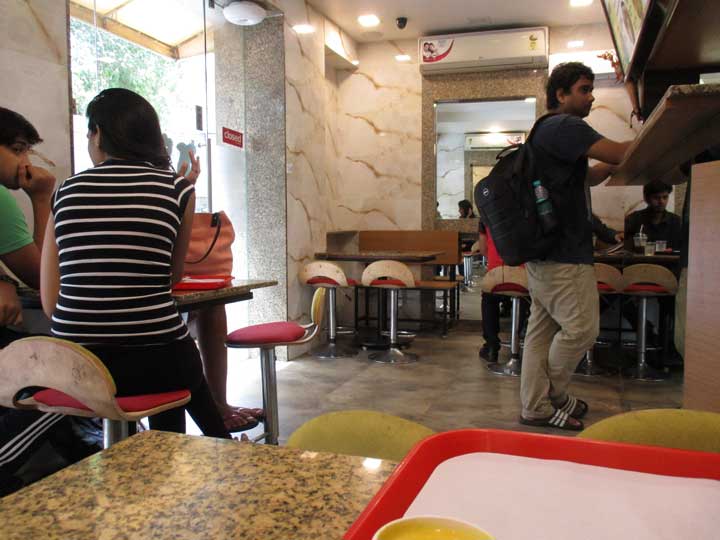 This collaborative approach extends to the way customers are treated. "We have a very customer-centric approach; we make the effort to talk to each of our clients personally and understand their response to the restaurant," Todi commented. The customer centric approach is evident in every nuance of the restaurant's operations – for instance, they serve their food in disposable containers, which makes their fare easy for an on-the-go customer to eat.
They are also unique in that they serve pure Jain food, a quality that is hard to find in many of Mumbai's restaurants. Todi adds that another unique aspect that they try to bring to the table is a fusion of fine dining meals and quick service ones; while the flavours are international, the prices and packaging are competitively priced and easy to manage, unlike fare in fine dining restaurants.
The discussion on the fusion of international flavours that also appealed to the Indian palate naturally made us curious about the fare. So, we went ahead and ordered what Todi assured us were house favourites; the Crackling Spinach With Paneer, the Mexican Mex-Wich and the Miniature Big Daddy Burrito.
Crackling Spinach With Paneer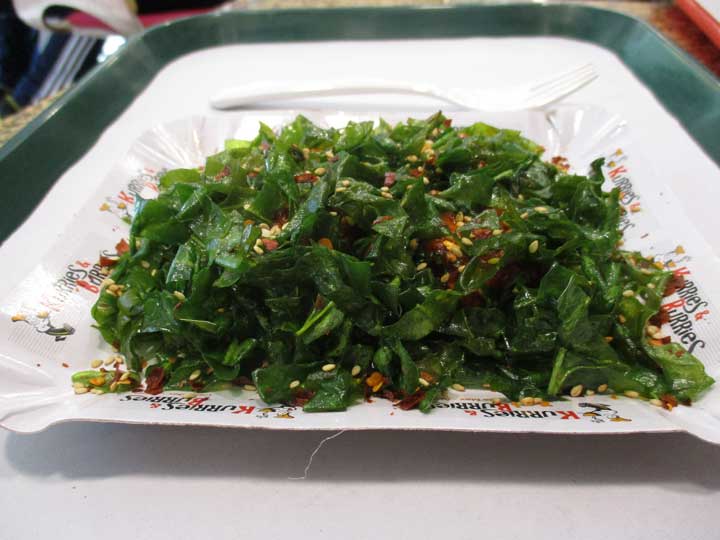 We solemnly swear that this dish was one of the best spinach dishes we've ever had. Translucent, mildly spiced, crispy shreds of spinach were piled upon tender cubes of paneer; a perfect marriage of texture.
Mexican Mex-wich
Featured on our ultimate list of cheesy dishes in Mumbai, this wrap was, as expected, loaded with a heavily indulgent amount of cheese sauce. Bite past the cheese sauce and into the wrap and you'll find some juicy Mexican beans and crispy nachos, once again creating an interesting texture.
Miniature Big Daddy burritos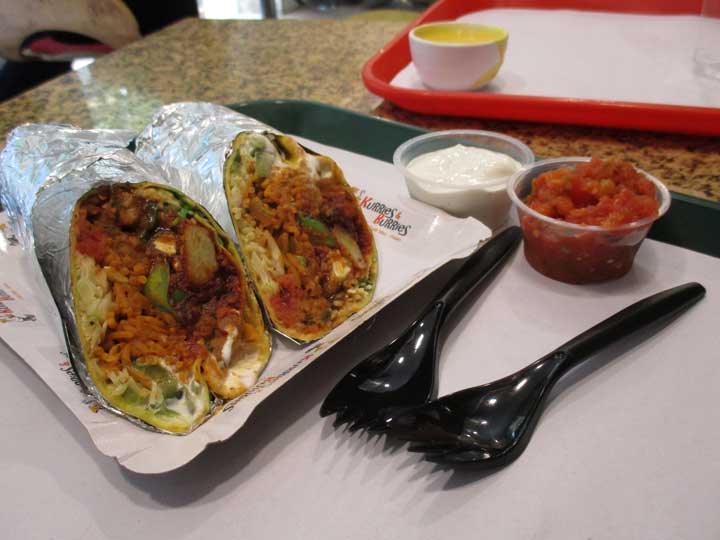 If these are the miniature burritos we have no idea which powers would be able to finish the full sized Big Daddy ones. The burritos were the ultimate Mexican-Asian fusion, with Mexican rice and beans on one side and kung pao potatoes and grilled corn on the other side. As filling as it was, we could barely manage one, but if you're feeling adventurous, order the Big Daddy Burrito and try to beat the current time it takes to finish – twelve minutes. We'll let you figure out what the prizes are.
Along with our food, we had a delicious, refreshing tender berry mocktail. All in all, right down to the drinks, the fare at Kurries & Burries is definitely worth a try. Like us, you'll keep going back for more after the first bite.
Kurries & Burries also does deliveries in South Mumbai. Contact them on 022 30150898, or pay them a visit at Jethabhai Govindji Building, Opposite Merchants Club, Metro Motors Lane, Rangekar Road opposite Chowpatty.